David Gilmour Biography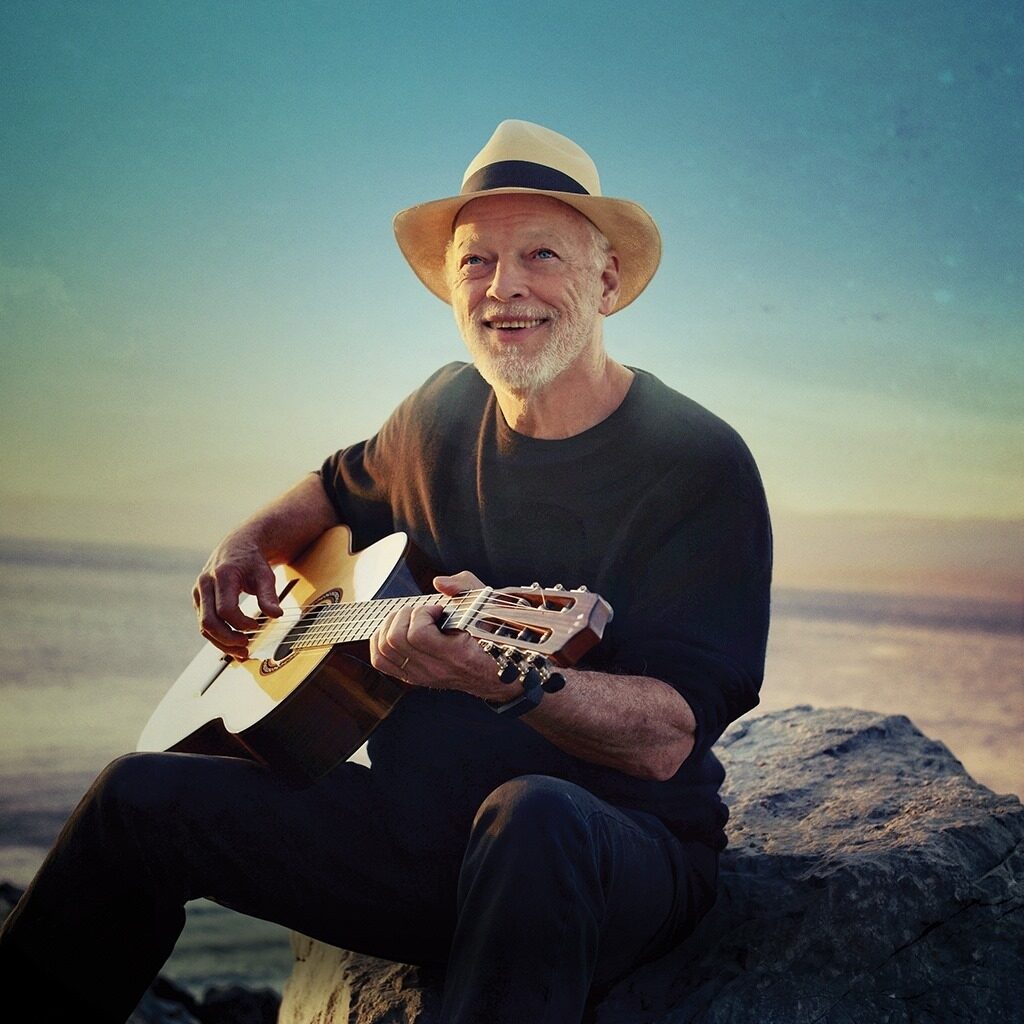 David Gilmour is an English guitarist, singer, and songwriter who is widely regarded as one of the greatest musicians of all time. He was born on March 6th, 1946 in Grantchester Meadows, England and grew up in the suburbs of London. Gilmour's love of music began when he was a teenager and he started playing the guitar when he was just 14 years old.
Gilmour was influenced by a variety of musical styles, including blues, rock, and folk. He was particularly drawn to blues music and soon became a fan of artists such as B.B. King and Eric Clapton. Gilmour formed his first band, Jokers Wild, while he was still in his teens and began playing local gigs. He soon became known for his virtuosity on the guitar and his powerful voice.
In 1965, Gilmour joined the band Bullitt and began performing professionally. He continued to develop his musical skills and soon became known as one of the most talented guitarists of his generation. In 1968, he was asked to join the progressive rock band Pink Floyd, replacing Syd Barrett who had left the band due to mental health issues.
Gilmour quickly made his mark on Pink Floyd and helped shape the sound of the band for years to come. His distinctive guitar style and vocal sound were an integral part of the band's music and he contributed to some of their most iconic albums, including "The Dark Side of the Moon," "Wish You Were Here," and "The Wall." Gilmour was also involved in the production and arrangement of Pink Floyd's albums, and his contributions helped to make the band one of the most successful and influential groups in the history of rock music.
Aside from his work with Pink Floyd, Gilmour has also released several solo albums. His first solo album, "David Gilmour," was released in 1978 and received critical acclaim. The album showcased Gilmour's musical versatility and his ability to write and perform songs in a variety of styles, including rock, blues, and folk. "About Face," his second solo album, was released in 1984 and received similarly positive reviews.
In 2015, Gilmour released "Rattle That Lock," his fourth solo album. The album received widespread critical acclaim and was praised for its blend of rock, blues, and electronic music. It also marked a departure from Gilmour's previous work, as it showcased a more experimental and adventurous side of his musical abilities.
Throughout his career, Gilmour has collaborated with many other musicians, including Roger Waters, Bob Dylan, and Paul McCartney. He has been recognized for his contributions to music with multiple awards and honors, including multiple Grammy Awards, and has been inducted into the Rock and Roll Hall of Fame.
Gilmour continues to tour and perform, both as a solo artist and with Pink Floyd. He is widely regarded as one of the greatest guitarists of all time and has inspired countless musicians with his virtuosity and creative vision. His contributions to the world of music have earned him a place in the pantheon of rock legends and his influence continues to be felt today.
In conclusion, David Gilmour is a true icon of rock music. His love of music and his unwavering commitment to his craft have earned him the respect and admiration of millions of fans around the world. His contributions to Pink Floyd and his solo work have made him one of the most influential musicians of his generation and his legacy will continue to inspire generations of musicians for years to come.
David Gilmour Family Tree
David Gilmour, the renowned guitarist, singer, and songwriter, best known for his work with the rock band Pink Floyd, has a family background and personal life that's been a subject of interest to many of his fans.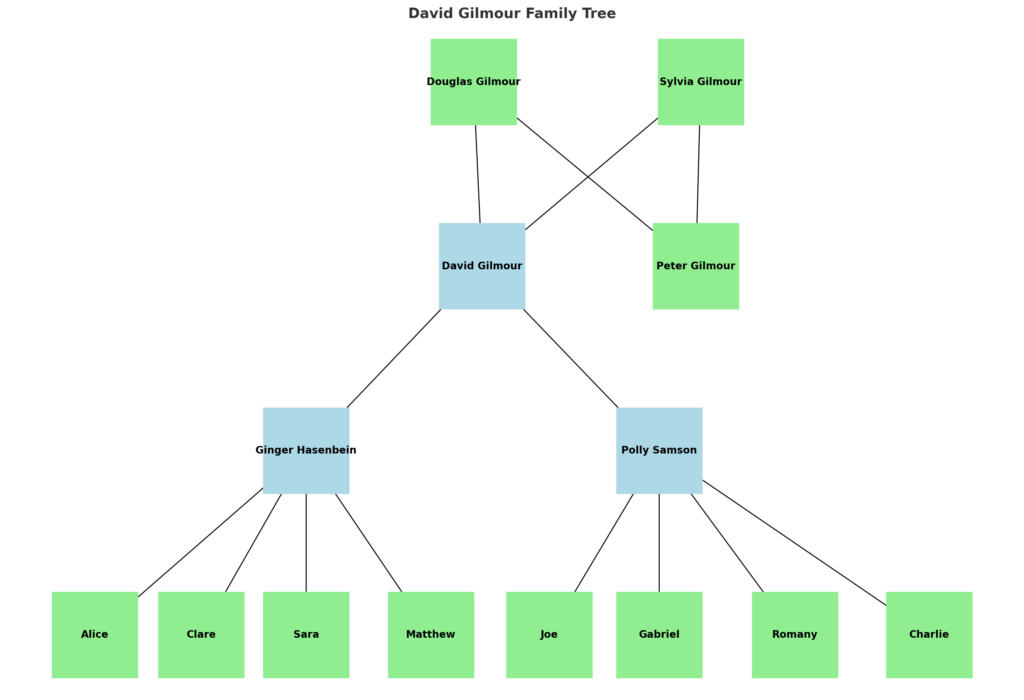 Here's an overview of his family, including his parents, wives, and children:
David Gilmour Siblings

David Gilmour has one brother called Peter Gilmour. He is a private individual.

David Gilmour Parents:

David Gilmour was born on March 6, 1946, in Cambridge, England.
His father, Douglas Gilmour, was a senior lecturer in zoology at the University of Cambridge.
His mother, Sylvia Gilmour (née Wilson), worked as a teacher and film editor.

David Gilmour's Wives:

First Wife – Ginger Hasenbein: Gilmour married American model and artist Virginia "Ginger" Hasenbein in 1975. The marriage lasted until the mid-1980s.
Second Wife – Polly Samson: In 1994, Gilmour married Polly Samson, a novelist and lyricist who has contributed to many of Pink Floyd's albums as well as Gilmour's solo work. They are still married as of my last update in April 2023.

David Gilmour's Children:

From his first marriage to Ginger, Gilmour has four children: Alice, Clare, Sara, and Matthew.
With Polly Samson, he has three children: Joe, Gabriel, and Romany.
Gilmour is also the stepfather to Charlie, Polly Samson's son from a previous marriage.
David Gilmour's family life has often been kept private, but it is known that he shares a close bond with his children, several of whom have appeared at public events and performances with him. His marriage to Polly Samson has been particularly significant in his career, with Samson becoming a key collaborator in his music.