Roger Waters Biography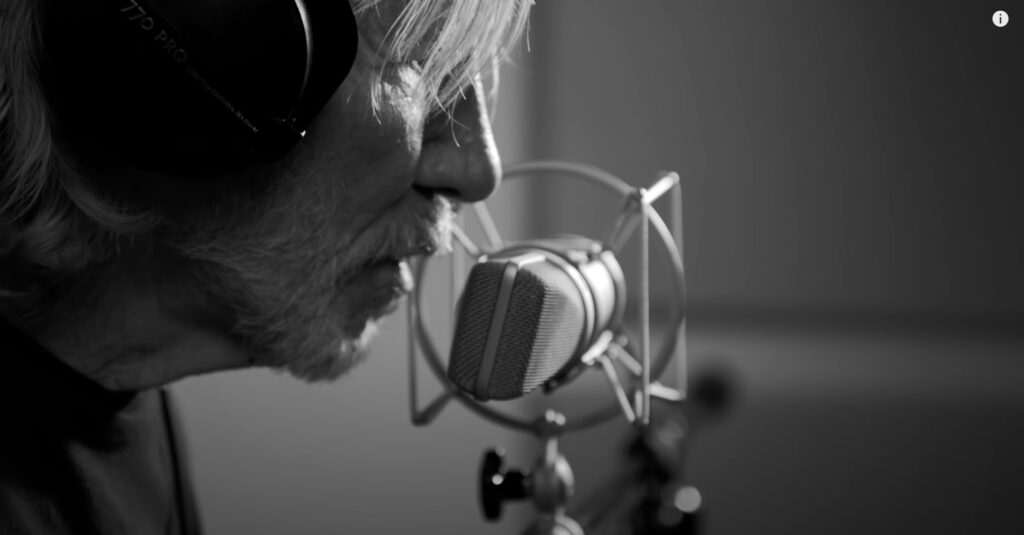 Roger Waters is an English songwriter, singer, and bassist who is best known as a founding member of the legendary progressive rock band Pink Floyd. He was born on September 6th, 1943 in Great Bookham, Surrey, England and grew up in Cambridge.
Waters showed an early interest in music and started playing the guitar when he was just 13 years old. He soon became a fan of blues and rock music and was influenced by artists such as Muddy Waters and Chuck Berry. He formed his first band, The T-Set, while still in his teens and began playing local gigs.
In 1965, Waters met fellow musician Syd Barrett and together they formed the band Pink Floyd. Waters quickly established himself as a talented songwriter and contributed to many of the band's early albums, including "The Piper at the Gates of Dawn" and "A Saucerful of Secrets." He was also instrumental in the band's early sound and helped define their distinctive style of progressive rock.
In the 1970s, Waters became the primary lyricist and conceptual leader of Pink Floyd and was responsible for many of the band's most ambitious and groundbreaking albums, including "The Dark Side of the Moon," "Wish You Were Here," and "The Wall." His lyrics often dealt with themes of isolation, loneliness, and existentialism, and helped to make Pink Floyd one of the most important and influential bands in the history of rock music.
Despite his success with Pink Floyd, Waters became increasingly disillusioned with the band in the late 1970s and eventually left the group in 1985. He went on to release several solo albums, including "The Pros and Cons of Hitch Hiking" (1984) and "Amused to Death" (1992), and continued to tour and perform.
Throughout his career, Waters has been a political activist and has used his music as a platform to express his views on a variety of social and political issues. He has been particularly vocal about his opposition to war and his support for human rights, and has used his concerts as a way to raise awareness about these issues.
In recent years, Waters has continued to tour and perform, and has been recognized for his contributions to music with multiple awards and honors, including multiple Grammy Awards. He has also been inducted into the Rock and Roll Hall of Fame and continues to be regarded as one of the greatest songwriters and musicians of his generation.
In conclusion, Roger Waters is a true icon of rock music. His contributions to Pink Floyd and his solo work have made him one of the most influential musicians of his generation, and his impact on the world of rock music continues to be felt today. His powerful and thought-provoking lyrics, combined with his virtuosity on the bass guitar, have earned him the respect and admiration of millions of fans around the world, and his legacy will continue to inspire generations of musicians for years to come.
Roger Waters Family Tree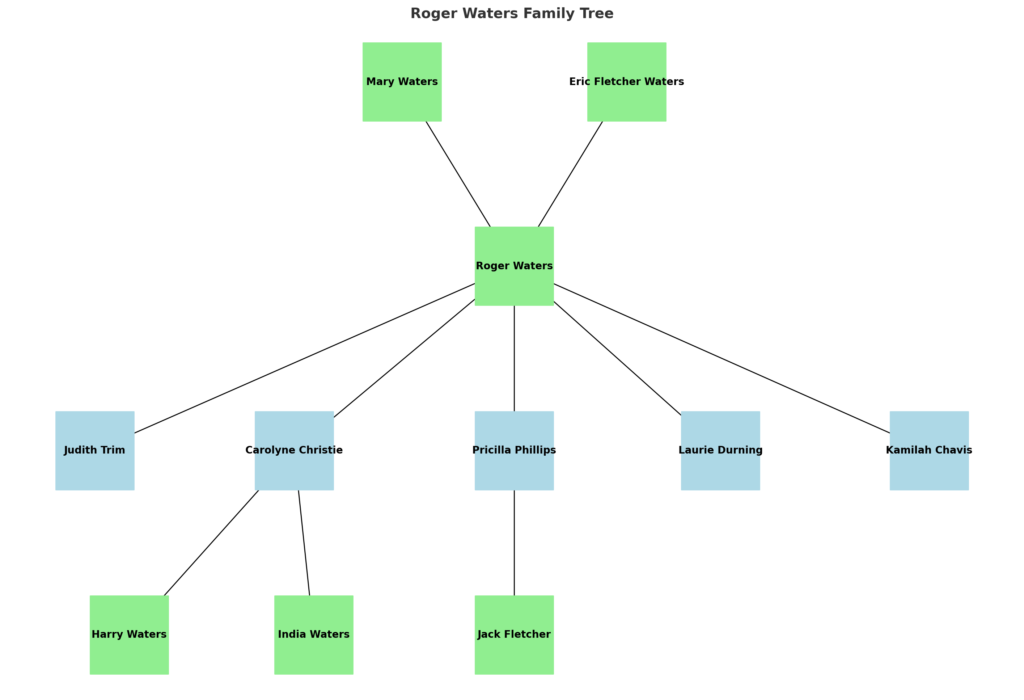 Roger Waters, an iconic figure in the world of music, particularly as a founding member of the band Pink Floyd, has a family history that is as intricate as his musical journey. Here's a look at his parents, wives, and children:
Parents
Eric Fletcher Waters: Roger Waters' father was a teacher and a devout Christian. Tragically, he lost his life during World War II in the Anzio Campaign. His death had a profound impact on Roger Waters, influencing many of his future works and themes in his music, especially the sense of loss and the effects of war.
Mary Waters (née Whyte): Roger's mother, also a teacher, played a significant role in his upbringing, especially after the death of his father. She was instrumental in nurturing his early interests in music.
Wives and Children
Judith Trim (1969-1975): Roger Waters married his childhood sweetheart, Judith Trim, a school teacher and potter, in 1969. Judith Trim was featured on the gatefold sleeve of the original release of the Pink Floyd album "Ummagumma," but was later removed from CD reissues. Their marriage ended in divorce in 1975, and they did not have any children. Sadly, Judith Trim passed away in 2001.
Carolyne Christie (1976-1992): Waters' second marriage was to Carolyne Christie in 1976. Christie, the niece of the third Marquess of Zetland, and Waters had two children together:

Harry Waters: A musician who has played keyboards with his father's touring band since 2002.
India Waters: Who has worked as a model. The couple divorced in 1992.

Pricilla Phillips (1993-2001): In 1993, Waters married Priscilla Phillips. They had one son together:

Jack Fletcher. Their marriage ended in 2001.

Laurie Durning (2012-2015): Waters became engaged to actress and filmmaker Laurie Durning in 2004, and they married in 2012. However, they filed for divorce in September 2015. They did not have any children together.
Kamilah Chavis (2021-present): Waters married his fifth wife, Kamilah Chavis, in October 2021. As of the last update, they remain married.
Residences and Personal Beliefs
Roger Waters has homes in Long Island and Hampshire.
He is publicly known as an atheist, a belief that has also influenced some of his musical and thematic choices over the years.
Roger Waters' family history, marked by both loss and love, is deeply intertwined with his artistic journey, influencing his music and the powerful themes within it.