Harry Waters, Son of Roger Waters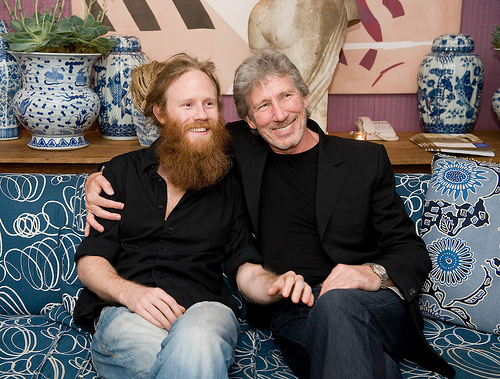 Harry Waters is the son of Roger Waters, the legendary bassist, vocalist, and primary songwriter for the rock band Pink Floyd. Born in 1976, Harry is a talented musician in his own right and has contributed to various musical projects over the years.
Here are some details about Harry Waters:
Musical Education: Harryreceived a formal education in jazz piano and has shown a great aptitude for it.
Musical Career: Over the years, he has been involved in various projects. Apart from his solo endeavors, he has performed and toured with his father, Roger Waters. Specifically, Harry played keyboards for his father's tours, including the massive "The Wall" tour that took place from 2010 to 2013. He also played on the Dark Side of the Moon tour.
Style: While his father's music is mostly rock-oriented, especially progressive rock, Harry's style leans more towards jazz, which is a testament to his training and personal musical inclinations.
Collaborations: Apart from working with his father, Harryhas collaborated with various artists and bands throughout his career.
Solo Work: Harry has released solo work that showcases his talent as a pianist and composer. He does compositions for games and TV, in addition to Ozric Tentacles.
Personal Life: While Roger Waters is quite outspoken about his political beliefs and often integrates them into his music, Harry tends to keep a lower profile in terms of personal beliefs and public statements.
Harry Son of Roger Waters
Harry, like many children of famous musicians, has had the challenge of carving out his own identity in the music world. However, he has managed to build a respectable career by capitalizing on his skills, education, and unique musical voice.
Who has Harry Waters played with?
​Roger Waters
Eddie Vedder
Tom Jones
Marianne Faithfull
Nick Cave
Ween
Links