2000 – Roger Waters – In the Flesh (Live)
Links – Rate Album and Discuss |
---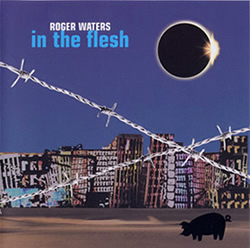 Check Current Prices Below!


Track Listing:
Disc 1
01. In The Flesh
02. Happiest Days Of Our Lives, The
03. Another Brick In The Wall (Part 2)
04. Mother
05. Get Your Filthy Hands Off My Desert
06. Southampton Dock
07. Pigs On The Wing (Part 1)
08. Dogs
09. Welcome To The Machine
10. Wish You Were Here
11. Shine On You Crazy Diamond (Parts 1-8)
12. Set The Controls For The Heart Of The Sun
Disc 2
01. Breathe In The Air
02. Time
03. Money
05. Perfect Sense (Parts 1 & 2)
06. Bravery Of Being Out Of Range, The
07. It's A Miracle
08. Amused To Death
09. Brain Damage
10. Eclipse
11. Comfortably Numb
12. Each Small Candle
Rate Album and Discuss
In the Flesh – Live is a two-disc live album that captures performances from Roger Waters' three-year In the Flesh tour. A DVD of the same title was also produced, and the two were released in a new package in 2006.
The material for the DVD was taken from a June 27, 2000 performance at the Rose Garden Arena in Portland, Oregon, but the double CD contains various recordings of the entire 2000 US tour live show, drawn from performances in Phoenix, Arizona, Las Vegas, Nevada, Irvine, California, and Portland, Oregon.
Miscellaneous Information
None yet.
External Links