Beautiful Tribute Song for Syd Barrett

Download MP3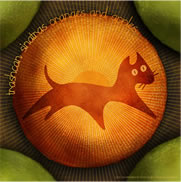 John Douglas from the Trashcan Sinatras has kindly shared a 2 minute MP3 clip of his bands forthcoming song "Oranges and Apples" for you to download. It is a beautiful song in its own right!
The song is inspired by Syd Barrett, is a part of The City Wakes event in Cambridge and London and a percentage of the cash raised from the sale of the single will be donated to The Syd Barrett Trust.
The single is released on 13th October 2008 and will be available on iTunes.
Lyrics for Oranges and Apples
Evening sun in an English sky
Orange as the pigeons eye
No-one knew when you cycled by..
Oranges were made for you …. apples too, all made for you
Emily and the English Rose
Shining out the UFO
Hand in hand with your Eskimo
Oranges… they fell for you.. and the apples too.. all fell for you
Light shines through
Brightest of all was you
and i just don't know what i would do without your light
Green wheelbarrow, Bikes, red and blue
Orange drawers that winked at you
All the colours that fell from you
and all the things that you went through
and now everything is enhanced by you
and the oranges were made for you
and the apples too.. all made for you

(c) and (p) Trashcan Sinatras 2008
John Douglas, from The Trashcan Sinatras on Syd Barrett and the inspiration for the song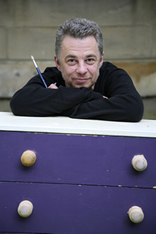 In the months after Syd's passing, I became entranced and intrigued again by him and his wonderful unique work. A friend of mine, the great English songwriter Boo Hewerdine, lives in Cambridge and had told me of seeing Syd on occasion riding around town on his bike (in fact, on one occasion, Syd fell off his bike and Boo helped him get back up and on his way ). He seemed to enjoy a degree of anonymity, and the local tradesmen spoke highly of him and he seemed to be happy. This picture of Syd is at odds with the historically documented version. I was relieved and pleased to discover that Syd had found a degree of peace and 'normality' in his years there.
I was very touched by his personal effects from his house. A fund raising sale of some of his household items by auction was held, and the auction house had photographs and descriptions of each item available to view online. Syd had personally adapted pretty much everything in his house, from the stereo to the chest of drawers to his bikes and wheelbarrow… all had been re-painted, re-designed or, somehow, made more personal by Syd. His highly individual attitude to song-writing was, it seemed, a reflection of his attitude to life in general.
Through dwelling on these things in admiration, the song "Oranges and Apples" appeared.

Some months later I was fortunate to run into Allan Brown, a Sunday Times journalist living in Glasgow. Allan had bought a chest of drawers and one of Syd's paint brushes at the auction and he gave me a tube of paint owned by Syd and allowed me to be photographed with the chest. We spoke for hours about Syd and my feelings about him were re-enforced. I will forever treasure the tube of paint!
John Douglas – August 2008
Remain Informed
Also, subscribe to the NPF Newsletter to remain informed about news and site updates!