Gilmour Drink Driver & Nature Lover!
Resources & Links
Links – Photos of Astoria Houseboat recording studio – Discuss on Forum | External Links – 3News Article and Video |
---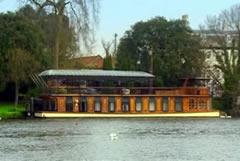 As part of the promotion for his new CD/DVD, David Gilmour has done an interview with 3News in which he reveals how he came to purchase the Astoria Houseboat. He uses the houseboat as his personal recording studio and only found it by chance!
He was being driven around due to the fact that he had lost his driving licence through drink driving circa 1986. As he was a passenger, he had much time for gazing our of the care window watching the world go by.

"Well I was driving down this road here one day in '86 I guess it probably was. I had been banned from driving for drink driving for a year, being silly. So I was being driven, rather than driving myself, and as you're driven you sort of look out of the windows a lot more and as we drove along we looked, I looked out, and I saw this metal work on the top over the wall, and I said to the chap driving: "Can we just pull over here and have a look?" And we pulled over and we stood on the pavement, we stood on the corner there and peered over and looked down and saw this incredible boat and this water and work on the top. And I though 'Oh, that's fantastic.'"
"About two weeks later I was in the dentist waiting room and I picked up a Country Life and there it was for sale in this Country Life by pure coincidence. So I rang them up and came down and had a look and bought it. I didn't even think about putting a studio in it at first. It was just very, very beautiful, a magical place."
The Division Bell and Momentary Lapse of Reason albums were largely recorded and mixed at the Astoria Houseboat recording studio. Gilmour had a preference for being able to see out of windows instead of being cooked up in some recording studio.
Speaking on his houseboat he said, "Well it's lovely to be here, you know, to have the water gently drifting past us and all that, and I like to have windows. You know I've spent rather too much time in studios and most of them don't have windows, and I can't stand being in places that don't have windows."
David's album was released on Monday 22nd September and is available from the links below.
| | Amazon.co.uk | Amazon.com |
| --- | --- | --- |
| 2CD | | |
| 2CD+DVD | | |
| 2CD+2DVD | | |
| 3CD+2DVD | | |
| 5LPs | | |
Remain Informed
Also, subscribe to the NPF Newsletter to remain informed about news and site updates!
Sources: [ 3News & Brain Damage ]