Memories of Knebworth 1975 By Freddy Bannister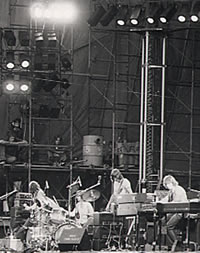 Pink Floyd perform live at Knebworth 1975 as promoted by article authour Freddy Bannister. Click to enlarge.
The 1975 Pink Floyd festival was without doubt my favourite out of all the festivals I promoted at Knebworth. Firstly, because Steve O'Rourke was one of the most pleasant people in the music industry with whom to work. Secondly, Steve, along with several members of the band, were like me total car nuts and thirdly, and probably most importantly to a promoter, they were prepared to work on a straight percentage. However, the event was not without its dramas!
With the stage virtually finished the Floyd's crew were busy rigging the large model aircraft that was used at one point during the performance. For maximum effect it had to fly over the heads of the audience before crashing into a corner of the stage. To achieve this effect a cable had been rigged between a crane with a sixty-foot jib and the stage. I happened to be on stage while some of this work was being carried out talking to Bill Harkin, the stage designer.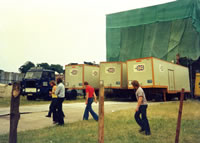 Three powerful generators backstage at Knebworth 1975 used to power the site
Deeply engrossed in our conversation, I couldn't believe it when I was rudely and none too gently pushed to the floor. I know promoters aren't exactly popular, I thought, but what the hell have I done now. Suddenly, there was a high-pitched whistling noise followed by a loud explosion. Looking at the back of the stage, I saw that two of the huge tour cases had been virtually reduced to powder. It was only then that I realized the cable that was being tensioned had snapped.
With a dozen or more people on stage, it was a miracle that no one was injured. The speed with which the cable whipped back could have quite easily cut a man in half.
Perfect Timing?
Another problem that we experienced was on the day of the concert itself. I had been asked to book two World War Two Spitfires for the Floyd and I had contacted the late Neil Williams to supply them. Neil, a former RAF pilot, had been British Aerobatics Champion three or four times and had loads of experience flying Spitfires, plus practically everything else with wings. The general idea was just as Pink Floyd started their performance, the Spitfires would fly in at tree top height and, crossing over, would pull up into a vertical climb just as the band struck their first chord.
The timing was going to be critical. We had already, of course, obtained permission for the stunt and our local contact was Luton Airport. One of the air traffic controllers had agreed to liaise between Neil and myself.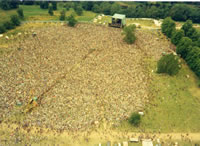 An aerial view of Knebworth 1975
Sitting in my office, the upper of two Portacabins, I had a terrific view of the stage area. Barry Turner had arranged for a phone line to be rigged up between the office and a point backstage and we had a GPO phone line installed on which I could call Luton. Sitting there with a phone to each ear, I was enjoying myself. About ten minutes before the start of the Floyd's performance I made contact with Neil, courtesy of our friendly air traffic controller.
'When exactly do you want us?' he asked. I checked with the Floyds co-ordinator
'We've got a problem. It'll be another ten minutes,' he said rather abruptly.
Ten minutes later, when I checked back with him, I was told my assistance was no longer required.
'Just have the aircraft cross the stage in ten minutes,' he said, 'Make sure it's ten minutes to the second.'
Passing on his message, I sat in the office and waited. A couple of minutes before the Spitfires were due I dialled the talking clock. The pilots timing was impressive. Just as the pips went so the two Spitfires appeared crossing behind the stage and pulling up with perfect symmetry into a vertical climb, the Rolls Royce Merlin engines making the sort of noise that make the hairs on the back of your neck stand up. Unfortunately, The Floyd didn't start playing until a minute and a half later but, as they say, that's rock 'n' roll'.
Despite these and a few other problems I just wish all the Knebworth festivals could have been as much fun to promote!
| | | |
| --- | --- | --- |
| | | |
| Knebworth 1975 Poster | Knebworth 1975 Handbill | Pink Floyd Play Live |
| | | |
| Generators used for Knebworth '75 | Audience shot of Knebworth 1975 | Audience shot of Knebworth 1975 |
| | | |
| Pink Floyd Knebworth Poster | Aerial Shot of Knebworth '75 | Knebworth Poster |
————————————————————————————-
The Pink Floyd Knebworth Commemorative set is produced in a limited edition of 200 and priced at £49.99 plus postage. It comes complete with programme, ticket, handbill, 12 photos, a 330 page book on the hassles promoting the festivals, plus a gift of 5 CDs and a DVD. The sets can be viewed on http://www.rockmusicmemorabila.com or email [email protected] for further details.