Nick Mason Signed Cymbal for Cancer Charity
http://www.mikedolbear.co.uk/story.asp?StoryID=2656
"Shine On You Crazy Dolbear…!"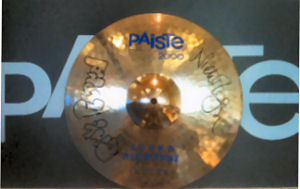 Here's your chance to win a Paiste 2000 Reflections 14″ Thin Crash cymbal, signed by Pink Floyd's legendary drummer Nick Mason, and raise a splash of cash for charity too. Mike Dolbear, founder of this very site, has come up with a clever idea for combining his love of fitness with his support of the Teenage Cancer Trust. He will be running in the Halstead & Essex Half Marathon on 8th May and everyone who sponsors him will be entered into a draw to win the donated cymbal.
Mike was also involved in the recent Jordan Terris Memorial Drum Festival. "Getting to know Jordan"s parents, Kevin and Fiona, and watching the Teenage Cancer Trust film" he said, "I wanted to try and do more to help a charity that can"t afford TV advertising. I hope to do more of these fund raising events to raise awareness and hopefully raise lots of money!"
Mike will be running just over 13 miles and to sponsor him go to www.justgiving.com/Mike-Dolbear and follow the instructions. Every £2.50 of sponsorship will earn one chance to win, so £25 will earn ten chances. There no maximum donation. When Mike's completed the run, Nick Mason will pull a name out of the hat and the lucky winner will receive the cymbal. They will also receive a signed certificate of authenticity and a copy of the 1987 Momentary Lapse of Reason album, on which it was used.
Keep an eye on mikedolbear.com for details of future fund raising events. Information about the Teenage Cancer Trust and its work with young cancer sufferers can be found at http://www.teenagecancertrust.org/