On An Island BBC Concert
Resources & Links
Video Downloads: Where We Start – A Pocketful of Stones – Smile – Then I Close My Eyes – This Heaven – Red Sky At Night – Take A Breath – The Blue – Castellorizon – EPK – On An Island – Island Jam
Official Sites – Columbia – David Gilmour
Other – Photos from On An Island | Complete On An Island info | Album Artwork | Discuss on forum | 2006 Tour Dates
---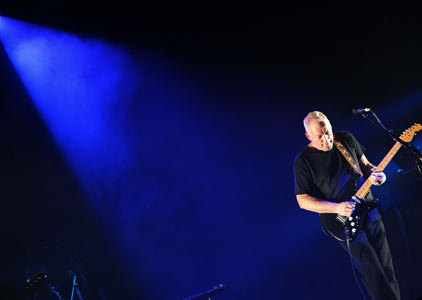 This story was reproduced from the wonderful Brain Damage site!
Last night saw the recording of David Gilmour's very special, exclusive concert for the BBC, at London's Mermaid Theatre.
In front of an audience of competition winners, and a handful of David's family and friends, a full house had the pleasure of seeing a wonderful performance – which everyone will have a chance to hear on Saturday, with highlights of the show viewable online and on BBC Interactive TV.
David played a well-balanced set, combining tracks from his new album "On An Island", with a selection of Pink Floyd classics. We have no intention, though, of spoiling any surprises in terms of the set; you'll have to wait until Saturday! Suffice it to say, you will NOT want to miss the broadcast…!
The performances were superb – the touring band seemed tight and well-rehearsed, and worked well together.
A nice, subtle touch was Guy Pratt's t-shirt, with its "Didn't They Do Well?" message – many older fans will recall David having a t-shirt with the same slogan in the early 1970s!
To hear and see the concert on Saturday, this is what you need to do. BBC Radio 2 can be heard in a number of ways. Those in the UK and Europe can receive the station via FM or DAB radios, or via satellite, cable and freeview TV systems. However, listeners worldwide can tune in via the excellent Listen Live/Listen Again facilities at www.BBC.co.uk/radio2.
An hour-long audio recording of the concert will air at 8:30pm GMT on Radio 2. Once that has finished, you will then be able to WATCH highlights of the concerts!
Utilising the power of their interactive service, those with access to BBCi on their digital TV services, will be able to see 30 minutes of the concert by pushing their red button on their remote between March 11th and 14th. Broadband users will also be able to watch a 60-minute edit of the concert via the Radio 2 website. This is Radio 2's first interactive TV production.
Competitions
You may want to enter the competition to win tickets to The Royal Albert Hall to see David on the 31st here.
Additionally, the BBC are running a competition for 4 copies of On An Island here.
Radio Broadcasts
March 2nd – BBC Radio 4, 7:15pm GMT
March 2nd – KROCK 1057 (Canada) & RFM (Portugal) – album broadcast
March 4th – BBC Radio 2, 10am GMT – Jonathan Ross. Live performance
March 4th – Chez106, 8am (1pm GMT) – Album premiere and interview
March 5th – Q107 rebroadcast of album premiere and interview
March 8th – Rockline interview, various times and syndicated stations
March 11th – BBC Radio 2 & BBC interactive TV – BBC Exclusive concert broadcast
March 13th – In The Studio interview, various times and syndicated stations
The musicians in David Gilmour's band are:
Phil Manzanera – Roxy Music guitarist and co-producer of On An Island
Richard Wright – Pink Floyd's keyboard player
Guy Pratt – bass player with Pink Floyd and Roxy Music
Jon Carin – keyboards and longtime player with Pink Floyd
Steve DiStanislao – drums, recently played with Crosby & Nash
Source: [ BBC and Brain Damage Website ]