Barrett's Home On Rock History Trail
Resources & Links
History Rocks | BBC News | Discuss On Forum
---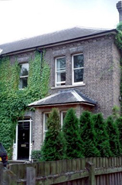 One of "Syd" Barrett's homes is to feature in a publicity campaign called History Rocks to promote tourism in England!
The website has his "last home" listed as number 183 Hills Road when in fact it was 6 St Margaret's Square (I have already emailed them about it so no need for 1,000 others to!!).
Hills Road was where he grew up and, although more significant a place than Mr Barrett's final place of residence, not factually his last!
From BBC News

Almost 200 locations linked to England's rock and pop history are celebrated in a new tourism campaign.
England Rocks! highlights destinations including birthplaces and haunts of musicians, places that inspired songs and past and existing music venues.
They include Liverpool's Cavern Club, made famous by the Beatles, and the London street on the cover of (What's The Story) Morning Glory? by Oasis.
The site of Marc Bolan's death in a car crash is among the more unusual places.
Also included is the motorway services at Aust, Gloucestershire, where the car of Manic Street Preachers guitarist Richey Edwards was found, prompting speculation about his possible suicide.
Former homes of the Beatles, Jimi Hendrix, Bob Marley, Pink Floyd's Syd Barrett and Robbie Williams are included in the campaign.
Battersea Power Station and Chalk Farm Tube station, in London, Coles Corner in Sheffield, the Empress pub in Liverpool, and Mapledurham Watermill in Reading, are among the sites celebrated for their appearance on album covers.
An England Rocks! map features about 130 of the locations, while a new website offers background and travel information on all the sites.
Visit England Rocks Website.
Sources: [ BBC News ]