David Gilmour Wins Q Award 2008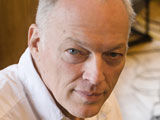 Guitarist and solo star David Gilmour was honoured with the Outstanding Contribution title at the 2008 Q Awards with Russian Standard Vodka – then dedicated it to late Pink Floyd bandmate Rick Wright.
Collecting the award, Gilmour said of Wright – who died last month – "he deserves this just as much as I do".
And to a standing ovation, Gilmour dedicated a toast to his friend and colleague who played keyboards in Floyd for many years.
Gilmour's stunning performances have been gracing best-selling recordings for four decades, since joining Floyd in 1968 to fill in for Syd Barrett and taking an ever dominant role in the writing and direction as well as providing the band's signature guitar sound.
He became leader of the reconstituted band in the 1980s after Roger Waters' departure, presiding over two more studio albums, as well as releasing a number of solo albums.
Collecting the Outstanding Contribution to Music award – sponsored by Gibson Guitars – Gilmour said: "I'm going to dedicate this to my old friend and colleague Richard Wright who died a couple of weeks ago with whom I've worked for 40 odd years.
"There's all sorts of music I won't be able to play without him which is a source of great sadness for me," Gilmour said. "One of the last things he wanted to do was play a big outdoor festival such as Glastonbury which we were unable to do.
"Anyway, as I say he deserves this just as much as I do. You could say that he worked in the position of second fiddle to the pushier chaps at the front, but his work was vitally important to our entire career."
The last outstanding contribution award was won by Smokey Robinson in 2006.
Source – [ Q Awards ]