Delays & Legal Issues For Piper Album!
Resources & Links
Discuss on the Forum | View Fart Enjoy Barrett Collage Book |
Interact – Piper Media Player on Pink Floyd site
---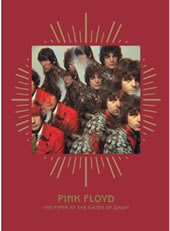 The 40th Anniversary edition of Pink Floyd's debut album The Piper At The Gates of Dawn has had its USA release date changed again due to pressing and customs problems.
The new release dates for the 2CD and 3CD versions of the release are as follows:
UK/Europe: 2CD – 3rd Sep and the 3CD is 3rd Sep
USA: 2CD – 4th Sep and the 3CD – 11th Sep
Legal Problems
As part of the 3CD package, there is a 13 page booklet designed by Storm Thorgerson which contains another special booklet within its back cover! Syd Barrett's "Fart Enjoy" collage book he made for a girlfriend has been reproduced from the original at 60% of the original size.

Unfortunately, EMI were not willing to reproduce the entire booklet as page 13 contains a copyrighted image and could have left EMI and others open to litigation. EMI chose to be cautious!
View Full Booklet
However, you can view the full booklet (from an alternative source which is not related to EMI or Pink Floyd's Management) in the NPF Photo Gallery. Page 13 is displayed below! As you can see, Syd was being a little graphic in a non-artistic sense!
Click to enlarge! – Image From Non-EMI Source!
Page 13 is the one on the right! It has been airbrushed away in the official release!
Further Info on the Release and Media Player
The packaging, designed by longtime Floyd collaborator Storm Thorgerson, resembles a cloth-covered book with the original Vic Singh photo on the front, and holds 3 CD discs, along with an 8 page reproduction of one of Syd Barrett's never publicly seen before notebooks.
Newly remastered by James Guthrie from the original recordings, Discs 1 and 2 will contain the full 'Piper' album, represented in both stereo and mono versions. Disc 3 includes bonus tracks, including the following: all the Pink Floyd singles from 1967, ('Arnold Layne', 'See Emily Play', and 'Apples And Oranges'), plus the B-sides 'Candy And A Current Bun' and 'Paintbox' as well as previously unissued versions of 'Matilda Mother', 'Apples And Oranges' (1967 stereo version) and two rare edits of 'Interstellar Overdrive', one previously only available on an EP in France (French Edit) and take six of the track from the original recording sessions discovered in the EMI achieve.
To listen to tracks, watch the original 1967 music video for 'Arnold Lane' and see the full track listing click here!
Sources: [ Pink Floyd Management and Others For Images ]