DG – Live Performance This Saturday!
Resources & Links
Video Downloads: Red Sky At Night – Take A Breath – The Blue – Castellorizon – EPK – On An Island – Island Jam
Official Sites – Columbia – David Gilmour
Other – NPF Competition | Photos from On An Island | Complete On An Island info | Album Artwork | Discuss on forum | 2006 Tour Dates
---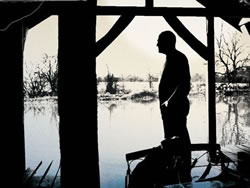 David Gilmour and Phil Manzanera will be performing live on BBC Radio 2 on Saturday 4th March on the Jonathan Ross Radio Show. They will be playing two acoustic songs together. The show runs from 10am GMT until 1pm.
BBC Radio 2 can be heard in the UK (and in some parts of Europe) via FM or DAB radios, via satellite, cable and freeview TV systems. Listeners worldwide can tune in via the excellent Listen Live/Listen Again facilities at www.BBC.co.uk/radio2.
Further Radio Broadcasts
March 2nd – BBC Radio 4, 7:15pm GMT
March 2nd – KROCK 1057 (Canada) & RFM (Portugal) – album broadcast
March 4th – BBC Radio 2, 10am GMT – Jonathan Ross. Live performance
March 4th – Chez106, 8am (1pm GMT) – Album premiere and interview
March 5th – Q107 rebroadcast of album premiere and interview
March 8th – Rockline interview, various times and syndicated stations
March 11th – BBC Radio 2 & BBC interactive TV – BBC Exclusive concert broadcast
March 13th – In The Studio interview, various times and syndicated stations
The musicians in David Gilmour's band are:
Phil Manzanera – Roxy Music guitarist and co-producer of On An Island
Richard Wright – Pink Floyd's keyboard player
Guy Pratt – bass player with Pink Floyd and Roxy Music
Jon Carin – keyboards and longtime player with Pink Floyd
Steve DiStanislao – drums, recently played with Crosby & Nash
Source: [ BBC and Mark Hancock ]