Guy Pratt Events in May and June 2009 – London, Leeds and Manchester
Links – | Guy Pratt Official Website | Questions? Ask on this thread | NPF Newsletter
---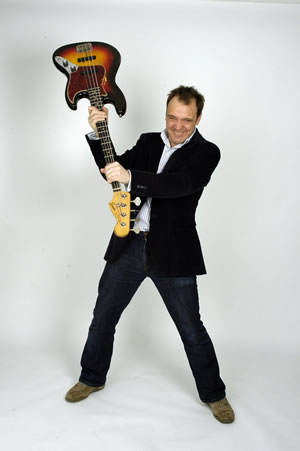 Guy Pratt
, who played bass for
Pink Floyd
after
Roger Waters
left and more recently on
David Gilmour
's On An Island tour, is appearing at two events in Northern England and one in the South in May and June 2009. 
Guy Pratt Dates – May 2009 – Notting Good Taste
Time and Place
20 May 2009 | 7:30 p.m. – 12:00 a.m.
20th Century Theatre
291 Westbourne Grove
London, United Kingdom

Contact Info
Phone: 02072294179
Email: [email protected]
"Notting Good Taste" is in fact quite the opposite. It's a round-up of some of the best comedy talent around, served up in tasty morsels, resulting in a full serving of mirth and laughter.
It is hosted by internationally renowned musician and comedian Guy Pratt, whose 25 odd years spent living in the area seems to make him think he has the right to front something like this.
This time round we have Phill Jupitus headlining, with Elvis McGonagal and Alan Francis in support and The Stillhouse Orchestra playing live in the foyer.
£15 admission in aid of MS Society
includes free Martin Miller's Gin cocktail
served between 7.30pm and 8.30pm
Food will be served in the interval
Tickets available on the door and in advance from http://www.wegottickets.com/event/47956
You can read loads more info on Guy's Blog.
---
Guy Pratt Dates – June 2009 – P.M.T and Ashdown Amplification
In addition to the stand up show above, Guy has just been booked to show off some equipment for Ashdown Amplification, share a few stories, have a beer and a general chat with the public at Professional Music Technology shops in Leeds and Manchester, England.
P.M.T Said on the NPF Forum….
Professional Music Technology (P.M.T) and Ashdown amplification are proud to announce an evening with Guy Pratt at the Leeds store on Thursday 18th June, and the Manchester Store on Friday the 19th of June at 7pm. Guy Pratt is one of the most renowned bass players in the world working with acts such as Roxy Music, Madonna, Michael Jackson, Robert Palmer and of course Pink Floyd and David Gilmours band.
It promises to be an amazing night with tickets just £5 with no booking fees or any of that rubbish! The ticket will include entrance to the show and beer and food!!!! There will also be prize draws on both nights.
Due to the nature of the venues tickets are very limited and are already selling fast. To get yours visit either Manchester or Leeds branches of PMT or phone-
0161 877 6262 – Manchester
0113 242 6601 – Leeds
If you have any questions about the P.M.T events, then ask on this thread on the NPF Forum that the chaps from P.M.T started.
www.pmtonline.co.uk | www.ashdownmusic.com
Source – [Guy's Blog and PMT ]