Pink Floyd Tsunami Raffle
– Tsunami Relief –
Pink Floyd Fans Unite To Assist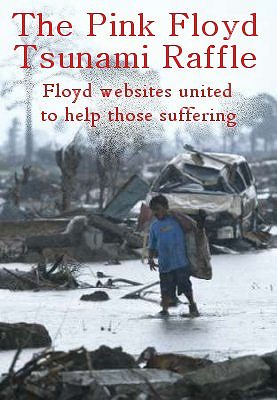 Help us help them!
Here's your chance to make a difference and assist those less fortunate than ourselves.
Floyd fans can now contribute any unwanted Floyd memorabilia to a monster Pink Floyd raffle. The raffle, to be held online, will raise funds that will be donated to the victims of the Boxing Day Tsunami disaster.
This is your chance to clean out your cupboards and in the process assist a worthy cause.
We are looking for any Floyd related memorabilia that is in good condition. Preferably it will not be too heavy, as we need to keep down postage costs so that the maximum amount can go to the appeal.
The project has been given the support of Pink Floyd's Management, by way of a donation of a 30th Anniversary edition of Dark Side Of The Moon, personally signed by three of the band members!
There's plenty of other material already been promised, but we need more!
Donations need to be made quickly, as we hope to commence the raffle early in February 2005. Check this site frequently for updates.
Please send your donations, with an explanation of what each item is, and who sent it to:
Col Turner
25 Jesmond Road
Helensvale
Queensland 4212
Australia
All parcels & packages should be securely wrapped.
This raffle is a coordinated effort between a number of Pink Floyd websites, so that we can involve Floyd fans around the planet. Let's pitch in and show the world just how generous Floyd fans can be!
Source: [ Col Turner – webmaster of PinkFloydz.com]