Rock n Roll By Tom Stoppard Play in Manchester, England
Links – Manchester Library Theatre Website and Tickets |
---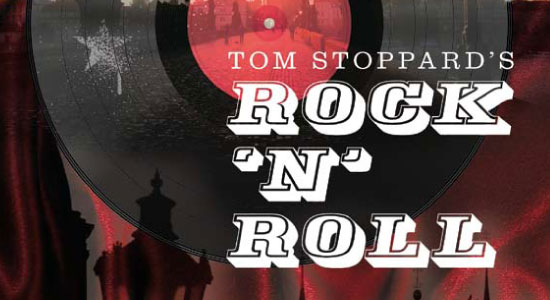 The regional premiere of Tom Stoppard's award-winning drama Rock 'n' Roll opens the spring 2009 season at the Library Theatre in Manchester. The production will be directed by Chris Honer, the Library Theatre's Artistic Director.
Set over a period of 22 years, opening as Soviet tanks are rolling into Czechoslovakia in 1968, and ending with a concert by the Rolling Stones in a newly free Prague in 1990, Stoppard's magnificent drama spotlights two differing worlds. The first, a group of Czechoslovakian dissidents battling against the totalitarian regime in their country; and the second, a Cambridge University professor who is powerless to influence a changing world.
As the years unfold and the characters' relationships intertwine, Stoppard frames the action with music of the time from artists including The Beatles, Velvet Underground, Pink Floyd, The Beach Boys, U2, Guns N' Roses, and The Rolling Stones, with the ghost of Pink Floyd legend Syd Barrett always lurking in the background.
Heading the cast as Czech dissident Jan is Graeme Hawley, who spent much of 2008 playing the role of John Stape, Rosie Webster's kidnapper in ITV's Coronation Street. Graeme, who last appeared at the Library Theatre as Guildenstern in Rosencrantz and Guildenstern are Dead in January 2007, also has TV credits in Emmerdale, Heartbeat, and Doctors.
Max, the communist academic, is portrayed by esteemed actor Hilton McRae, who last summer played the Scarecrow in Jude Kelly's adaptation of The Wizard of Oz at the Royal Festival Hall. He will appear later this year in the cinema as a lawyer in part of the Red Riding Trilogy, a series of films about the notorious Yorkshire Ripper killings in the 1970s and 1980s. He was also in the cast of the original London production of Mamma Mia.
David Crellin, a regular at the Library Theatre, having appeared in Chris Honer's productions of Much Ado About Nothing (2006), Beyond Belief (2004), Schweyk in the Second Word War (2003), and Measure for Measure (2000), plays the parts of Milan (a secret policeman) and the Waiter; Ken Bradshaw, who plays Ferdinand (a dissident), has TV credits in Coronation Street, Shameless, Hollyoaks, and Silent Witness; Annie Fitzmaurice, who takes on the role of Candida (a journalist), appeared in the Library Theatre's production of Tom's Midnight Garden in 2003; Christopher Wright is another Library Theatre regular, with credits in Much Ado About Nothing (2006), The Real Thing (2005), Beyond Belief (2004), Pygmalion (2002), and My Night With Reg (1996), plays the parts of a Czech interrogator and Nigel (another journalist).
Leila Crerar, who appeared in Frantic Assembly's recent stunning adaptation of Othello, which came to the Lowry in Salford in October, is making her Library Theatre debut as Lenka (a dissident); Emily Taaffe, as young Esme and Alice, is another Library Theatre debutant and comes to Manchester fresh from starring in Brian Friel's acclaimed adaptation of Anton Chekhov's Three Sisters at the Abbey Theatre in Dublin; Ruth Westley, as Gillian and Magda, returns to the Library Theatre after making her professional debut here in 2007 as Ophelia in Rosencrantz and Guildenstern are Dead; Nicholas Osmond, who plays the Piper, the Policeman, and Stephen, also appeared in Rosencrantz and Guildenstern are Dead; while the cast is completed by Cate Hamer, as Helena and the older Esme, whose Library Theatre credits include a nomination as Best Supporting Actress in the Manchester Evening News Theatre Awards for her part in Larkin With Women, directed by Chris Honer, in 2005.
Rock 'n' Roll CONTAINS STRONG LANGUAGE
Accompanying Rock 'n' Roll is three performances of Audience, a short play by Václav Havel. A leading dissident during the 1970s and 1980s, and a founder-member of human rights movement Charter 77, Havel became the president of Czechoslovakia in 1989.
Audience portrays an encounter between a long-serving brewmaster (played by David Crellin) and Ferdinand Vanĕk (played by Nicholas Osmond), an idealistic young assistant, and will be directed by Christos Chanios, who is on an attachment as an assistant director at the Library Theatre. Audience will be performed on Wednesday 11 March at 6pm, Thursday 12 March at 1pm, and Friday 13 March at 6pm. Tickets £3.50 (£2.50 for Rock 'n' Roll ticket-holders).
Listings information, Rock 'n' Roll: Mon-Sat 7.30pm; Matinees Thu 26 Feb, 5 & 12 Mar, Sat 28 Feb, 7 & 14 Mar 2.30pm. Pre-show director's talks Thu 5 Mar (6.30pm) and Sat 14 Mar (1.30pm). Study Workshop
Sat 14 Mar (10.30am).
Tickets: Mon eve £9.80; Tue/Wed eve, Thu mat £12.25; Thu/Fri eve, Sat mat £14.70; Sat eve £18.10. Various concessions from £7.35 (not Sat eve). Group & party rates and early-bird deals (Mon 16-Wed 18 February) available.
Library Theatre, Central Library,
St Peter's Square, Manchester M2 5PD, England.
Box office: 0161 236 7110
 Source – [ Library Theatre]