Storm Thorgerson Big and Small Exhibition London
Links – Idea Generation Gallery | View Storm Thorgerson Artwork in our Pink Floyd Pictures gallery | Be sure to follow us on Facebook, Twitter and get our free Newsletter to remain informed of Pink Floyd News!
---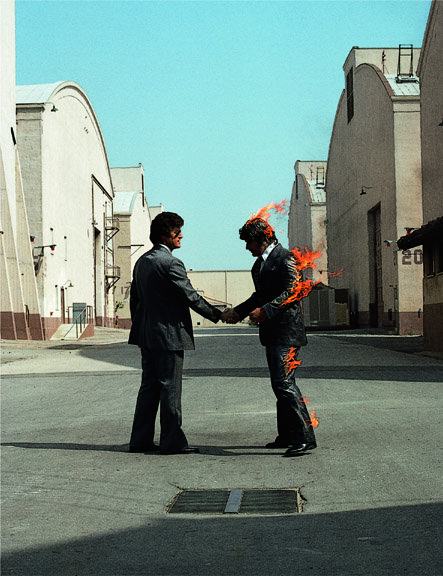 Idea Generation Gallery is putting on a brand new exhibition called BIG & SMALL which features the album cover art of Storm Thorgerson. It will take place at Idea Generation Gallery in London between 21st – 13th November 2011.
BIG & SMALL illustrates the vast diversity of format now facing music designers, from billboards to digital downloads and postage stamps. In particular the show features enormous high quality fine art prints at 5 foot square that are by far the biggest they have ever attempted, of album covers from Pink Floyd, Led Zeppelin, Muse, The Mars Volta et al derived from original art and individually supervised.
BIG & SMALL also displays more manageable sized prints of recent work including Pendulum , The Wombats, Younger Brother plus more familiar works from Black Sabbath, Peter Gabriel, Steve Miller, and Pink Floyd and Led Zeppelin etc .
Much of Storm's work is of filmic quality and epic proportions with complex, idea driven themes and a preponderance for landscapes, humour and contrariness. There is a mysterious element to the work but the meaning is less important than the finished result. It matters more that the musicians and the fans like it, not that they get the meaning, just as it is with songs where people are in effect free to make their own interpretations.
Make Your Own Album Cover!
The new exhibition includes interactive installations that allow members of the public to make and take their own versions of certain album covers . Live events will also take place throughout the exhibition making this a truly immersive experience.
Storm Who?
Storm Thorgerson started Hipgnosis with Aubrey Powell in the late 60s and produced covers for bands including Pink Floyd , Led Zeppelin , Black Sabbath , Genesis and 10CC . As StormStudios with Peter Curzon he began working with The Cranberries , Catherine Wheel , Muse , The Mars Volta , Ian Dury and Biffy Clyro to name a few . Despite advanced years, difficult disposition and being somewhat unloved by record companies, he continues to work.
StormStudios is Peter Curzon , Dan Abbott , Rupert Truman , Lee Baker , Jerry Sweet , Laura Truman and Storm Thorgerson. Hipgnosis was Aubrey Powell , Peter Christopherson , Storm Thorgerson , and occasionally George Hardie.
Source [ Charlotte Sluter, Idea Generation ]