Syd Barrett Trust – New Website Revealed
Links –The Syd Barrett Trust New Website | Discuss the Syd Barrett Trust Site on the forum.
---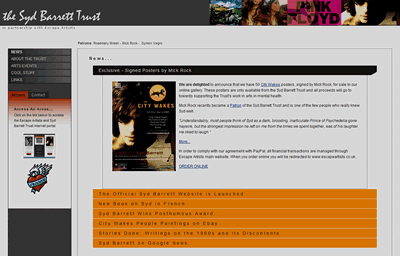 The Syd Barrett Trust
registered charity has a new website in the pipeline which is due to go "live" in the coming weeks.  You can view it
here
, but note it is still in development.
After visiting the site and having a good look around, feel free to share your comments and suggestions regarding the actual website on this form.
About The Trust

The Syd Barrett Trust was set up in 2008 by Syd's sister, Rosemary Breen, with the support of Escape Artists, a charity with its roots in Cambridge that has been working in the mental health sector since 2000. The Trust exists to raise funds for arts projects in the mental health sector; extending to other individuals the enjoyment and benefits that Syd found in the arts.
Initial funding for the Trust has come from an auction of Syd Barrett's belongings (see 'Origins of the Trust' item below) and further funds have been generated through a series of high profile events linked to the City Wakes project. Future funding for the Syd Barrett Trust will be developed through projects, sales and fund-raising campaigns that will all be accessible from this website.
Words from Rosemary Breen on The Syd Barrett Trust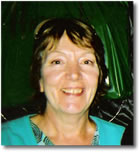 I am thrilled to be involved in this project.
Syd, my brother, was someone for whom creativity was as necessary as breathing. His music and painting were such an integral part of his being, that without them he couldn't function.
Because I recognise how important music and painting were to Syd, I want to help other people, who can benefit in the same way from the arts as he did, by providing opportunities for active involvement in the creative process. Syd would be really pleased to know that money raised from the auction of his things was being used for this purpose.
I hope that you will join me in supporting this project. It goes beyond simply supporting a small number of disadvantaged people – it's about improving the quality of life for everyone…
It's what Syd would have wanted.
Rosemary Breen, Syd's sister and Director of The Syd Barrett Trust
Source – [ Escape Artists ]