BBC2 – Tribute To Syd Barrett Program
Resources & Links
Program Details on BBC 2 Website | Discuss |
---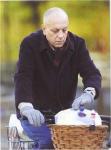 BBC2 TV are to broadcast a 50 minute long tribute program to the late Syd Barrett on Thursday 27th July 2006 at 11:20pm to 12:10am.
The BBC 2 website describes the program: Syd Barrett – Crazy Diamond: A moving account of Barrett's disintegration and struggle with the demons in his head. Members of Pink Floyd describe how he still haunts their lives and music. It is broadcast in wide screen and has sub titles.
As further details become available they will be posted here. Perhaps subscribe to this sites free newsletter to remain informed and up to date!!
The Passing of Roger Keith (Syd) Barrett
Syd Barrett died on Friday 7th July 2006 and was buried on Monday 17th July at Cambridge Crematorium. He died from complications related to his Diabetes at Addenbrooke's Hospital in Cambridge.
Syd formed Pink Floyd with Roger Waters and wrote most of their first Album Piper At The Gates of Dawn. Syd was eventually "left at home" due to his increased mental instability due to frequent drug usage and symptoms of schizophrenia. He was replaced by David Gilmour who was a childhood friend of Roger Waters and Syd.
Syd's Early Days
Roger Keith Barrett was born in Cambridge on 6th January 1946. His father Dr Arthur "Max" Barrett was a pathologist and his mother Winifred was in the catering business. He was one of 5 children and was the 4th oldest.
Alan Barrett – who looks after Syd's business affairs – was born first in 1937, followed by Donald then Ruth. Syd was born next (real name Roger Keith Barrett of course) followed by the youngest Rosemary.
Inspired To A Life of Music
Syd's father Arthur was a keen painter who often visited the nearly Botanical Gardens (to which he had a key) to paint watercolours. This is an activity Syd himself took up in the later years of his life as one of his hobbies. Additionally, Arthur was a member of the Cambridge Philharmonic Society and, naturally, this had an influence on Syd because the whole family used to enjoy singsongs at home!
Sources: [ Jack Dempsey, BBC2, Keith Jordan]