David Gilmour Concert in US Cinemas
Resources & Links
David Gilmour Website | Discuss concerts on forum
---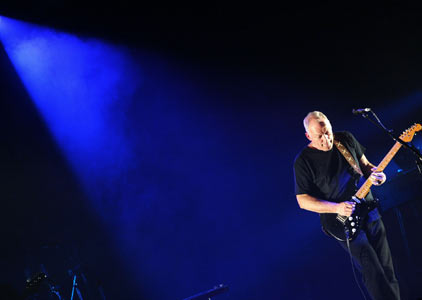 Another chance to see David Gilmour live: 16th May in cinemas across the US.
As mentioned on the www.davidgilmour.com website, don't forget that there's a chance to see David Gilmour's live show in one of over US 100 cinemas on Tuesday 16th May.
Thanks to a set-up in the USA whereby various concerts can be shown on cinema screens for a limited period, David Gilmour's live appearance at London's Mermaid Theatre has been scheduled to run for one day only in cinemas in almost every US state.
'David Gilmour: On An Island' is presented by National CineMedia and Network LIVE in high-definition and surround sound at more than 100 participating Regal, United Artists, Edwards, Cinemark, AMC and Georgia Theatre Company cinemas across the USA.
Check out the official ticket sales site Big Screen Concerts, where a couple of judicious clicks should then connect you to the web page that will sell you a ticket. You can search by Zip Code to find the location of your closest theatre.
The concert, performed on 7th March 2006 at London's Mermaid Theatre, was filmed in high-definition for the BBC. The footage has been edited and enhanced by director David Mallet (Queen, U2, David Bowie and much more). It was the first public appearance of the 2006 David Gilmour touring band, and the presentation was scaled down for the small theatre, which means there are no lasers for instance, but the powerful performances more than make up for it.
The concert showing will consist of tracks from David Gilmour's UK Number One album 'On An Island': Castellorizon, On An Island, The Blue, Take A Breath and Smile. There are also stellar renditions of Pink Floyd classics Shine On You Crazy Diamond; Wearing The Inside Out; High Hopes; and Comfortably Numb.
The evening's programme has been extended by the inclusion of the full promo clip for On An Island, and the Electronic Press Kit for the On An Island album, which includes David himself talking about the album's creation, plus footage from the album recording sessions.
David said "We had a great time touring the US, and I'm glad that more of the fans will be able to see the show because of this initiative".
Tickets are on sale now, priced at $10:00 in advance and $12:50 on the day of the show, and a splendid time is guaranteed for all!
Source: [ David Gilmour Website ]