David Gilmour performs with Reverend Al Green on Jonathan Ross
Links – Watch the video here | Download from BBC iPlayer in Standard or High Definition | Pink Floyd
---
David Gilmour performed with the legandary Reverend Al Green last night on BBC1's Friday Night with… Jonathan Ross. Also in the band, which was put together for one night only, was Jools Holland, his brother Christopher, Gilson Lavis on drums, Lisa Grahame and Phil Veacock taking on saxophone duties, Chris Storr on trumpet, and Barry Campbell, on bass.
Although the rendition of Let's Stay Together was an excellent one, perhaps Mr Gilmour should have used a guitar that was plugged in!! It was barely audible! But I guess it lends itself well to the style of the song. You can enjoy the song below.
Watch the Video
You can watch the video here on YouTube.
You can also download the video in glorious High Definition from the BBC iPlayer website (1.2GB) if you are in the UK. It is also available in Normal Definition picture quality (642MB). It is available until 12:39am Sunday 27th June 2010.
For those of you in the USA, you can watch the full Friday Night With… Jonathan Ross on BBC America this coming Friday 25th June 2010 at 10:20 EDT on BBC America.
Come and discuss the video/performance on our Forum.
Here are some screencaptures from the video…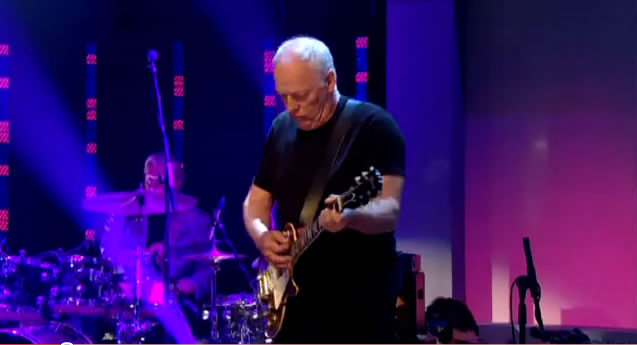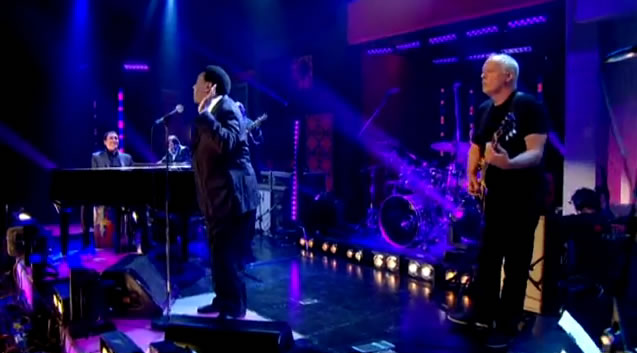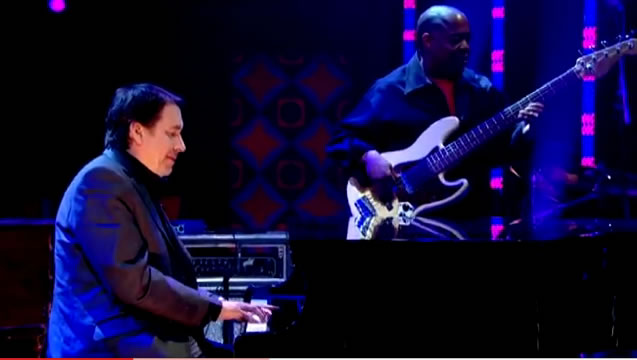 Source [ BBC One ]