Pink Floyd t-Shirts – Merchandise
Pink Floyd T-shirts have long been a staple of rock merchandise and are often worn by fans of the band and even those who just appreciate their album artwork. Pink Floyd, known for their progressive and psychedelic music, has produced some of the most iconic album covers in rock history, and these covers often find their way onto T-shirts.
There have also been several tour-specific T-shirt designs. For instance, shirts produced for a specific tour might have tour dates on the back and exclusive artwork on the front. A lot of these will be collectors items because they take you back to a concert you might have attended.
Here are some of the most famous and notable Pink Floyd T-shirt designs below. I think these would make a great Christmas present because who wouldn't love a Pink Floyd top?
Pink Floyd Shirts from Amazon UK
The Dark Side of the Moon (DSOTM) Shirts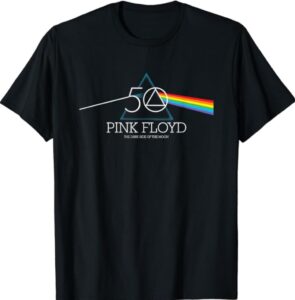 Probably the most recognised Pink Floyd album cover, DSOTM features a prism with a beam of light being refracted into a rainbow. T-shirts with this design are perhaps the most common and iconic. With it being the 50th anniversary of Dark Side it makes sense to get one of these!
Order from Amazon.co.uk
The Wall
Another hugely popular Pink Floyd album. T-shirts based on "The Wall" might feature the white-faced character from the movie adaptation, brick patterns, or even the marching hammers.
Wish You Were Here
This album cover showcases two businessmen, one of whom is on fire, shaking hands. T-shirts with this imagery can be quite striking.
Animals
The cover art for this album is a photograph of Battersea Power Station in London with a giant inflatable pig floating between its chimneys. T-shirts often depict this scene.
Division Bell
The cover features two large metal heads facing each other, which has been replicated on T-shirts.
A Momentary Lapse of Reason
This cover depicts a vast number of beds on a beach. Some T-shirts have recreated this surreal image.
Links
You might also want to check out the official Pink Floyd Store specifically t-shirts section