The Wall Movie DVD
Resources & Links
"Will You Buy This?" Poll | Chat about it on forum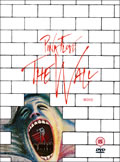 Release Date: 1st November 2004 on Sony Music (Cat No. 50198 6)
'The Wall – The Movie,' Alan Parker's extraordinary film, starring Bob Geldof, was originally released in 1982. The album that inspired the movie, Pink Floyd's groundbreaking 'The Wall,' this year celebrates its 25th anniversary. To commemorate these two landmark releases, Sony Music is to re-release the movie on DVD on 1st November 2004.
This Limited Edition re-issue will be packaged in a deluxe DVD digi-pak designed to look like The Wall with debossed brick work and a see through slipcase. Inside the digi-pak will feature a photo montage of film shots and a re-production of the original film promotional poster. This new edition also features new subtitles.
All artwork and design has been co-coordinated by original Floyd designers Storm Thorgerson and Peter Curzon.
"The Wall," conceived and written by Roger Waters, and directed by Alan Parker, tells the story of a rock star's descent into madness as he ponders his meaningless existence. Abandoned by his father during World War II, smothered by his mother thereafter, and punished in school for writing poems, he steadily builds a wall around himself. The style of the film is that of a 95-minute music video; there's virtually no dialogue, just songs and visuals, including the startling animation of British caricaturist Gerald Scarfe
In additional to the original 'The Wall' film, this DVD contains several fascinating extras. As well as a promotional feature from 1982, the two-part retrospective documentary will prove fascinating for Pink Floyd fans. There is also a rare and insightful interview with Roger Waters in which he discusses the autobiographical inspirations for his musical masterpiece. Director Alan Parker, animator-designer Gerald Scarfe, cinematographer Peter Biziou, and producer Alan Marshall all contribute several interesting observations. The audio commentary by Waters and Scarfe adds depth to their documentary interviews.
Source: [ PPR Publicity]