Clive Welham Passes Away
Links – Read Before They Were Floyd about all the bands Pink Floyd members were in before Pink Floyd | Listen to Jokers Wild EP online
---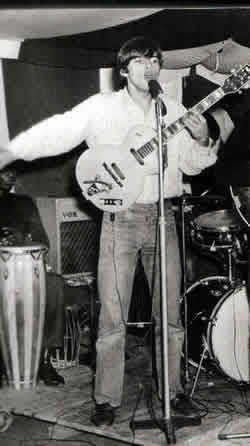 A former bandmate of David Gilmour, Clive Welham, has died after being ill for some time. Clive was in the band Jokers Wild with David Gilmour amongst many others in the Cambridge area. He passed away peacefully on 9th May 2012.
In the Spring of 1962, when the electric guitar was taking over, Clive was the drummer in the band Geoff Mott & The Mottoes along with fellow bandsmen Syd Barrett, Geoff Mott and Tony Sainty. Syd went off to set up the Pink Floyd with Roger Waters and Clive with David Gilmour to form Jokers Wild. Shortly afterwards, Clive and David Gilmour went on to form The Ramblers along with a raft of other band personnel. This band actually started playing gigs around Cambridge now that they had their confidence up! It wasn't long though before David went off with another band as is quite typical and joined The Newcomers in 1963.
It was in October 1964 that Jokers Wild were formed in which Clive Welham played drums with David Gilmour. The band consisted of: David Altham – Guitar, Saxophone, Keyboards, Vocals, David Gilmour – Guitar, Vocals, Harmonica, John Gordon – Rhythm Guitar, Vocals
Tony Sainty – Bass, Vocals (left in 1966), Clive Welham – Drums, Vocals (to mid 1966), Peter Gilmour – Bass Guitar, Vocals (early 1966 onwards), Willie Wilson – Drums (mid 1966 onwards).
Jokers Wild had their first performance on 14 October 1964 at Les Jeux Interdits, Victoria Ballroom, Cambridge, England. They played all over Cambridge in the year afterwards too.
David Gilmour would later go on to replace Syd Barrett in Pink Floyd and, during David Gilmours solo touring in the wonderful 1980s, Clive Welham's replacement in Jokers Wild Willie Wilson, would re-unite with his old bandmate David Gilmour.
Rest in peace, Clive.
Listen to Jokers Wild EP online
Read about band family tree before Pink Floyd started
fff
Source [ David Gilmour Blog ]