Gilmour On Chris Jagger's New Album
Resources & Links
Chris Jagger Website | Press Release | More About Chris Jagger's Atcha | Download Junkman Audio Clip |
---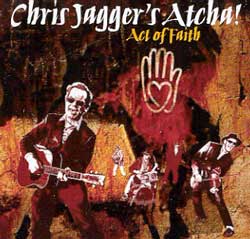 Download: Junkman Audio Clip (0.8MB)
David Gilmour has worked on two of Chris Jagger's new songs by providing guitar work which will be released on the same date as David's new album on 6th March 2006 (which is also David's birthday coincidentally!). I bet it will be frantic round the Gilmour's!
The album is called Act of Faith and the two songs David has played on are called "It's Amazing (What People Throw Away)" and "Junkman". I have asked Chris' management for a preview copy of it so, hopefully, I will be sent one so I can review it here!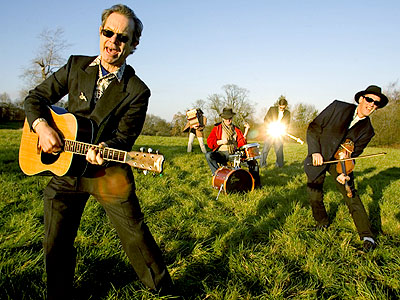 Chris is the younger brother of dinasaur rocker Mick Jagger! You can visit his website here and listen to some of his music in the discography section. It is very bluesey and I am sure Gilmour's contibution to it will be beautiful and well worth buying!!
CHRIS JAGGER'S ATCHA!
Founded in 1994, Chris Jagger's Atcha! is now hotter than ever. Come 2002, Atcha! is one of very few UK bands that can handle cajun, R&B, zydeco, blues and country in an authentic and original fashion.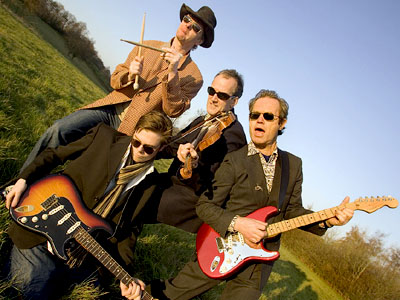 The first CD, 'Atcha' (Sequel Records) and the follow-up 'Channel Fever' (Latent Talent) established Chris Jagger as a talented song-writer and singer. His songs are definitely in a different bag from brother Mick's, but this hasn't prevented them collaborating on various occasions.
Chris is backed by a band of great musicians. Charlie Hart brings to the band feel and experience gained from his time in Ronnie Lane's Slim Chance. Like Charlie, the fine drummer Malcolm Mortimore has been in the band from the beginning. The line up is completed by guitar prodigy Jim Mortimore and the brilliant bass player Paul Emile.
Chris Jagger's Atcha! rock any festival or club they play at. The songs are seasoned, witty and warm and the band easily fills the dance floor. Strong original material is complemented by covers ranging from Zydeco grooves to rock classics from the likes of Johnny Allen, the Meters and Chuck Berry.
REVIEWS
'Chris showcased his tunes with a spirit and spunk that made family ties beside the point'. (Billboard)
'very engaging'; 'if the Faces or Pogues had been from Louisiana they would have sounded like this'; 'this Jagger is a sly sharp songwriter'. (Daily Telegraph)
'he does the job with so much joi-de-vivre that he and his four good-timey chums might well kick more life into your next party than anything released by the Stones in the last decade'; 'when the band locks into a bubbling groove, they mix up a potent brew'. (Mojo)
'heir to the throne left vacant by Ronnie Lane's Slim Chance'; 'Channel Fever finds Jagger writing strong enough songs to make his brother jealous'. (Q magazine)
'plays the old styles with plenty of heart'; 'a genial take on a range of American styles'; 'solid, danceable beat'. (Daily Mail)
'genuine British Zydeco'n'Country package. The crazy thing is that it works'; 'you could easily mistake this for the genuine American article'. (Hi-Fi News)
'the younger Jagger has discovered an excellent vocabulary'; 'the feel is authentic'. (Birmingham Post)
Sandy's List Of Gilmour Appearances
All About Eve
(1991) Touched by Jesus (Vertigo CD)
David Gilmour plays guitar on "Wishing The Hours Away" and "Are You Lonely"
Arcadia
(1985) So Red The Rose (Parlophone CD)
David Gilmour plays guitar on "The Promise" and "Missing"
(1985) The Promise (remix) (Parlophone 12″)
Atomic Roosters
(1983) Headline News (Voiceprint CD)
David Gilmour plays guitar on "Hold Your Fire", "Metal Minds", "Land Of Freedom" and "Time"
Rachid Bahri
(1977) Rachid Bahri (Pathe Marconi LP)
David Gilmour plays guitar on "Olivier De Cromwell Rd" and "Il Survivra"; Nick Mason plays drums on "Il Survivra"
Berlin
(1986) Count Three And Pray (Mercury CD)
David Gilmour plays guitar on "Pink And Velvet"
(1986) Pink And Velvet (remix) (Mercury 12″)
Blue Pearl
(1990) Naked (Big Life CD)
David Gilmour plays guitar on "Running Up That Hill" and "Alive"; Rick Wright plays keyboards on "Alive"
(1990) Alive (edit) / Down To You / Alive (remix) (Big Life 12″)
Liona Boyd
(1986) Persona (CBS CD)
David Gilmour plays guitar on "L'Enfant", "Sorceress" and "Madonna"
Sam Brown
(1988) Stop! (A&M CD)
David Gilmour plays guitar on "This Feeling" and "I'll Be In Love"
(1988) This Feeling (A&M CD5)
Includes remixed version of "This Feeling"
(1990) April Moon (A&M CD)
David Gilmour sings on "Troubled Soul"
Vicky Brown
(19??) About Love And Life (Polydor LP)
David Gilmour plays guitar on "I'll Always Be Waiting"
(1989) Lady Of Time (RCA LP)
David Gilmour plays guitar on "Can't Let Go"
John "Rabbit" Bundrick
(1988) Dream Jungle (Lumina Music CD)
David Gilmour plays guitar on "Conquest" and "Through The Clouds"
(19??) Rabbit Archive 5 (The Free Appreciation Society CAS)
David Gilmour produced "Rabbit Gets Loose"
Kate Bush
(1978) The Kick Inside (EMI CD)
David Gilmour is credited as executive producer on "The Man With The Child In His Eyes" and "Saxophone Song"
(1980) Army Dreamers / Delius / Passing Through Air (EMI 7″)
Produced, engineered and guitar on "Passing Through Air" by David Gilmour
(1982) The Dreaming (EMI CD)
David Gilmour sings on "Pull Out The Pin"
(1989) The Sensual World (EMI, CD)
David Gilmour plays guitar on "Love And Anger" and "Rocket's Tail"
(1989) The Sensual World – The Video (EMI VHS-NTSC/PAL)
David Gilmour appears on video of "Love And Anger"
Peter Cetera
(1988) One More Story (Warner Bros CD)
David Gilmour plays guitar on "Body Language" and "You Never Listen To Me"
David Courtney
(1975) David Courtney's First Day (EMI LP)
David Gilmour plays guitar on "When Your Life Is Your Own"
Dalbello
(1987) She (EMI LP)
David Gilmour plays guitar on "Immaculate Eyes"
Doll By Doll
(1982) Grand Passion (Magnet LP)
David Gilmour plays guitar somewhere on the album
The Dream Academy
(1985) The Dream Academy (Blanco Y Negro CD)
Several tracks produced, and guitar on "The Party" and "Bound To Be" by David Gilmour
(1985) Life In A Northern Town (remix) (Blanco Y Negro 12″)
(1985) Please, Please, Please Let Me Get What I Want (Blanco Y Negro, 12″)
Produced by David Gilmour
(1990) A Different Kind Of Weather (Blanco Y Negro CD)
Co-produced and various instruments on several tracks by David Gilmour
(1990) Love (Blanco Y Negro 7″(?))
Co-produced by David Gilmour
(1990) Angel Of Mercy (Blanco Y Negro 7″(?))
Co-produced by David Gilmour
Bryan Ferry
(1985) Boys And Girls (EG CD)
David Gilmour plays guitar on "Boys And Girls"
(1986) Is Your Love Strong Enough (EG 12″)
David Gilmour plays guitar on "Seven Deadly Sins"
(1987) Bete Noire (Virgin CD)
David Gilmour plays guitar somewhere on the album
Hale And Pace And The Stonkers
(19??) The Stonk (London 7″)
David Gilmour plays guitar on the title track
Roy Harper
(1975) HQ (Science Friction CD)
David Gilmour plays guitar on "The Game"
(1976) An Introduction To Roy Harper (Chrysalis LP; promo)
Interview with David Gilmour about Roy Harper
(1980) The Unknown Soldier (Harvest LP)
David Gilmour plays guitar and co-composer on several tracks
(1985) Whatever Happened To Jugula? (Beggars Banquet CD)
David Gilmour wrote music for "Hope"
(1986) In Between Every Line (Science Friction CD)
David Gilmour co-composed "Short And Sweet" and "True Story"
(1990) Once (Science Friction CD)
David Gilmour plays guitar on "Once", "Once In The Middle Of Nowhere" and "Berliners"
(1990) Burn The World (Science Friction CD)
David Gilmour plays guitar solo on the studio version of the title track
Hawkwind
(1976) Kerb Crawler / Honky Dorky (Charisma 7″)
Mixed by David Gilmour
Jools Holland
(1991) Together Again (IRS 7″)
David Gilmour plays guitar on "Honey Dripper"
Holly And The Ivys
(19??) Christmas On 45 (Decca 7″)
David Gilmour plays on the record
Chris Jagger
(1994) Chris Jagger's Atcha (Sequel CD)
David Gilmour plays guitar on "Steal The Time"
Elton John
(1990) The One (Rocket CD)
David Gilmour plays guitar on "Understanding Woman"
Jokers Wild
(1966) Jokers Wild (private pressing LP/7″)
David Gilmour's first band, which released very limited edition LP, with "Why Fools Fall In Love", "Walk Like A Man", "Don't Ask Me (What I Say)", "Big Girls Don't Cry" and "Beautiful Delilah", and single with "Why Fools Fall In Love" and "Don't Ask Me (What I Say)"
Grace Jones
(1985) Slave To The Rhythm (Manhattan CD)
David Gilmour plays guitar somewhere on the album
Michael Kamen
(1990) Concerto For Saxophone (Warner Bros CD)
David Gilmour plays guitar on "Sasha"
The Law
(1991) The Law (Atlanic CD)
David Gilmour plays guitar on "Stone Cold"
Kirsty Maccoll
(19??) Kite (Virgin CD)
David Gilmour plays guitar on "No Victims" and "You & Me Baby"
(19??) Innocence (Virgin CD5)
Includes remix of "No Victims"
John Martyn
(1992) Couldn't Love You More (Permanent CD)
David Gilmour plays guitar on "Could've Been Me" and "Ways To Cry"
(1993) No Little Boy (Permanent CD)
David Gilmour plays guitar on "Could've Been Me", "Ways To Cry" (both re-recorded) and "One World"
(1995) Live (Permanent 2CD)
David Gilmour plays guitar somewhere. Recorded at The Shaw Theatre, London, 31st March 1990
(19??) The Apprentice Tour (Virgin VHS-PAL)
David Gilmour plays guitar somewhere
Paul McCartney
(1984) Give My Regards To Broad Street (MPL CD)
David Gilmour plays guitar on "No More Lonely Nights (Ballad version)"
(1989) Flowers In The Dirt (EMI CD)
David Gilmour plays guitar on "We Got Married"
Jimmy Nail
(1992) Growing Up In Public (Eastwest CD)
David Gilmour plays guitar on "Waiting For The Sunshine" and "Only Love (Can Bring Us Home)"
(1992) Only Love (Can Bring Us Home) (Eastwest CD5)
Includes remixed (?) version of "Only Love (Can Bring Us Home)"
Les Paul
(19??) He Changed The Music (Magnum Music Group VHS-PAL)
David Gilmour plays guitar on "Deep In The Blues" and "Blue Suede Shoes"
Propaganda
(1990) 1234 (Virgin CD)
David Gilmour plays guitar on "Only One World"
(1990) One One World (Virgin 12″/CD5)
Includes remixed version of "Only One World"
Quiver
(19??) Quiver (Warner Bros LP)
David Gilmour plays guitar somewhere on the album
Rock Aid Armenia
(1989) Smoke On The Water (Life Aid Armenia 12″)
David Gilmour plays guitar on the title track
(1989) Smoke On The Water (remix) (Life Aid Armenia 12″)
(1989) Smoke On The Water – The Video Collection (Virgin VHS-PAL)
David Gilmour appears on the video
Paul Rodgers
(1993) Muddy Waters Blues (Victory CD)
David Gilmour plays guitar on "Standing Around Crying"
Roe
(1990) Roe (Barclay LP)
David Gilmour plays guitar on "Como El Agua"
Sutherland Brothers And Quiver
(1975) Reach For The Sky (CBS CD)
David Gilmour plays guitar on "Ain't Too Proud"
(19??) Arms Of Mary (CBS 7″)
Produced by David Gilmour. Also included on various artists sampler "Acoustic Moods" (Polygram CD)
Supertramp
(1985) Brother Where You Bound (A&M CD)
David Gilmour plays guitar on the title track
Pete Townshend
(1985) White City (ATCO CD)
David Gilmour plays guitar on "Give Blood" and "White City Fighting", also wrote music for "White City Fighting"
(1986) Give Blood (ATCO 12″)
David Gilmour plays guitar on "Won't Get Fooled Again" (Live)
(1986) Deep End Live (Virgin VHS-NTSC/PAL)
David Gilmour plays lead guitar throughout
Unicorn
(1974) Blue Pine Trees (Charisma LP)
Produced by David Gilmour. Pedal steel guitar by David Gilmour
(1975) Too Many Crooks (Harvest LP)
Produced by David Gilmour
(1978) One More Tomorrow (Harvest LP)
Tracks 5 & 6 side one and 1-6 side two produced and engineered by David Gilmour
(1978) Slow Dancing (Harvest 7″)
Produced and engineered by David Gilmour
Snowy White
(1994) Highway To The Sun (Bellaphon Records CD)
David Gilmour plays guitar somewhere on the album
Wings
(1979) Back To The Egg (MPL CD)
David Gilmour plays guitar on "Rockestra Theme" and "So Glad To See You Here"
Paul Young
(1990) Other Voices (CBS CD)
David Gilmour plays guitar on "Heaven Can Wait" and "A Little Bit Of Love"
(1990) Heaven Can Wait (CBS CD5)
Includes remixed version of "Heaven Can Wait"
Warren Zevon
(1989) Transverse City (Virgin CD)
David Gilmour plays guitar on "Run Straight Down"
Various artists
(1987) The Secret Policeman's 3rd Ball (Virgin CD/VHS-PAL)
David Gilmour plays guitar on Kate Bush's "Running Up That Hill"
(1989) Hysterial 2! – The Second Coming (Palaca VHS-PAL)
David Gilmour plays guitar on "My Girl"
(1989) The Spirit Of The Forest (Virgin 7″/12″)
David Gilmour sings on the track
(1990) One World One Voice (Virgin CD)
David Gilmour plays guitar somewhere on the album
(1991) The Best Of Hysteria 3! (PMI VHS-PAL)
David Gilmour plays guitar on "Together Again", "I Wish I Knew How It Feels" and "Honey Dripper"
(1992) Amnesty International The Big 30! (VHS-PAL)
David Gilmour plays guitar throughout
(1992) Guitar (Warner Music Vision VHS-PAL)
David Gilmour plays guitar on "Wish You Were Here"
(1994) Tuneland (7th Level CD-ROM)
David Gilmour plays guitar somewhere
(19??) Return To The Forbidden Planet (CD)
Produced by Nick Mason
(19??) Total Recall (Virgin, VHS-PAL)
David Gilmour plays guitar on "Slave To Love"
Source: [ Brain Damage ]