Snowy White Biography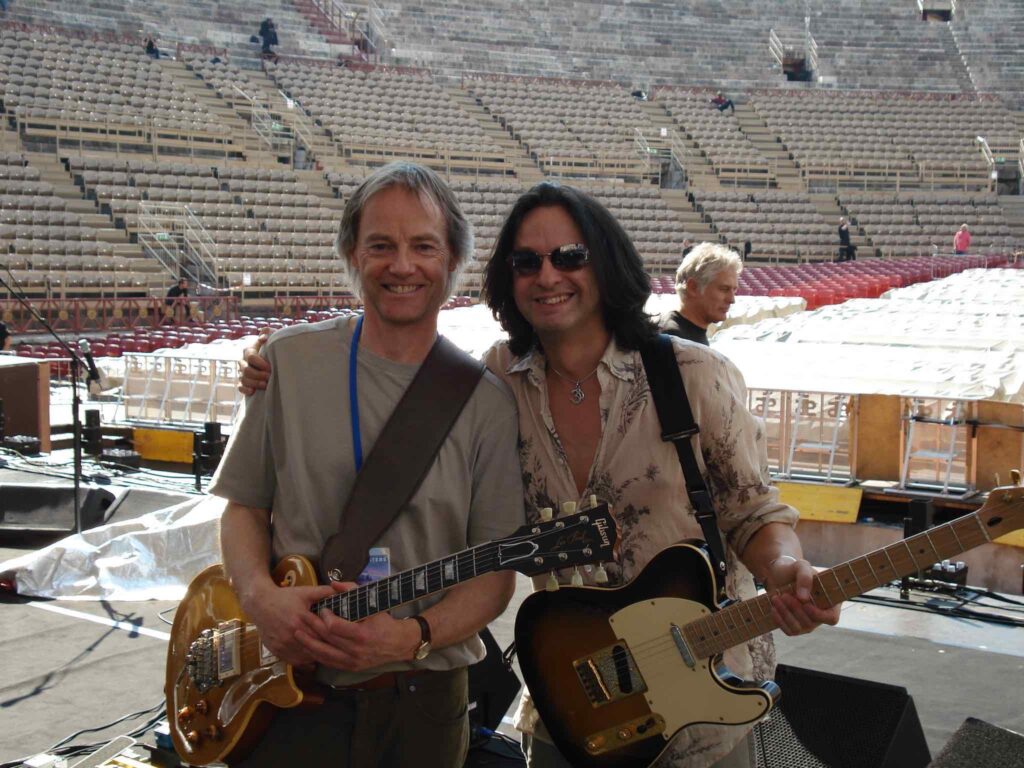 Snowy White is an English guitarist and singer who was born on March 3, 1948, in Devon, England. He is best known for his work as a session musician and guitarist with a number of prominent rock and blues musicians.
White first began playing guitar in the 1960s, and quickly established himself as a talented and versatile musician. He went on to perform and record with a number of influential blues and rock artists, including Peter Green, Gary Moore, and Pink Floyd.
In 1982, White released his first solo album, "Snowy White", which showcased his musical skills and songwriting abilities. The album was well received by audiences and critics, and established him as a solo artist in his own right.
Over the years, White has continued to tour and record music, and has been involved in a number of musical projects and collaborations. He is widely regarded as one of the most talented and versatile guitarists of his generation, and continues to perform and record music to this day.
In addition to his musical career, White is also known for his contributions to the world of music education. He has been involved in a number of music education programs and initiatives, and has dedicated much of his time and energy to encouraging and inspiring young musicians.
Snowy White remains an important figure in the world of rock and blues music, and continues to inspire and influence musicians and fans around the world. He is widely regarded as one of the most talented and accomplished guitarists of his generation, and continues to be an important figure in the world of rock and blues music.
Snowy White is one of a handful of classic blues-orientated British electric guitar players – musicians whose sound, technique and style has echoed the originality of the blues with the excitement of contemporary rock.
At the age of eleven he first heard the urban blues sound that had been emanating from the United States, people such as BB King, Buddy Guy, Otis Rush and Albert King, and was immediately aware that this was the music that he wanted to incorporate in his playing. He has developed his own style of 'English ' blues, a combination of clear, clean blues phrases and harder-edged riffs that are a recognisable feature of his very personal songs.
Arriving in London in the early seventies with the classic 'few pennies in his pocket' he gradually made a name for himself among the local musicians and became respected as a tasteful player and an easy guy to get along with.
In 1974 he toured the east coast of America, getting as far south as New Orleans and discovering that he thoroughly enjoyed being 'on the road'. He had by then become friendly with the now legendary English blues guitarist Peter Green and they spent a lot of time jamming together.
During the mid-seventies Snowy played on various sessions, developed his skills in the studio environment, and started writing his own material.
In the Autumn of 1976 he was invited to tour America and Europe with the Pink Floyd as their first augmenting musician, a gig which took up most of his time throughout 1977.
In 1978 the band's keyboard player Rick Wright asked him to play guitar on his solo album, entitled 'Wet Dream,' which he recorded in the South of France.
In 1979 Peter Green decided to head for the studio once more and invited Snowy along to jam. The result was the album entitled 'In the Skies', now something of a collectors item.
He was then asked by the Pink Floyd to go to America to rehearse their new show entitled 'The Wall', and, at the same time, the rock band Thin Lizzy invited him to become a full-time member. So after the completion of the Floyds' US dates he returned to England and went straight into the studio to record his first Thin Lizzy album 'Chinatown'. This album includes some songs co-written by Snowy, notably the title track. Two and a half years of world tours and recording with the band followed, including the making of Snowy's second album with them, entitled 'Renegade'. Snowy again co-wrote some of the songs and the title track. After this long period of work he decided that it was time to do his own thing and quit the band in 1982.
In the following twelve months he got together with musicians that he had known and admired for a long time – drummer/percussionist Richard Bailey, keyboard player Godfrey Wang, and his good friend for many years, bassist and producer Kuma Harada. Together they came up with Snowy's first solo album, 'White Flames.' A single, the timeless 'Bird of Paradise', written by Snowy, which was taken from the album, became an international hit.
However, the idea of becoming a 'singles' artiste, with the consequent concern about where the next hit record was coming from, did not appeal to him, and he took a break to rethink his musical direction. During that time he put together a gigging blues band, 'The Blues Agency', with drummer Jeff Allen, his old friend Kuma on bass, and, as he wanted to concentrate only on playing the guitar, singer and harp player Graham Bell. Between 1986 and 1989 the band played in the UK and Europe, and recorded two albums, 'Change my Life', followed by 'Open for Business' (which was released in Europe as 'Blues on Me'.)
In June 1990 Roger Waters, having split from the Pink Floyd, asked Snowy to perform with him on the spectacular 'The Wall' show in Berlin.
In 1991 Waters again called upon Snowy, this time to play at the 'Guitar Legends' concert in Seville as part of Expo.
After this concert Snowy decided that it was time that he returned to the mainstream of things so he set about putting down songs that he had been writing during the previous few years. The result was the album entitled 'Highway to the Sun'. Recorded in the Summer of 1993 it contained ten original songs plus a version of Peter Green's 'I loved another Woman', a long-time favourite of Snowy's. The album also has guest appearances by Chris Rea ( slide guitar on the title track), David Gilmour and Gary Moore. It also introduced two new brilliant Dutch-Indonesian musicians, Juan van Emmerloot (drums/percussion) and Walter Latupeirissa (bass and rhythm guitar). Kuma Harada also played bass and rhythm. John 'Rabbit' Bundrick featured on keyboards. The video of the title track has Chris Rea guesting on slide.
'Bird of Paradise' then came back into the picture when KLM airlines decided to use it on their new TV advertising campaign, resulting in the single reentering the charts in Europe and the compilation album 'Birds of Paradise' doing extremely good business for most of 1994.
Snowy's next album project was released on the UK record label RPM. Entitled 'Gold Top', after his well-known Gibson Les Paul 'Goldtop Standard' guitar, it features material in which Snowy has been involved from as far back as 1974 right up to 1996. This album includes two tracks from Thin Lizzy, jams from the Peter Green 'In the Skies' session (with Peter on 2nd guitar), Al Stewart live in Philadelphia (1974), and the only complete version of the Pink Floyd song 'Pigs on the Wing', featuring Snowy's original guitar solo (never before released), as well as some live Snowy White blues and some previously unreleased material. Dave Gilmour and Chris Rea also appear on tracks taken from his recent 'Highway to the Sun' CD. The album closes with the hit single 'Bird of Paradise'
Snowy then recorded three albums with his White Flames band, "No Faith Required' in 1996, 'Little Wing' in 1998 and 'Keep Out:We Are Toxic' in 1999.
Another compilation, entitled 'Pure Gold – The Solo Years' was also released in 1999.
Also in this year Snowy joined Roger Waters for his bands' 'In The Flesh' US tour, which was so successful that, in the Summer of 2000, Roger again toured the States, this time recording a live album and making a film of the show.
Early in 2000 'Little Wing' was released in the States under the title 'Melting', and in July of that year Snowy White & the White Flames played a showcase gig at BB King's Blues Bar off Times Square in New York.
A final White Flames album (as a three-piece), entitled 'Restless,' was released in May 2002. Tracks include 'Blues is the Road', 'Restless', 'The Time Has Come', 'Soldier of Fortune', 'Softly', 'It's Your Life', 'New Day…Maybe,' 'You Can't Break My Heart' and 'Too Far Away'.
From February to July 2002 Snowy toured the world with Roger Waters.
Spring 2005 saw the release of a new White Flames cd, entitled "The Way It Is", with a basic four-piece outfit consisting of Richard Bailey (drums/percussion), Walter Latupeirissa (bass) and Max Middleton (keyboards). Guest musicians include Juan van Emmerloot on drums/percussion, Kuma Harada on bass guitar, James Lascelles on hammond, Dawn Knight on backing vocals and Ray Carless on saxophone.Track listing: No Stranger to the Blues, Bird of Paradise, Black Magic Woman, What I'm Searching For, Angel Inside You (parts one and two), Falling,The Way It Is, A Piece of Your Love, This Time of My Life, Easy, Sweet Bluesmaker.
A DVD, 'The Way It Is – Live', filmed in Vilnius, Lithuania, was released in 2005
From April to October 2006 Snowy toured Europe and America with Roger Waters.
The Autumn of 2006 saw The White Flames Band performing in the UK and Europe.
From January to July 2007 Snowy toured Australia, New Zealand, South America, China, India, Europe and North America/Canada with Roger Waters.
A live album from the White Flames Band, entitled 'Liveflames,' was released in October 2007.
April to June 2008 Snowy toured again with Roger Waters, after which he started work on a new White Flames Band album entitled 'Realistic', with Juan van Emmerloot, Walter Latupeirissa, and Max Middleton. The recording of this album continued through 2009 and into 2010.
In the Autumn of 2008 Snowy formed The Snowy White Blues Project, with Matt Taylor (guitar/vocals), Ruud Weber Jnr (bass guitar/vocals), and Juan van Emmerloot (drums), recording a blues-orientated album, 'In Our Time of Living.' During 2009/10 the band were gigging throughout Europe. They released a live album 'In Our Time…Live' in 2010.
In the Summer of 2010 Snowy completed the recording of 'Realistic', which was released in early 2011.
Autumn 2010 saw Snowy touring the USA, Canada and Mexico with Roger Water's 'The Wall' show, which then continued throughout Europe in the first half of 2011 and returned to the USA in 2012
In between these tours he found time to record a live DVD, 'After Paradise', featuring many of the musicians that have played with him over his long career. Tracks included are: I'm Getting Ready, Midnight Blues, I'll Be Moving On, Red Wine Blues, Judgement Day, Blue To The Bone, Slabo Day, Tears In My Eyes, Lucky Star, Bird Of Paradise, The Journey (Parts1 and 2), Falling, On The Edge Of Something, Ongoing…, Can't Get Enough Of The Blues, At The Crossroads. Plus: interviews and "The Making Of".
The final 'Wall' tour covered Europe in 2013.
Snowy has released four more albums during the period 2014 -2020, 'Released', 'Reunited,' 'The Situation', and the latest, in 2020, 'Something On Me'..