New Pink Floyd CD Release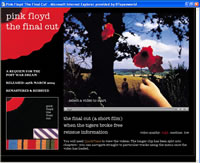 The official Pink Floyd site has been updated due to "the final cut" being remastered and rereleased on 31st March 2004. This re-mastered version comes repackaged in a new 16 page booklet featuring all the original sleeve artwork designed by Roger Waters and includes the extra track 'When The Tigers Broke Free'. You can watch a rare short movie and the music video for 'When The Tigers Broke Free' on the website.
Pink Floyd's 'The Final Cut' was initially released in 1983 and reached No.1 in the UK and spent 25 weeks in the charts on release. 'When The Tigers Broke Free' was the first 7″ single from the record, however the track never made the original album.
'The Final Cut' was written by Roger Waters, recorded in 1982 and was his last record with Pink Floyd.
Track list:
The Post War Dream
Your Possible Pasts
One Of The Few
When The Tigers Broke Free
The Hero's Return
The Gunner's Dream
Paranoid Eyes
Get Your Filthy Hands Off My Desert
The Fletcher Memorial Home
Southampton Dock
The Final Cut
Not Now John
Two Suns In The Sunset
You can watch 2 videos on the final cut microsite on the Officlal Pink Floyd website.
Source: [ Pink Floyd ]