Pink Floyd Auctions X2
Resources & Links
eBay Mic Auction| Christies Pop Auction | Talk on forum about Christies Auction or the Mics auction.
There are two auctions happening that all Floyd collectors should be interested in! There is an auction on eBay ending 11th September for the two Neumann KMS 105 microphones that David Gilmour and Roger Waters sang into at their reunion gig at Londons Hyde Park on 2nd July 2005!! Also, there is an auction by Christies starting on 28th September 2005 in the Kensington Borough of London.
Ebay – Live 8 Mics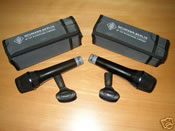 Not only are eBay celebrating their 10th anniversary but they also have an auction for the 2 mics Roger and David used at their Live 8 gig.
The auction lot comes with a DVD of the two frontmen using the mics!
Text from eBay listing:
My name is Phil Thomas organiser of the Bobby Bragg Celebrity Golf Day & I am offering a truly unique opportunity to obtain a piece of rock history to any Pink Floyd fans.

Our friend Gareth Williams was Pink Floyds monitor engineer at this years live 8 concert in London's Hyde Park in July, following Floyds sensational performance Gareth aquired David Gilmore's microphone from Mark Saunders of Sannheiser UK on behalf of our great friends Fairport Convention who then donated it to the Bobby Bragg Celebrity Golf Day in aid of The Teenage Cancer Trust.

When Mark found out , he generously donated Roger Walter's microphone as well.

The two Neumann KMS 105 microphones were used only once by David Gilmore and Roger Walters of Pink Floyd at The live 8 concert in Hide Park. Footage of David & Roger during the concert is also included on DVD. Both mic's have their names on gaffer tape and come complete with cases and clips. Both have a certificate of authentication.

Our sincere thanks go to Gareth Williams, Mark Saunders and Fairport Convention.

EVERY PENNY RAISED I GAURANTEE WILL BE DONATED TO TEENAGE CANCER TRUST

STARTING BID £500. (LESS THAN COST NEW)
You can bid or read more about the auction on this eBay page.
Christies – Pop Memorabilia Auction –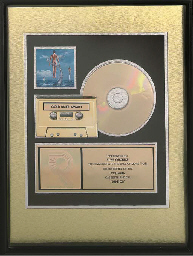 There are 21 lots from the estate of the late Steve O'Rourke who died in 2003 and was Pink Floyd's manager. The sale is to benefit Nordoff-Robbins Music Therapy and charities for bereved children and the young (more info).
You can view the lots included within the Pop Memorabilia auction. Pink Floyd's are lot 46 to 73. You can also talk about this on the forum.
Right above: Pink Floyd/Shine On, 1992 – A presentation 'gold' award for the album Shine On, R.I.A.A. certified — Presented to STEVE O'ROURKE — 17x13in. (43×30.5cm.) framed
Source: [ Joel at Christies and Brain Damage ]