Richard Wright Dies From Cancer
Resources & Links
NPF Links – Richard Wright Dies from Cancer | Pay Respects | David Glmour Pays Tribute | Discuss Davids Tribute | News Sites – BBC News | Guardian | AP | Resources – Richard Wright Photos | Richard on Wikipedia | Related News – Syd Barrett Dies Age 60 (2006) | External Links – David Gilmour Website | Pink Floyd Website |
---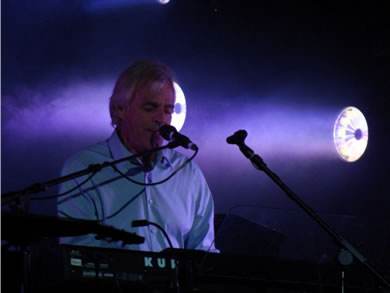 Click to enlarge
Pink Floyd's keyboard player Richard Wright has died of cancer at age 65. He died at home in England.
Wright's spokesman Doug Wright (no relation) said: "The family of Richard Wright, founder member of Pink Floyd, announce with great sadness that Richard died today [on 15th September] after a short struggle with cancer.
"The family have asked that their privacy is respected at this difficult time." The spokesman did not say which form of cancer Rick had.
Rick was one of the founding members of Pink Floyd and has recently been touring with David Gilmour. His death follows the death of the other founding member Syd Barrett who also died of cancer in 2006 at age 60.
NPF has requested Pink Floyd's manager pass on condolences to Rick's family.
He will be sadly missed. Condolences to his family and friends. You can pay your respects on the forum on this thread. Get on the newsletter list to keep informed about developments.
Sources: [ BBC News, Associated Press ]