Syd Barrett Solo Albums in Limited Edition LP Collection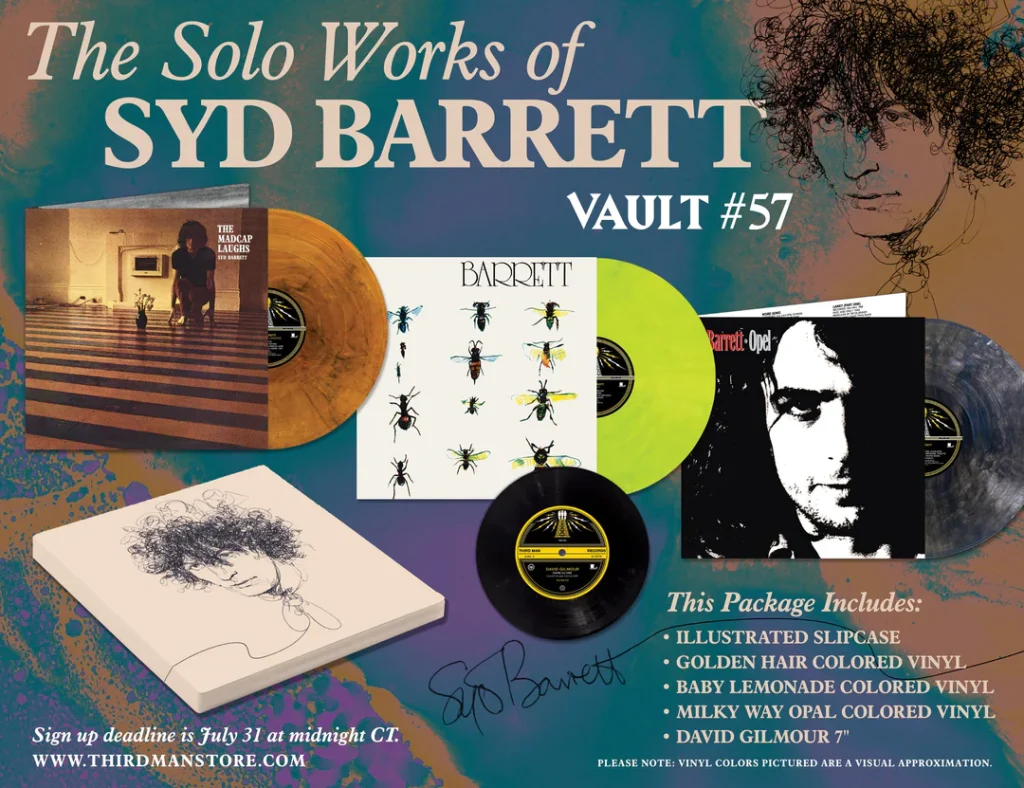 Third Man Records, in collaboration with Sony Music Entertainment, is set to release Syd Barrett's solo albums – The Madcap Laughs, Barrett, and Opel – as the 57th installment of the Vault subscription series.
Having been out of print individually for almost a decade, the albums are now available together on 180-gram vinyl.
The release also includes a bonus 7-inch single by David Gilmour covering Barrett's compositions "Dominoes" and "Dark Globe."
All albums and the single are housed in a custom slipcase featuring new exclusive artwork.
The collection celebrates Barrett's influence on the psychedelic and folk realms and his iconic leadership of Pink Floyd, with orders available until midnight CST on July 31st.
Track Listing
VAULT PACKAGE #57:
THE SOLO WORKS OF SYD BARRETT 3xLP BOX SET
TRACKLISTING
The Madcap Laughs
Terrapin
No Good Trying
Love You
No Man's Land
Dark Globe
Here I Go
Octopus
Golden Hair
Long Gone
She Took A Long Cold Look
Feel
If It's In You
Late Night
Barrett
Baby Lemonade
Love Song
Dominoes
It Is Obvious
Rats
Maisie
Gigolo Aunt
Waving My Arms In The Air
I Never Lied To You
Wined And Dined
Wolfpack
Effervescing Elephant
Opel
Opel
Clowns And Jugglers
Rats
Golden Hair
Dolly Rocker
Word Song
Wined And Dined
Swan Lee (Silas Lang)
Birdie Hop
Let's Split
Lanky Pt. 1
Wouldn't You Miss Me (Dark Globe)
Milky Way
Golden Hair – Take 1
David Gilmour 7-inch single
"Dark Globe" b/w "Dominoes"