Roger Waters Live Stream Cinema Event
A live broadcast screening into cinemas worldwide on May 25. Tickets on sale on April 25. Check website for venue locations.
Synopsis
For one night only, prepare to be transported into the visionary realm of Roger Waters, the creative genius who guided Pink Floyd through their most influential and triumphant years. In his first-ever Farewell Tour, "This Is Not A Drill", you'll have the opportunity to witness this mind-bending spectacle live from the enchanting city of Prague, as it's beamed into cinemas across the globe!
In a world increasingly overtaken by soulless corporations and the struggle for survival, Waters presents a visually stunning and emotionally charged critique of this dystopian reality. With the iconic sounds of Pink Floyd and Waters' own classics as the backdrop, this cinematic masterpiece is poised to rock the foundations of our consciousness.
Be prepared for a mesmerizing odyssey through time and space, as Waters delivers unforgettable renditions of 20 classic tracks, including the hauntingly beautiful "Us & Them", the transcendental "Comfortably Numb", the timeless "Wish You Were Here", and the poignant "Is This The Life We Really Want?". And as a special treat, Waters will unveil his latest musical gem, "The Bar".
Witness the magic unfold as an extraordinary ensemble of musicians and vocalists take the stage, featuring Jonathan Wilson, Dave Kilminster, Jon Carin, Gus Seyffert, Robert Walter, Joey Waronker, Shanay Johnson, Amanda Belair, and Seamus Blake. This tour de force of talent will combine their virtuosity to deliver an awe-inspiring performance that will leave you forever changed.
But at its core, "This Is Not A Drill" is more than just a concert. It is a clarion call to action – a powerful reminder to cherish, protect, and share our precious planet, the only home we've got. Join Roger Waters in this unforgettable journey of music, love, and unity, and let your soul be forever stirred.
Don't miss this once-in-a-lifetime event – a cosmic experience that will resonate long after the final notes have faded away. Book your tickets now, and prepare for an evening of unparalleled musical and visual splendor, courtesy of the legendary Roger Waters.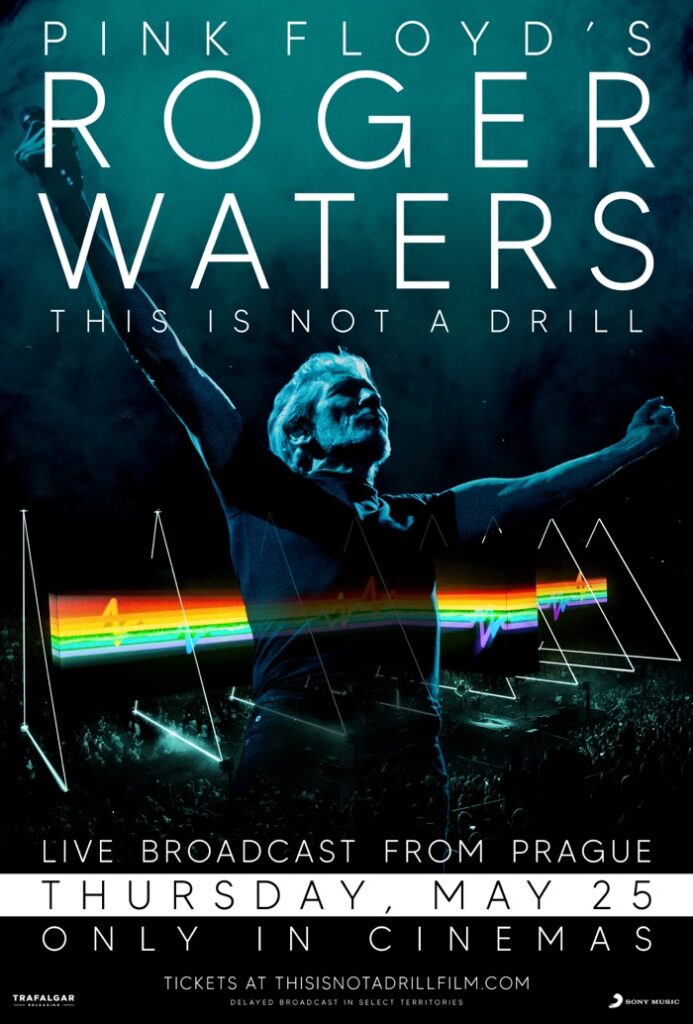 Previous Broadcasts
The collaboration between Roger Waters, Sony Music and Trafalgar Releasing also produced cinema broadcasts for the Us and Them and The Wall Live tours.
The "Us + Them" tour was a critically acclaimed concert series that featured a mix of Pink Floyd classics and Roger Waters' solo material. The tour included stunning visual effects and was praised for its high production value and powerful performances.
Similarly, in 2015, Trafalgar Releasing also broadcast Roger Waters' "The Wall Live" tour, which was a spectacular show that featured a massive wall built on stage and projections of animation, live-action footage, and other visual effects. The tour was a tribute to Pink Floyd's classic album, "The Wall," and included many of its most popular songs.
Both of these live broadcasts were praised for their high-quality production values and stunning performances, and they provided a unique opportunity for fans around the world to experience the magic of Roger Waters' live shows from the comfort of their local cinemas.