Treat Yourself to Signed Pink Floyd Cover Art
Following my visit to the Hipgnosis Masters of Album Cover Art exhibition at St Pauls Gallery in Birmingham, I got in touch with the gallery to ask if they could offer NPF visitors a discount on their huge collection of beautifully printed album cover art. They obliged and you can get 10% off using code URMWR217 on their Pink Floyd cover art.
The Hipgnosis exhibition runs until 5th April 2014, but their full catalogue is online all year round. The prices reflect the fact that many of the huge limited edition fine art prints are signed by the likes of Nick Mason, Storm Thorgerson and Aubrey "Po" Powell. Storm and Po produced many of Pink Floyd's iconic cover art which are all signed and available to you.
If you have any questions about the prints, feel free to call Symon at St Pauls gallery on 0044 (0)7711 141415 at any time.
Here are some of my personal favourites:
1 – Pink Floyd Ummagumma Print Signed By Artist Storm Thorgerson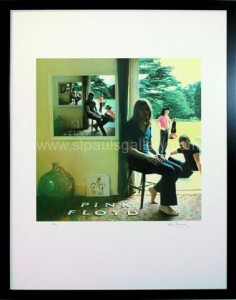 The Ummagumma album cover was photographed with a 120 Hasselblad camera using a wide angle lens and colour negative film.  Photo prints were made from selected contacts to the required sizes, then cut and collaged together, with scalpel blade and cow gum – primitive yet effective. The sense of receding dimension, of layers beneath layers, of different realities, was firmly established. This 3D illusion served to illustrate the simple idea that Floyd music was multi-layered, more intricate than most, and offered a depth, should you choose to explore it a depth of feeling, a depth of mind. The actual idea stemmed from a psychological black and white line illustration of receding infinity, which is also an illusion is the perspective going away from you, or towards? Storm Thorgerson turned the line drawing into a photograph, an illusion on a page into a
real, live event.
Storm Thorgerson's design is about a picture within a picture, a room within a room. Its not a mirror, nor a photo of a photo, nor like opposing mirrors in an elevator; its a real place. It sometimes feels like you could step directly through the frame into the next room. A sort of hallucinatory feeling commensurate with the music and with certain unspecified chemicals.
2 – Pink Floyd Wish You Were Here Print Signed By Artist Storm Thorgerson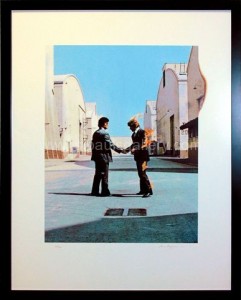 Storm Thorgerson recalls that one of Pink Floyd's Wish You Were Here themes, indeed one word, prevailed during the recording of Wish You Were Here at Abbey Road absence. Nothing more poignantly, or powerfully illustrated this than the unexpected arrival of ex Pink Floyd's Syd Barrett at the studio during the vocal takes for Wish You Were Here's Shine On You Crazy Diamond, having been absent from Pink Floyd seven years. Says Storm Thorgerson the handshake from the burning man is as empty or absent a gesture as you can get. The man is really on fire. He wore an asbestos suit under the cloth suit, which extends over the head, where a wig was attached. The first attempts at setting him alight were in the wrong wind direction.
The flames were blown back and ignited his moustache for an instant. A close shave, one might say.. . . . the diver in the lake makes no splash, so is he there really?  Or is he absent?. The man in the desert is faceless, no features, no scruples or rather absent morality . . . and so on and so forth. The whole Pink Floyd Wish You Were Here album design was then hidden by Storm Thorgerson from public view by an opaque black shrink-wrap. In effect, Storm Thorgerson 's Pink Floyd cover was absent.
3 – Storm Thorgerson Signed Pink Floyd 30th Dark Side Stained Glass Print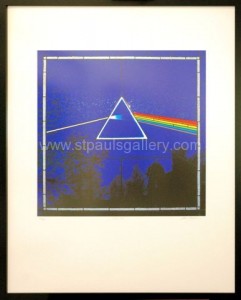 Pink Floyds The Dark Side Of The Moon album was remixed from original tapes in Super Audio to provide an even more detailed and splendid surround sound audio experience. It was the same music but not the same mixit seemed appropriate to indicate as much on the pink floyd cover by re-working the original design which was an airbrush illustration with line work for tint lay.
What more fitting then than a glass rendition of the same design? A design about light (passing through a prism) represented via a medium of light a stained glass window. So simple, pure and succinct.
The stained glass window was made in the same proportions as the original design. The stained glass window was photographed outside against a winter sun (actually in the back garden of a house belonging to one of Pink Floyd) highlighting the texture and imperfections of the glass itself. All very radiant!
4 – Storm Thorgerson Signed Pink Floyd Chair Album Cover Print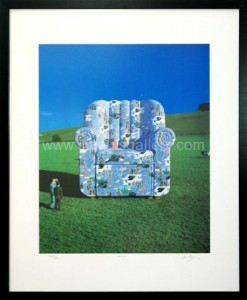 Pink Floyd drummer Nick Mason's 2004 book Inside Out – A Personal History of Pink Floyd was due to feature this Storm Thorgerson image, which has a huge chair upholstered in Pink Floyd artwork. The chair is life size and the three ladies you see sat on the chair are real. Originally conceived as for Pink Floyd's 30th Anniversary campaign. Hand signed By Storm Thorgerson, this limited edition signed print is a great addition to our stable of Pink Floyd Images.