Home / Pink Floyd Timeline / 1943-1968 Syd Barrett's Pink Floyd
Pink Floyd Timeline : 1943, 1944, 1946, 1961, 1962, 1963, 1964, 1965, 1966, 1967, 1968
Pink Floyd's history is a colourful, innovative and sometimes dark affair spanning many decades of amazing albums, live shows, photography and more. It is a difficult task, of course, to boil down such an immense time period into a timeline. But we shall try. If you would like to suggest an addition to the timeline, get in touch.
1940s Pink Floyd Band Members Are Born
The core band members in Pink Floyd are born in the 1940s, in Southern England, except Nick Mason who was born in the midlands.
Timeline: 1943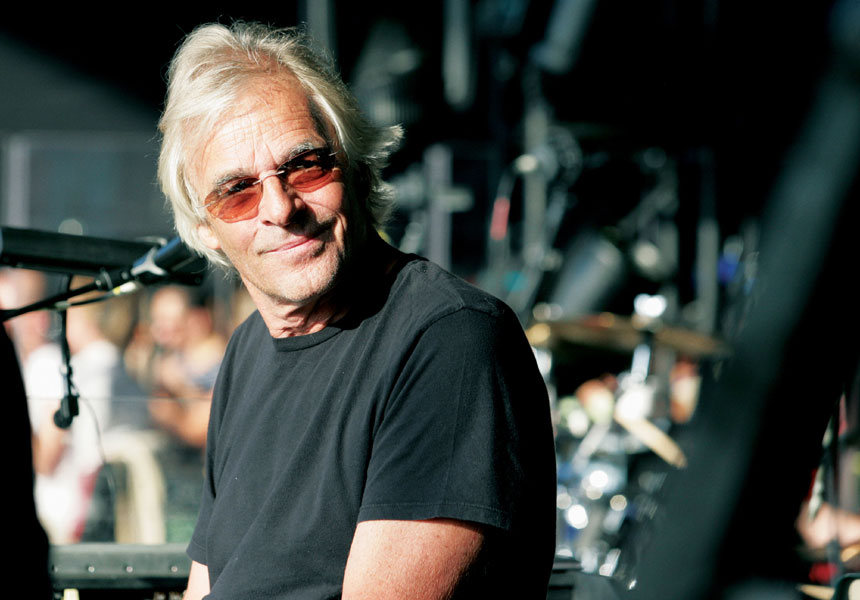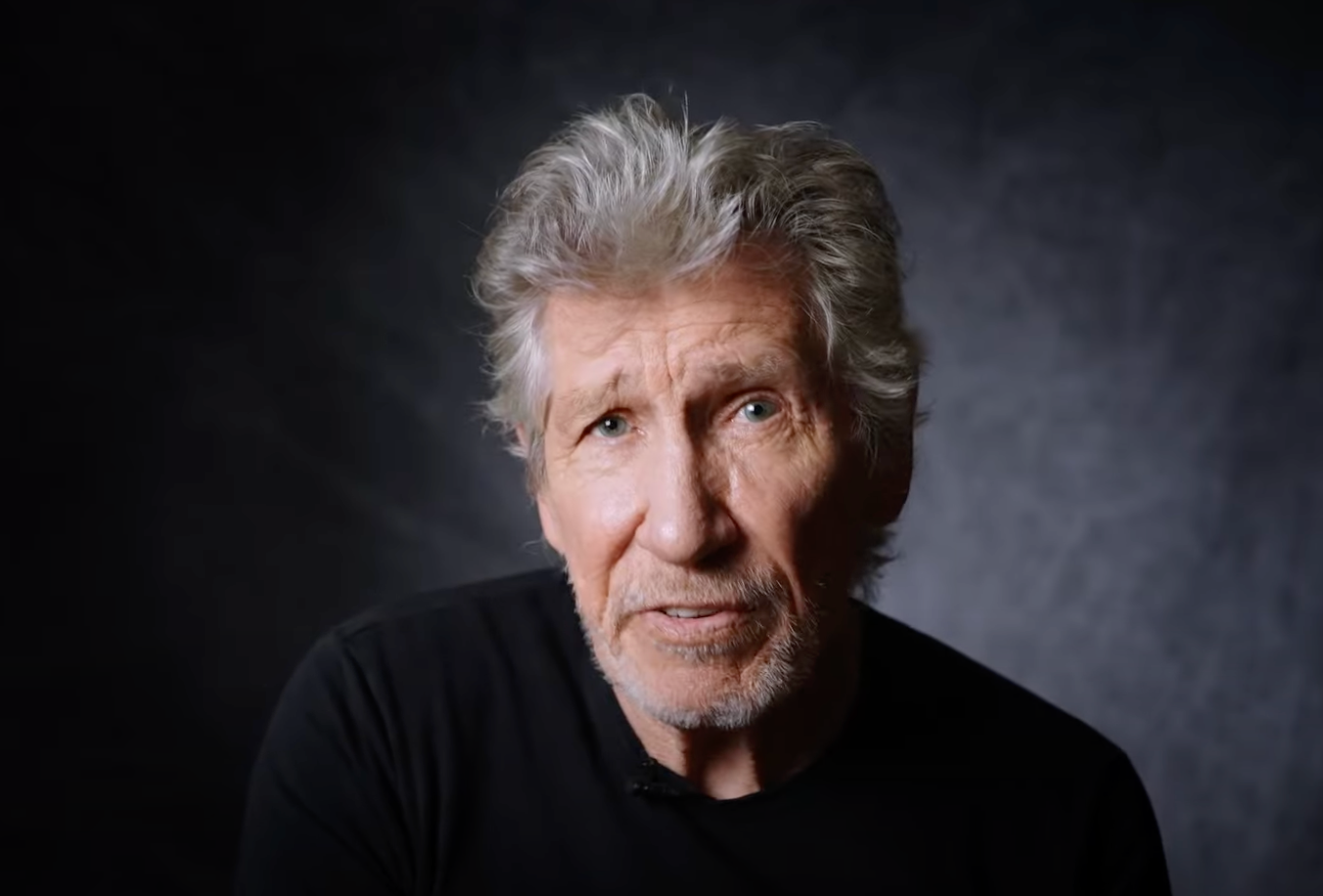 Roger Waters is Born
Roger Waters (George Roger Waters): Born on September 6, 1943, in Great Bookham, Surrey, England. Waters grew up in Cambridge and later moved to London, where he met the other band members while studying architecture at the London Polytechnic.

Roger Waters Biography, Roger Waters Photos
Timeline: 1944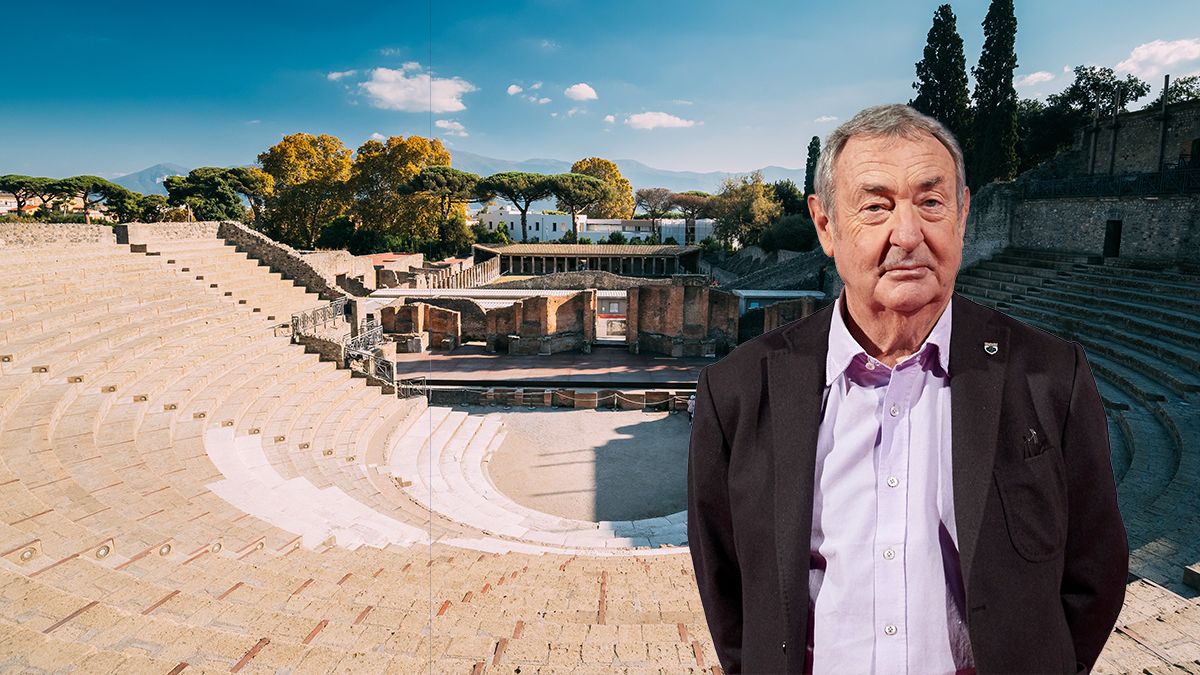 Nick Mason Born
Nick Mason (Nicholas Berkeley Mason): Born on January 27, 1944, in Birmingham, England. Mason studied architecture at the London Polytechnic, where he met Waters, Wright, and Barrett.

Nick Mason Biography, Nick Mason Photos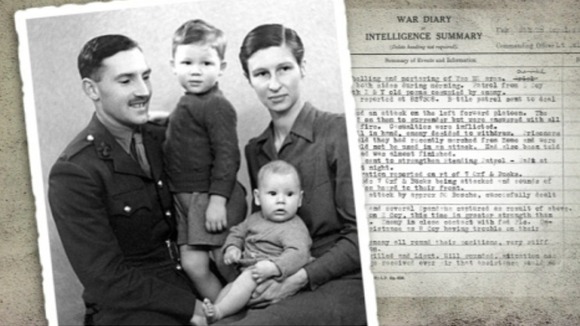 Eric Fletcher Waters Dies
Timeline: 1946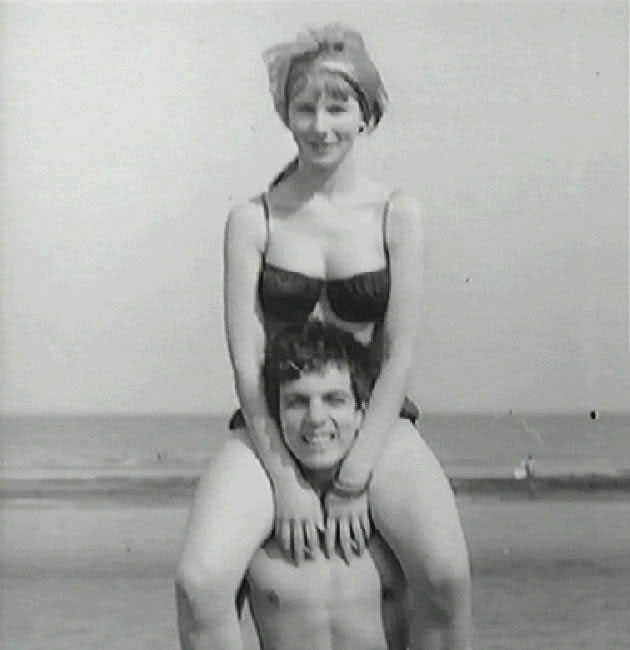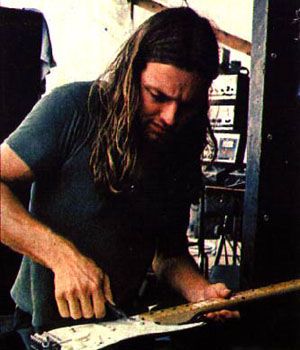 David Gilmour is Born
David Jon Gilmour. Born on March 6, 1946, in Cambridge, England. Unlike the other members, Gilmour did not meet the rest of Pink Floyd in college. He grew up in Cambridge and had known Syd Barrett from his teenage years, as they attended the same school, though they weren't close friends at the time.

David Gilmour Biography, David Gilmour Photos
1960s Several college bands later, Pink Floyd is Formed
Various members of Pink Floyd would be in different bands in the early 1960s before The Pink Floyd was formed. Read our comprehensive research article about Pink Floyd Band Member's bands before Pink Floyd. However, they are documented in this timeline below.
Timeline: 1961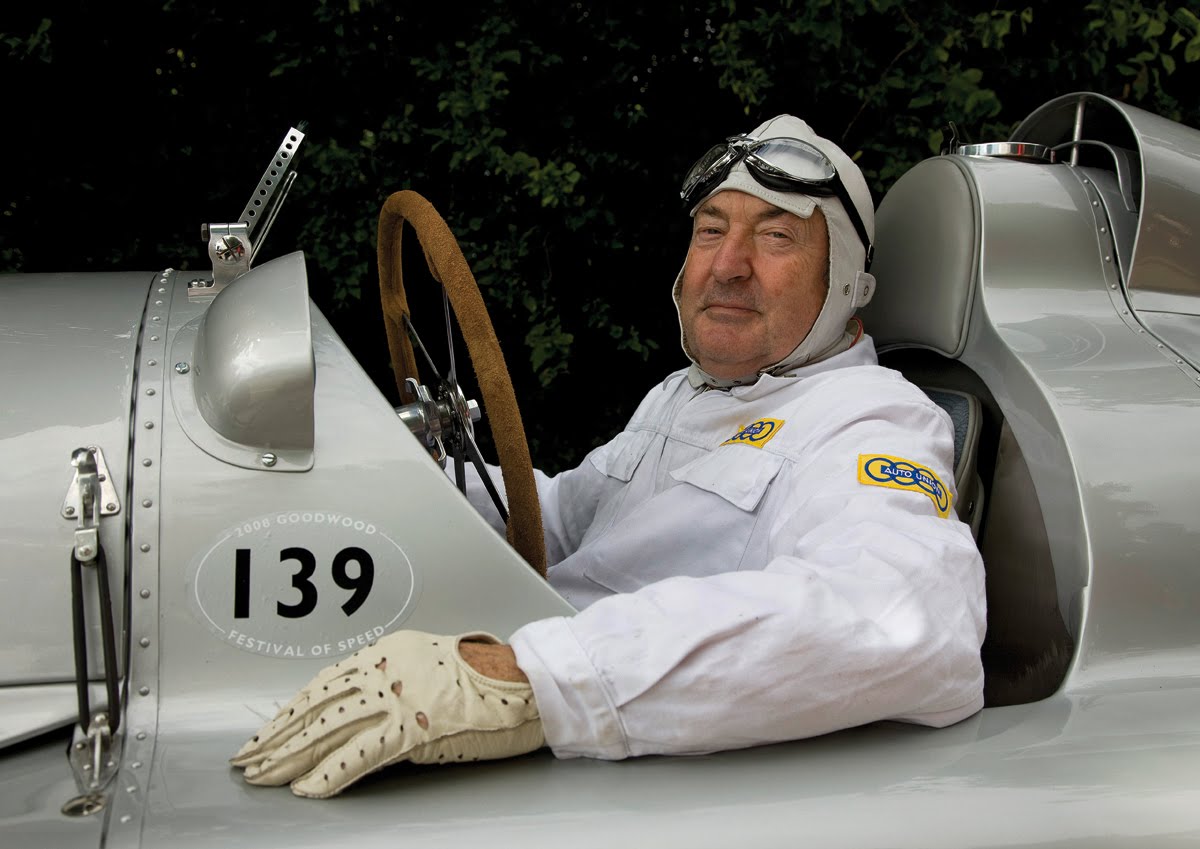 Nick Mason Passes Driving Test!
Nick was greatly inspired by his father's car collection and passed his driving test in 1961. Photo is obviously from much later on at Goodwood Festival of Speed.
Timeline: 1962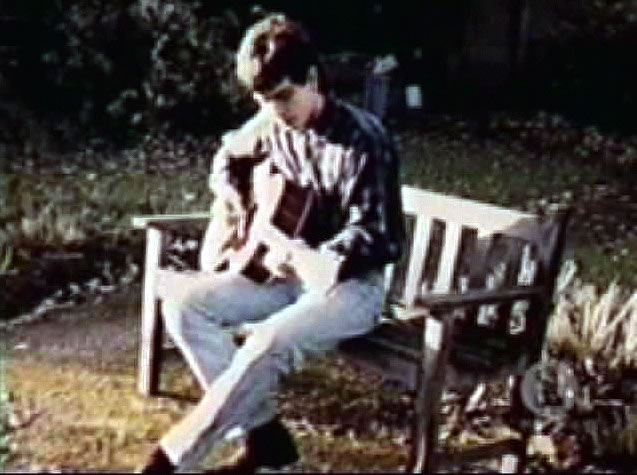 Geoff Mott & The Mottoes
(At 16 years of age, Syd joined his first band, Geoff Mott And The Mottoes.) Geoff Mott was a gangly, bespectacled, carrot-haired youth who had been expelled from The County for general unruliness prior to setting up his own rock 'n' roll band. Mott's rebellious image and comparative experience (he was 19, several years senior to the rest of the crowd) made him a minor celebrity among the town's fledgling rockers . He was the obvious frontman. Clive Welham was the drummer and 18-year-old Roger Waters, son of Syd's teacher Mary, was roped in on bass. […]

Geoff Mott And The Mottoes were, like dozens of Cambridge groups, formed purely for fun and without pretensions of stardom. The band's history consists of a solitary gig at a CND meeting in a local hall, the type of occasion, admits Mott, where they could not put a foot wrong.

With their flamboyant leader at his exuberant best, The Mottoes doggedly ran through a string of Buddy Holly and Eddie Cochran numbers, spurred on by the generous applause of their captive audience.

"Syd wasn't a bad rhythm guitarist," says Mott. "It was nice to hear someone who could play as opposed to thumping around."

The Mottoes CND triumph was never to be repeated, although they talked enthusiastically about another gig. Mott had a full-time job and was already in a semi-pro band, while Waters was on the verge of moving up to London.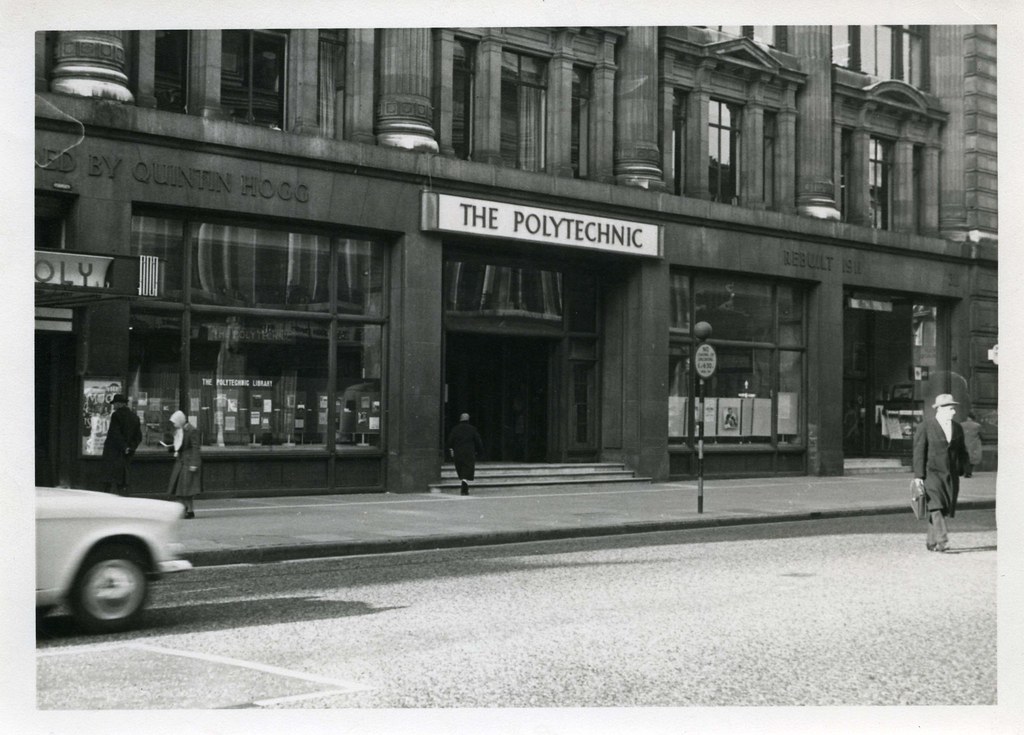 Regent Street Polytechnic
September 1962 Roger Waters, Richard Wright and Nick Mason start their attendance at Regent Street Polytechnic in London. They are all studying architecture. They all start playing music together and are joined by various temporary members. Bands like The Meggadeaths and The Abdabs emerge. Syd Barrett, Roger's childhood friend, would arrive at Camberwell School of Art the following year and things would get moving for what would become Pink Floyd.
Timeline: 1963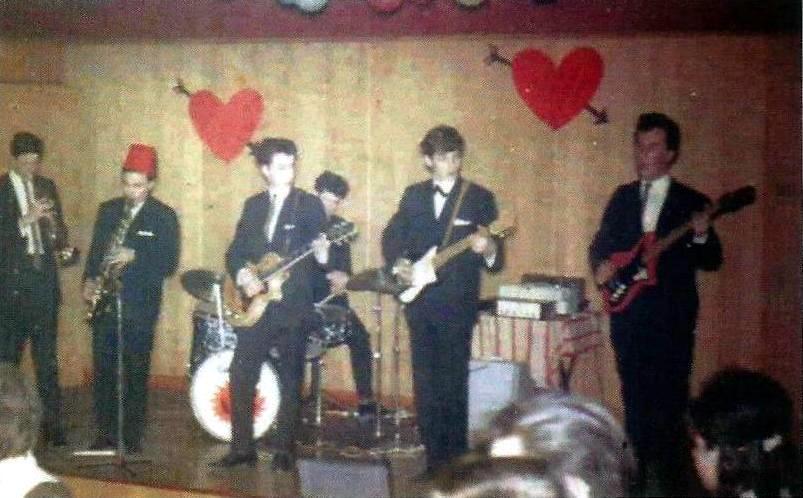 Chris Ian & The Newcomers
January-March David Gilmour is in a band called Chris Ian & The Newcomers which played a few gigs around Cambridge.

The picture shows The Newcomers performing at a Valentine's party, February 1963. From left: Dick Fletcher, Dave Thaxter, Johnny Barnes, Chris Ian(Culpin), David Gilmour, Roger Bibby. © Dave Thaxter.

Additional Sources : https://more-relics.tumblr.com –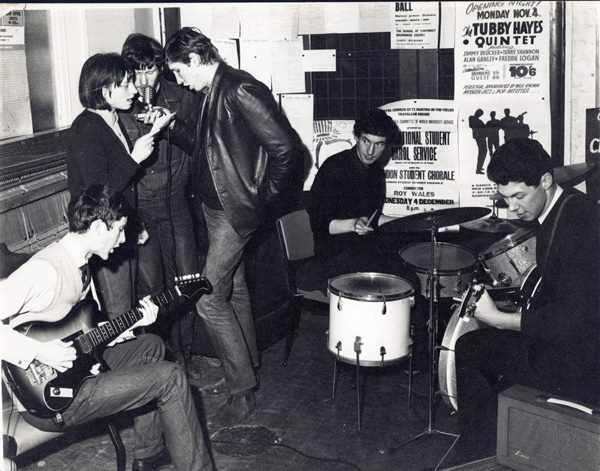 Sigma Six
Autumn 1963 Sigma Six was put together by Clive Metcalf whilst Nick Mason, Roger Waters and Richard Wright were attending Regent Street Polytechnic. Nick and Roger were on their usual drums and guitar respectively. But Rick Wright was on guitar too in between piano, organ and brass!

In the picture, The Sigma 6, Clive Metcalfe, Sheila Noble, Keith Noble, Roger & Nick Mason, and unknown temporary guitarist, in the student Common Room at the Regent Street Poly, where we rehearsed. My drum kit had now upgraded to a Premier. [Pic: 1963 Pink Floyd Music Archive]
Timeline: 1964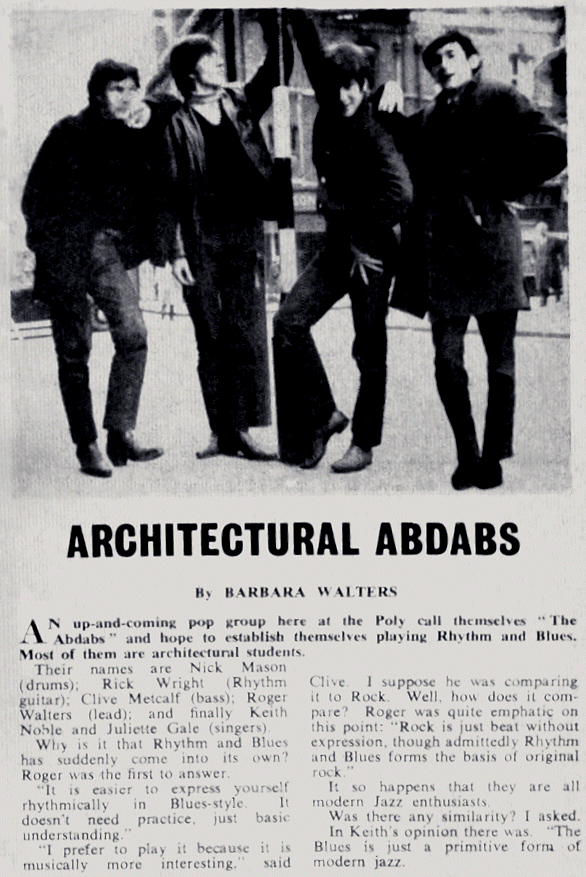 The Screaming Abdabs AKA Sigma Six
Sigma Six were mistakenly called The Abdabs (The Screaming Abdabs) due to a falsely attributed name in a newspaper article. For decades after, Pink Floyd historians would incorrectly document this band that didn't exist. We continue that legacy here.

The band performaned at The Marquee, Soho, London. They played as extras in an unidentified film. The band also played at various private parties but never played any other music venues. They rehearsed at Regent Street Polytechnic often in addition to the flat of Mike Leonard much to the annoyance of the neighbours!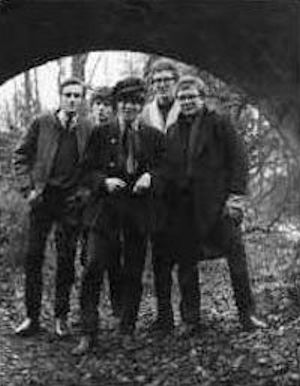 Hollerin' Blues feat. Syd Barrett
July Syd Barrett is now in the Hollerin' Blues playing guitar, just one of many bands he would be in before achieving fame with Pink Floyd. Check out some of the pre-fame band pictures from Syd's story. Band members included Barney Barnes on keyboard, electric piano and vocals. Syd Barrett on Guitar. Peter Glass on Harmonica. Steve Pyle on Drums. Ken Waterson on Vocals, maracas and harmonica. They played 5 concerts around Cambridge before disbanding. They became Those Without later.

Note: I think this picture might be from when they returned later as Those Without. See interview with Syd's first manager on the Atagong webste.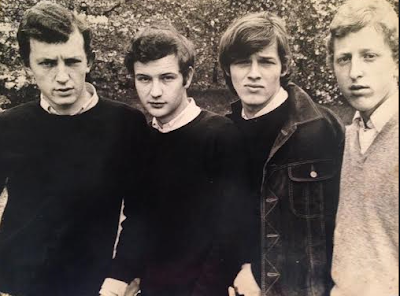 David Gilmour in Jokers Wild
October 1964 to 1966 David Gilmour is now in Jokers Wild and would release a famous bootleg EP which is available at all good Pink Floyd ROIO websites. You can see lots of photos of Jokers Wild. David Gilmour's brother Peter Gilmour played bass in the band for a while too.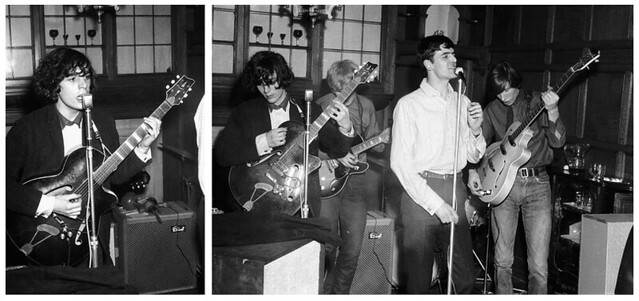 The Spectrum Five
Autumn 1964 The Spectrum Five is basically Pink Floyd. The members are Roger "Syd" Barrett – Vocals, Rhythm Guitar, Bob Klose – Guitar, harmonica, vocals, Nick Mason – Drums, Roger Waters – Bass, vocals and Richard Wright – Keyboards, Vocals.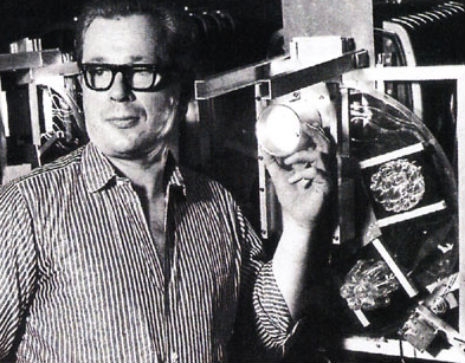 Leonard's Lodgers and The Tea Set
Winter 1964 The Spectrum Five has given way to Leonard's Lodgers, as Rick Wright had left and Mike Leonard was playing Keyboards and with other Cambridge native Bok Close on guitar. They let Mike in the band because they were renting his flat and making a large amount of terribly loud noise. Mike would, of course, contribute massively to the early light shows at their gigs. His projections would stay with the band until decades later. Chris Dennis also popped up as a vocalist.
Timeline: 1965
Timeline: 1966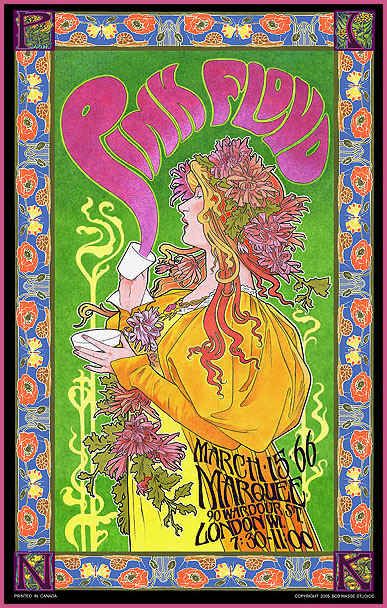 Pink Floyd Spontaneous Underground
March 1966 Pink Floyd play at the Marquee Club's Spontaneous Underground event (Check out a Spare Bricks fanzine about this timeframe) and are really starting to get noticed at this point.

March 1966 also saw the founding of the London Free School, a kind of underground Citizen's Advice Bureau and loose-knit quasi-university started by London School of Economics lecturer Peter Jenner and freelance photographer John "Hoppy" Hopkins. An eclectic group of students, activists, poets, musicians, and would-be hippies, they met informally in the basement of 26 Powis Terrace, in Notting Hill.

Peter Jenner turned up at one of the Marquee's "Spontaneous Underground" events in early 1966, and there first witnessed The Pink Floyd Sound. Some sources–such as Watkinson and Anderson's Crazy Diamond–claim he was at the Floyd's first Spontaneous Underground appearance on February 27, while others–such as Vernon Fitch's Pink Floyd Encyclopedia–place the meeting on the March 27 show. Floyd biographer Nicholas Schaffner claims it was May, though no such performance seems to have taken place. I suspect that Jenner, a leading figure on the blossoming underground scene, would have seen the Floyd early on at the Marquee, and then 'met' the band later–perhaps in May as Schaffner suggests.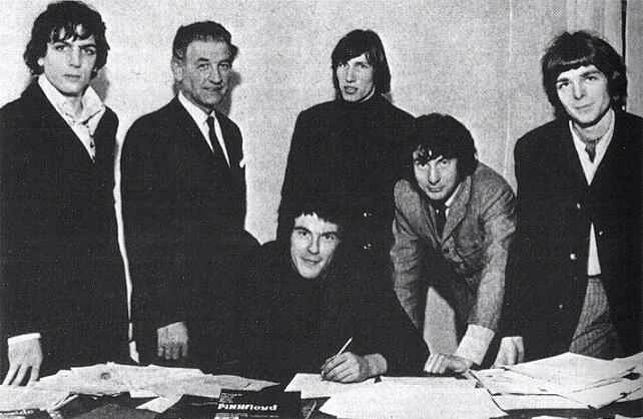 Blackhill Enterprises management company set up
Blackhill Enterprises was a rock music management company, founded as a partnership by the four original members of Pink Floyd (Syd Barrett, Nick Mason, Roger Waters and Richard Wright), with Peter Jenner and Andrew King.

Blackhill were the organisers of the first Hyde Park free concerts.

After Syd Barrett left Pink Floyd, the partnership was dissolved, and Jenner and King continued Blackhill to manage Barrett. Following Blackhill's eventual dissolution, both Jenner and King continued to work in music management.

They also managed: Marc Bolan (who met his wife, June Child, while she was working as Blackhill's secretary), Edgar Broughton Band, The Clash, Ian Dury, Roy Harper, Alberto Y Lost Trios Paranoias, Kevin Ayers, Bridget St John, The Action.

Picture is Pink Floyd signing their record contract at EMI in London in 1967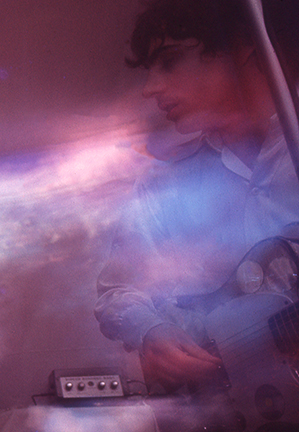 Pink Floyd at Architects Association Gig
Architectural Association, Student Christmas Carnival

"They hired Pink Floyd to play all night for £150. The rooms and ceilings were covered with plastic sheet. It was hot and sweaty, but the music was great and the party went on all night. (December 16th 1966)" – Adam Ritchie Photography. Concert Database : Pink Floyd at Architects Association Gig
UFO Club Opens in London
The UFO Club (pronounced as "U-F-O" rather than "you-foe") was a famous part of London's underground music scene in the 1960s. It opened on December 23, 1966, and was founded by Joe Boyd and John Hopkins, commonly known as "Hoppy." The club became a hub for psychedelic music and culture, playing a significant role in the British counterculture of the late 1960s.

Located at 31 Tottenham Court Road, the UFO Club was known for its avant-garde and psychedelic atmosphere. The club featured light shows, avant-garde films, and performances from a variety of musicians, including some who would go on to become major figures in rock music. One of the most notable bands to regularly play at the UFO Club was Pink Floyd, then led by Syd Barrett. Their experimental music and light shows perfectly encapsulated the spirit of the club.

The UFO Club also became a meeting place for counterculture figures, attracting artists, musicians, and others involved in the psychedelic movement. However, despite its cultural significance, the club faced legal and financial difficulties. It was forced to close its doors in October 1967, less than a year after it opened. Despite its short lifespan, the UFO Club left a lasting legacy in the world of music and culture, remembered for its pioneering role in the psychedelic movement.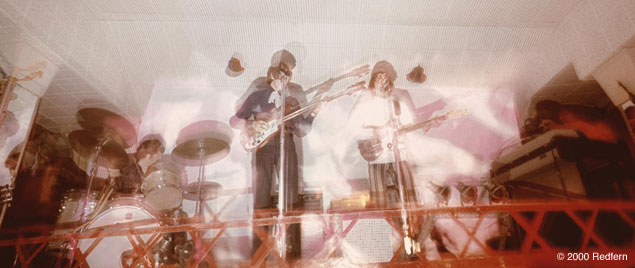 UFO Club Opens, Pink Floyd Perform
The UFO Club was founded by John Hopkins known as "Hoppy" and Joe Boyd in the Blarney Club, an Irish dancehall in the basement of 31 Tottenham Court Road, under the Gala Berkeley Cinema which was opened on Friday 23 December 1966. Initially the club was advertised as "UFO Presents Nite Tripper", because Boyd and Hopkins could not decide on "UFO" or "Nite Tripper" as a name. Eventually they settled on "UFO".

Soft Machine and Pink Floyd performed on the opening night and the next Friday, and were re-engaged as the club continued into 1967, after initial success. The first events combined live music with light shows, avant garde films and slide shows, and dance troupes.

Pink Floyd would go on to play at the UFO club 12 times, twice in 1966 and 10 times in 1967. See full list of Pink Floyd concert performances at UFO Club, London. See Adam Ritchie photographs from the night.

Timeline: 1967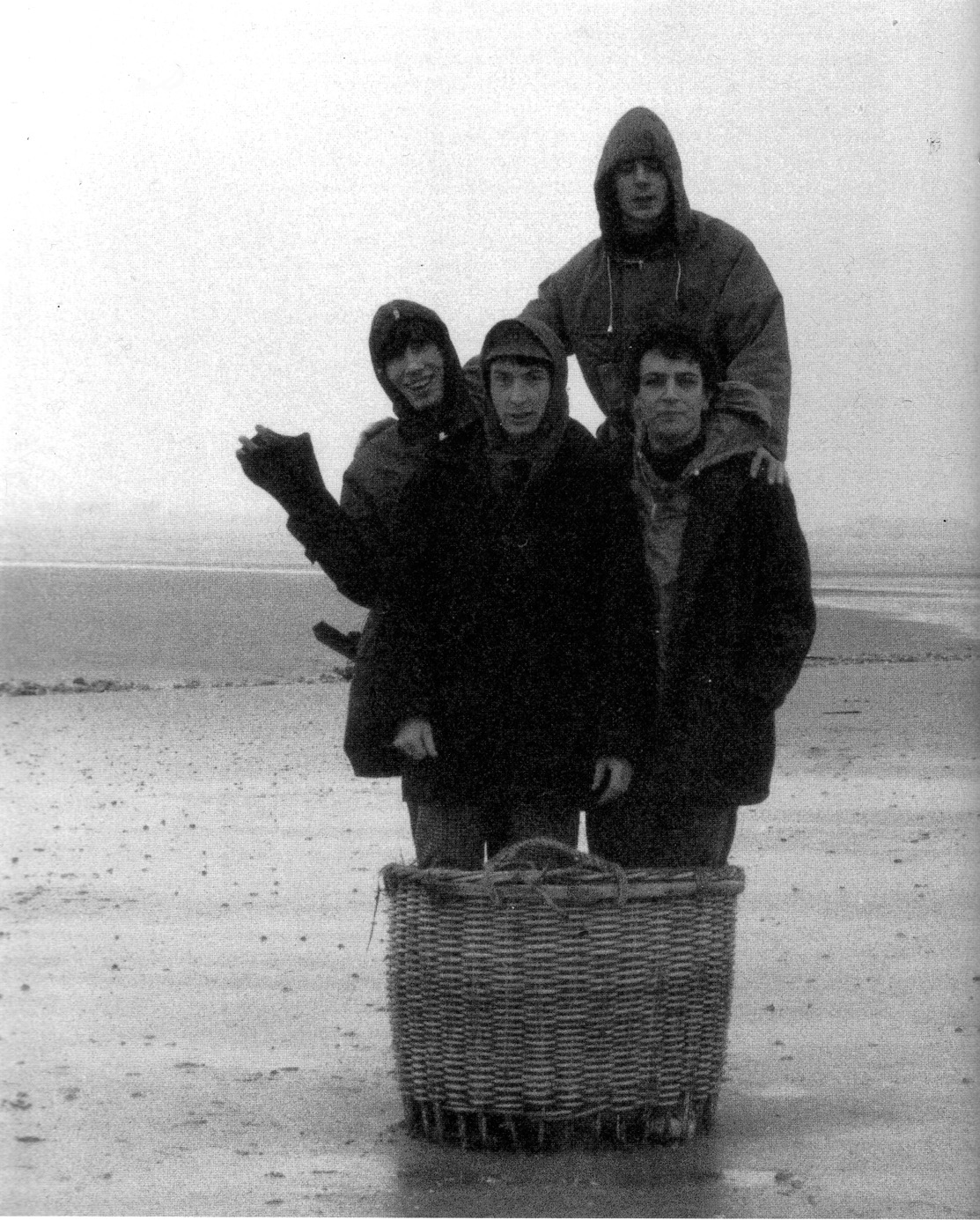 Pink Floyd Recording Arnold Layne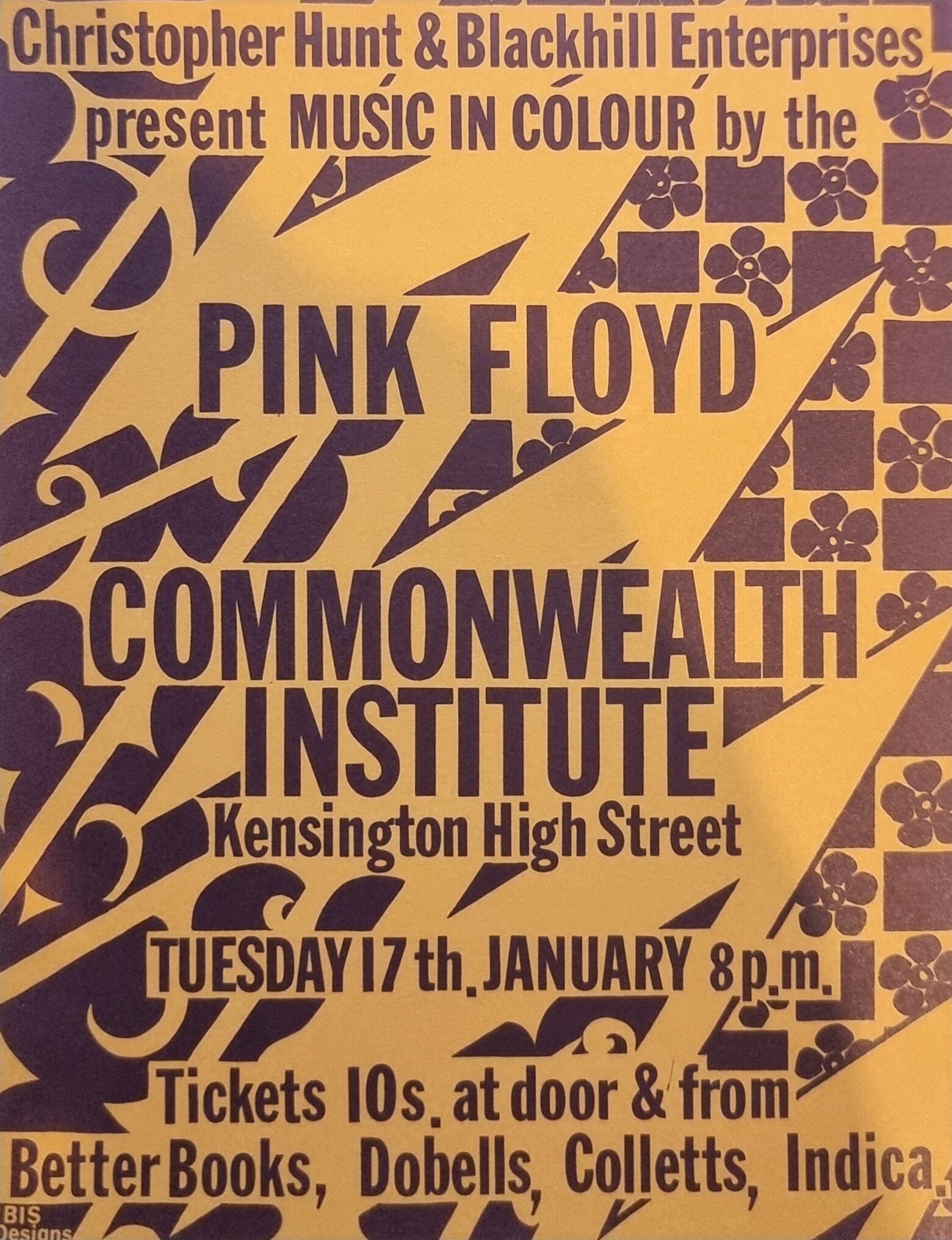 Pink Floyd perform at Commonwealth Institute on 17th January 1967
This handbill shows that Pink Floyd performed at the Commonwealth Institute on 17th January 1967 on Kensington High Street. There are hundreds of Pink Floyd posters in our gallery.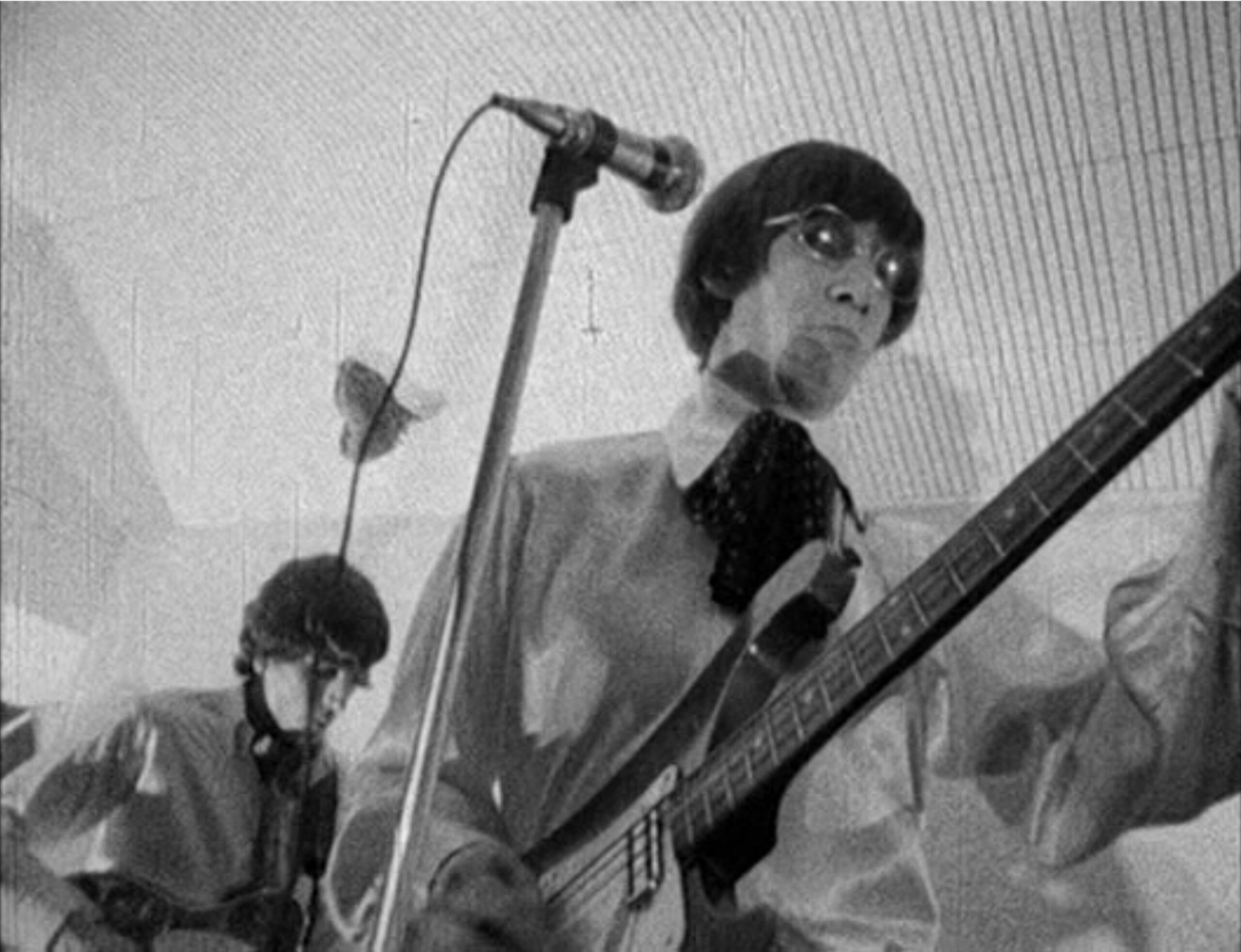 Pink Floyd perform at UFO Club
Syd Barrett and Roger Waters getting into their groove performing Pink Floyd's psychedelic music, combining sound with light shows to give the attending audience an experience rather than just listening to songs.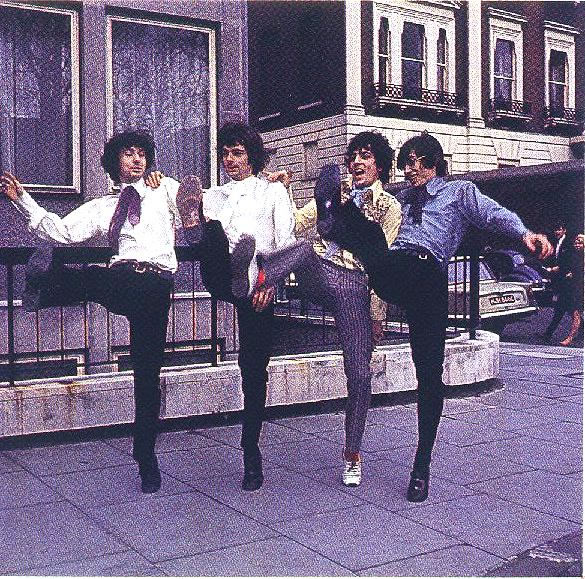 Pink Floyd Sign Record Contract with EMI
Pink Floyd, under management by Blackhill Enterprises, sign their record contract with EMI in London in Manchester Square offices. This was the start of a decades long working relationship. See photos from the occasion.

However, UFO Co-founder Joe Boyd had originally tried to get them signed to Polydor Records. Sidney Beecher-Stevens signed them to EMI in February 1967. Beatles engineer Normal 'The Hurricane' Smith would be their new producer.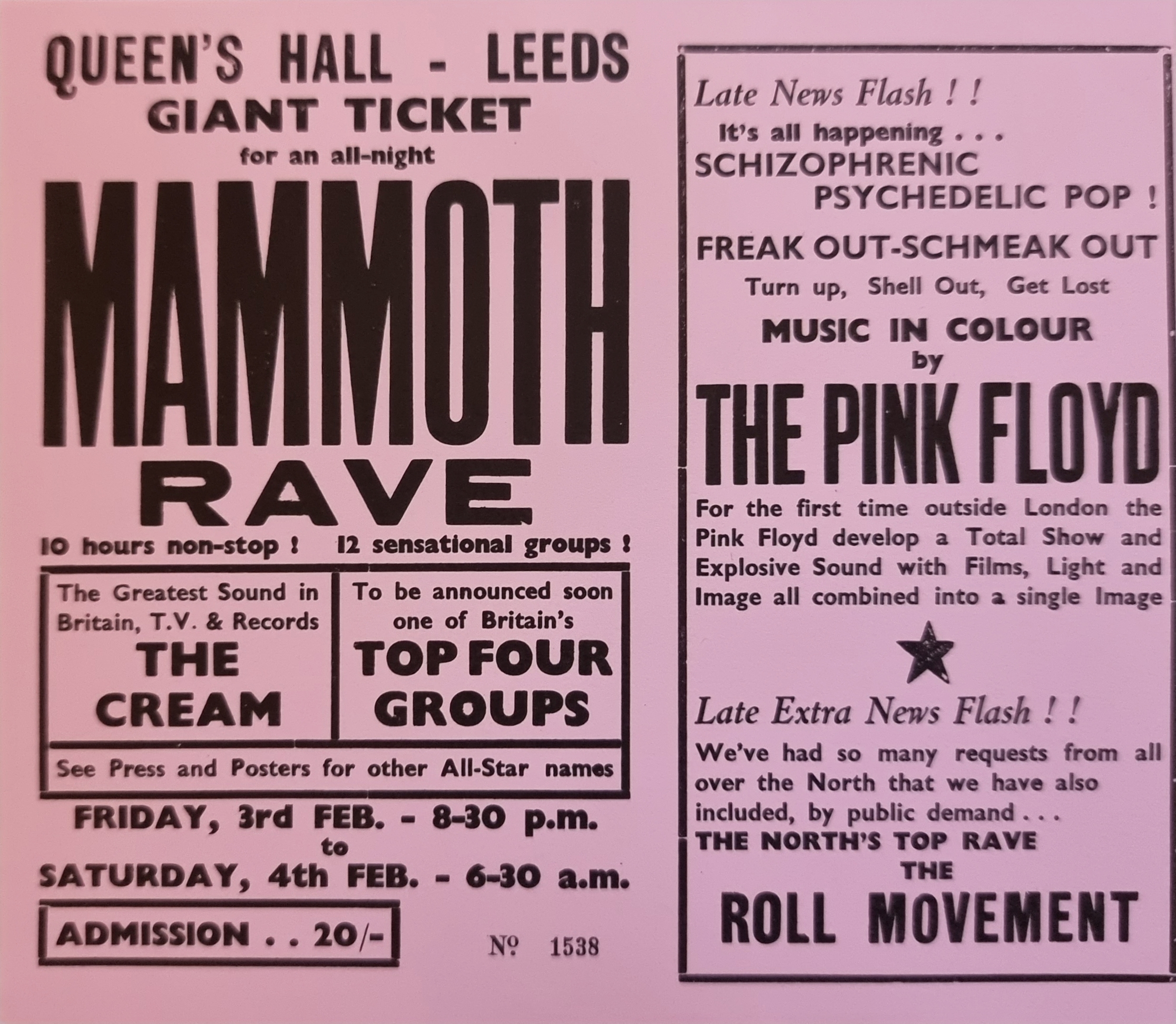 Pink Floyd and Cream at Queen's Hall Mammoth Rave in Leeds
In 1967, Pink Floyd and Cream headlined a significant event known as the Mammoth All-Night Rave, held on February 3rd and 4th at Queen's Hall in Leeds. This event, which took place prior to Pink Floyd's debut album and featured Cream during their early years, was a major highlight in the music scene.

The Queen's Hall, a former tram shed demolished in 1989, was known for hosting a variety of events including this rave, which was Pink Floyd's first gig outside London. The rave, promising 10 hours of entertainment with go-go dancers, a fairground, a barbecue, and even a live gorilla, was a spectacular affair.

It included four stages, dancing for 10,000 fans, and 12 groups in total. The venue, also known for hosting bands like the Beatles and Joy Division, was a key site in Leeds' music history, remembered for its vast space and rudimentary acoustics.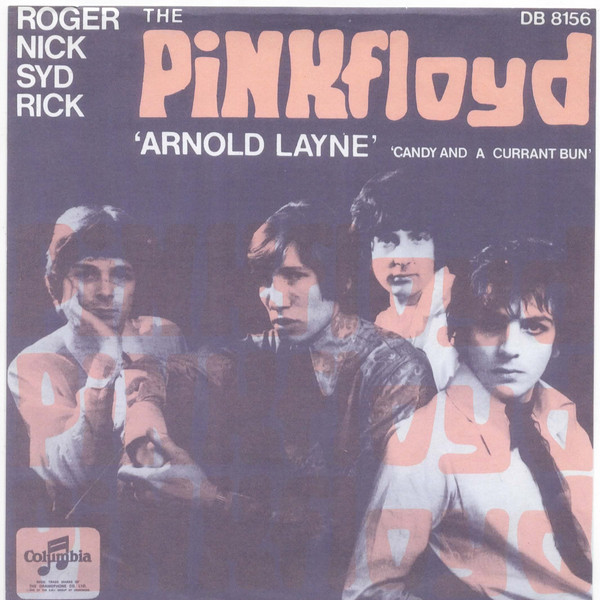 Arnold Layne First Single Released
Arnold Layne First Single Released with Candy and a Currant Bun as the B side. This was recorded before they signed to EMI with Norman Smith as producer. It was recorded at Sound Technique Studios. It was banned by Radio London for being subversive, being about cross-dressers. However, it still made it into the top 20.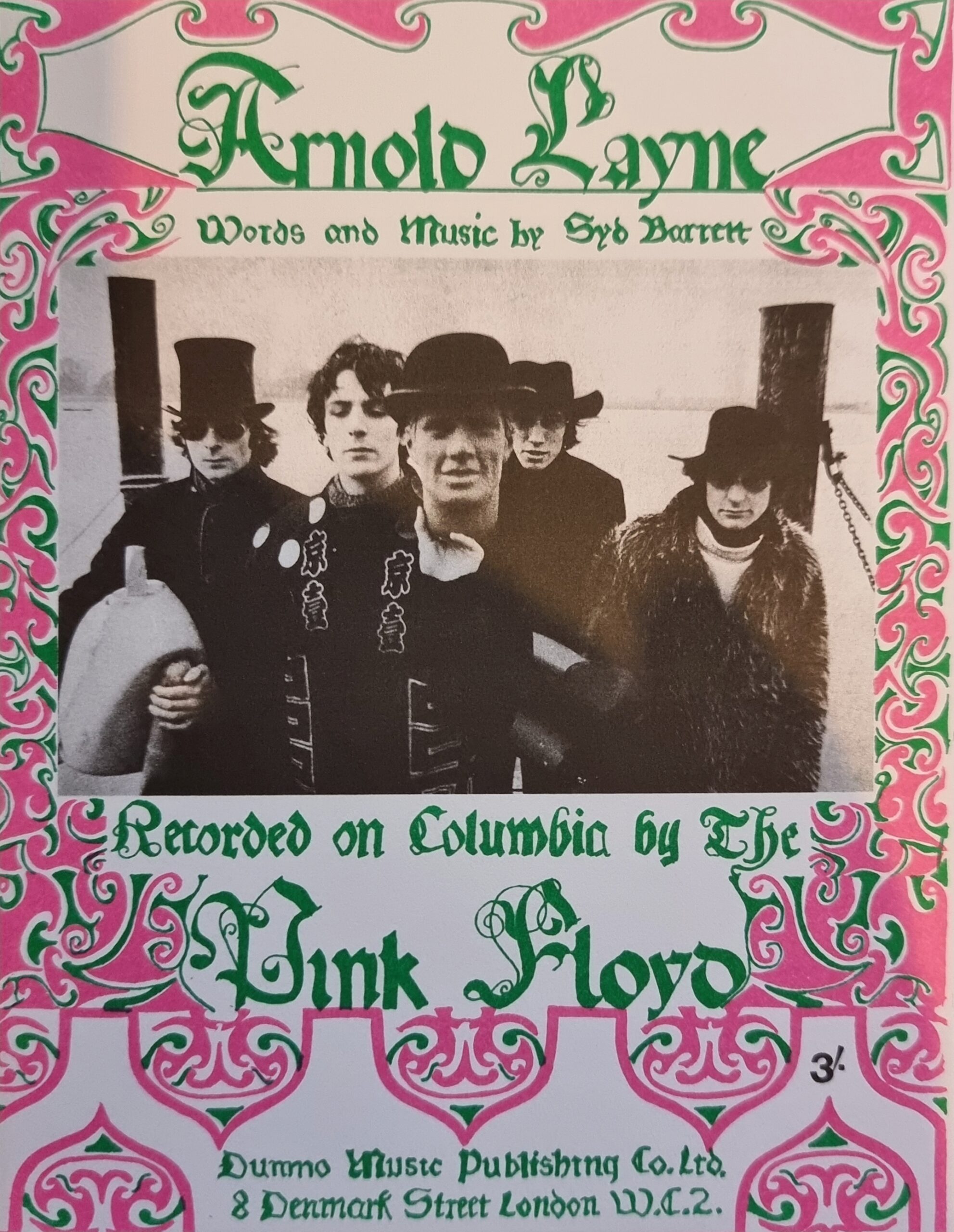 Pink Floyd 1967 Arnold Layne UK sheet Music

Reproduction of original 1967 UK sheet Music for Pink Floyd's 1st 45rpm Arnold Layne.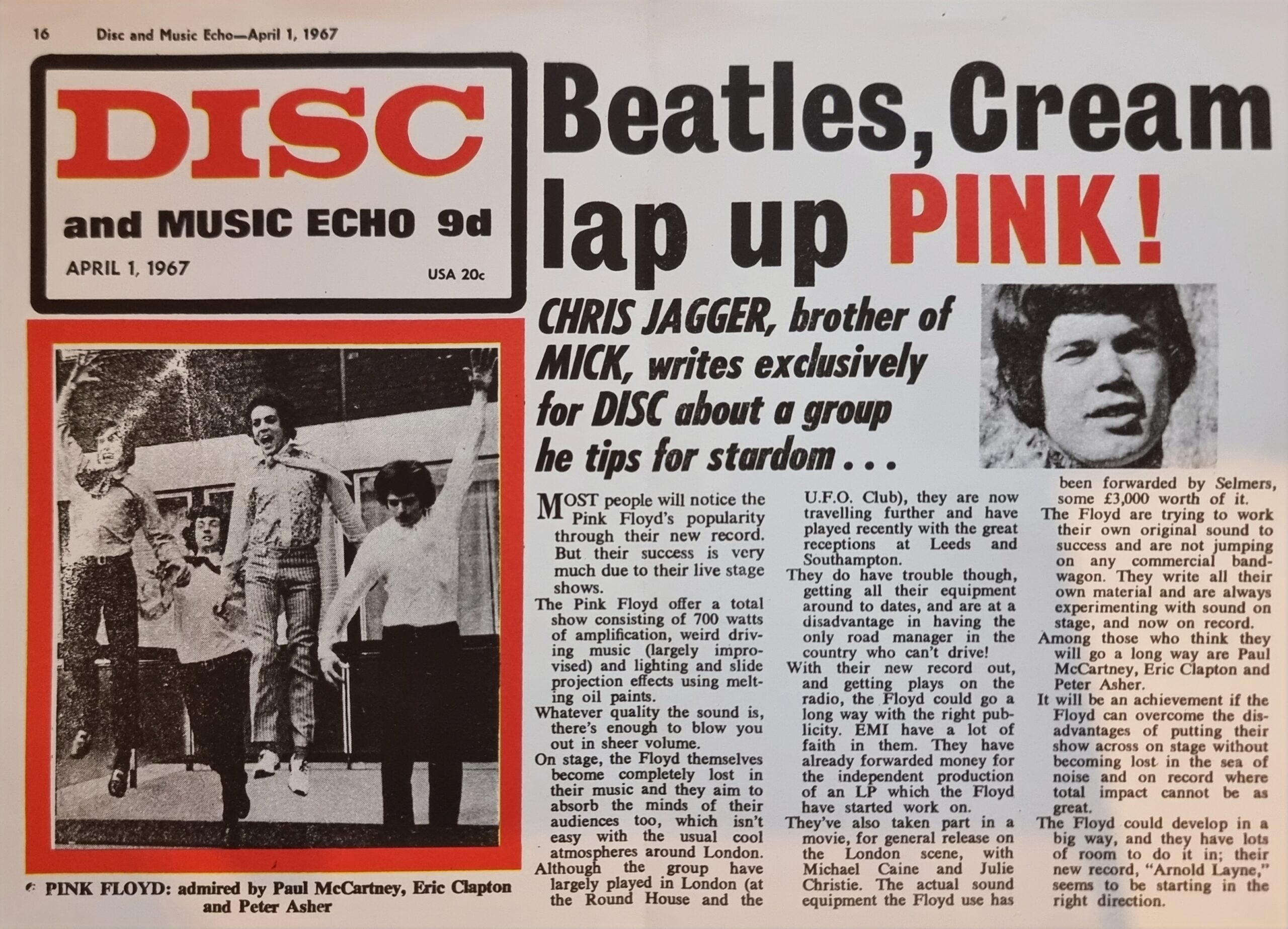 Chris Jagger bigs up the Pink Floyd
Mick Jagger's brother Chris Jagger wrote an article for Disc and MUSIC ECHO. He tips then band for success and says other supports of the band are Paul McCartney, Peter Asher and Eric Clapton. [Enlarge Pic]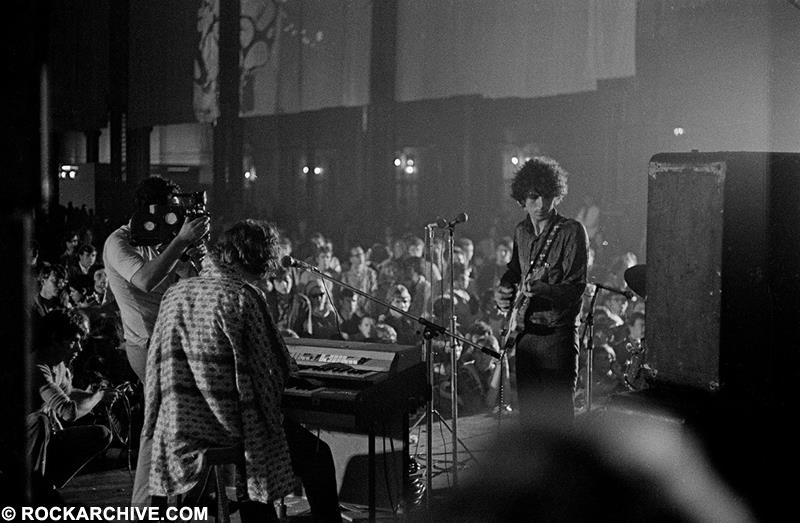 Pink Floyd perform at 14 Hour Technicolor Dream Event
Pink Floyd 14 Hour Technicolour Dream Alexandra Palace London which started on the 29th April 1967 at 8pm and proceeded on through the night, meaning the Pink Floyd played on the 30th April. The event was put on as a fundraiser for the International Times, an underground counter culture newspaper.

This event firmly established Pink Floyd as a hip band.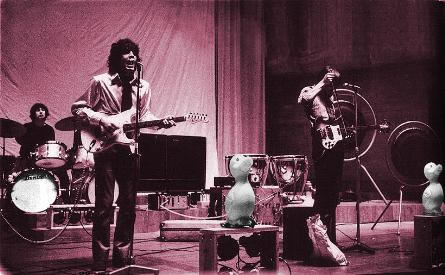 Games for May
Games for May was described as a "Space age relaxation for the climax of spring – electronic composition, colour and image projection, girls, and the Pink Floyd". The concert featured some of the band's early singles as well as material from their yet-to-be-released debut album – The Piper at the Gates of Dawn. During the performance, some of the band members created sound effects by chopping up wood on stage, a man dressed up as an admiral gave out daffodils, and the bubbles produced from a machine while the show was in progress stained all the furniture in the hall. As a consequence, Pink Floyd were banned from ever playing there again.

See photos from the Games for May concert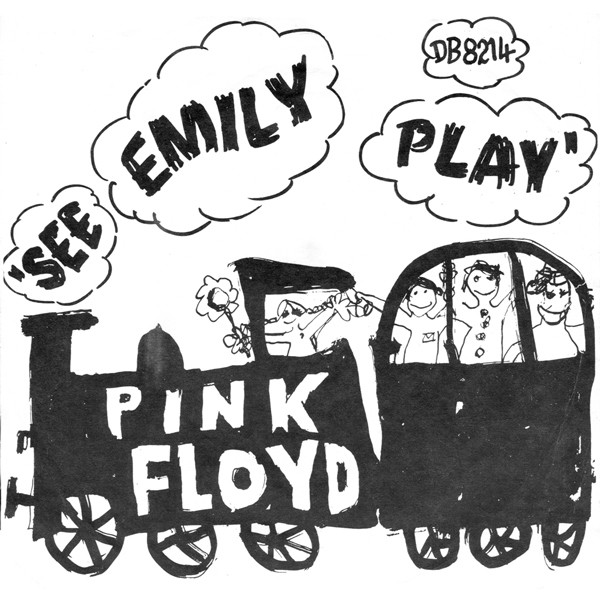 See Emily Play Single Released
The second single, from the yet to be released Piper At The Gates of Dawn, is released. The album is considered to be the best psychedelic rock album that came out of 1960s Britain. Syd Barrett wrote the song following the Games for May concert, which is referenced in the lyrics. "Free games for May, See Emily Play". It became a Summer of Love anthem and a top 10 hit for the band.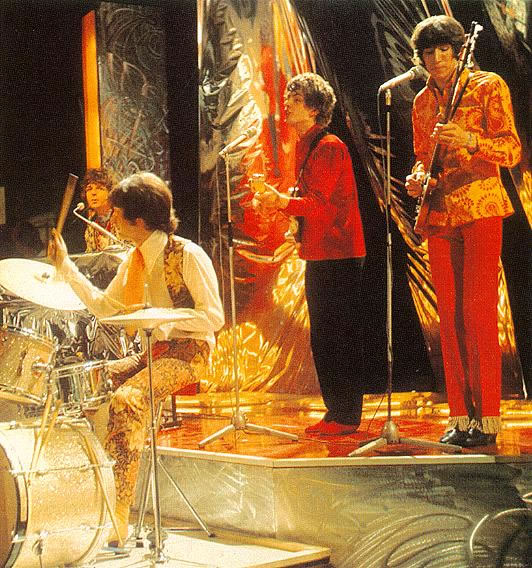 Pink Floyd's First Top of the Pops Performance
Pink Floyd's first ever Top of the Pops TV Appearance saw them performing See Emily Play. This underground band had got themselves into the conservative mainstream on the BBC.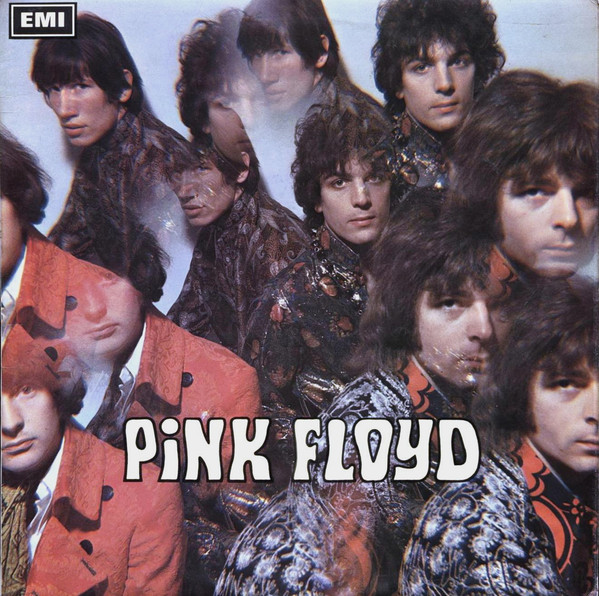 Piper at the Gates of Dawn Released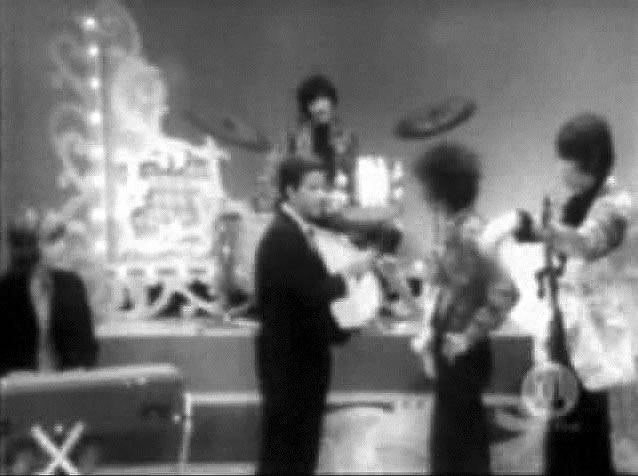 Pink Floyd in America
Pink Floyd are becoming more popular by the day and will embark on a tour of San Francisco and New York, Syd struggled on this tour with mental health and drug taking catching up with him. With the band getting into their flow with fame sweeping them up and along, this must have been quite frustrating for the band, and upsetting to see their childhood friend disintegrating. Syd was not cut out for the normal way of operating.

See Pink Floyd USA Tour Dates, Pink Floyd 6 November American Bandstand photos,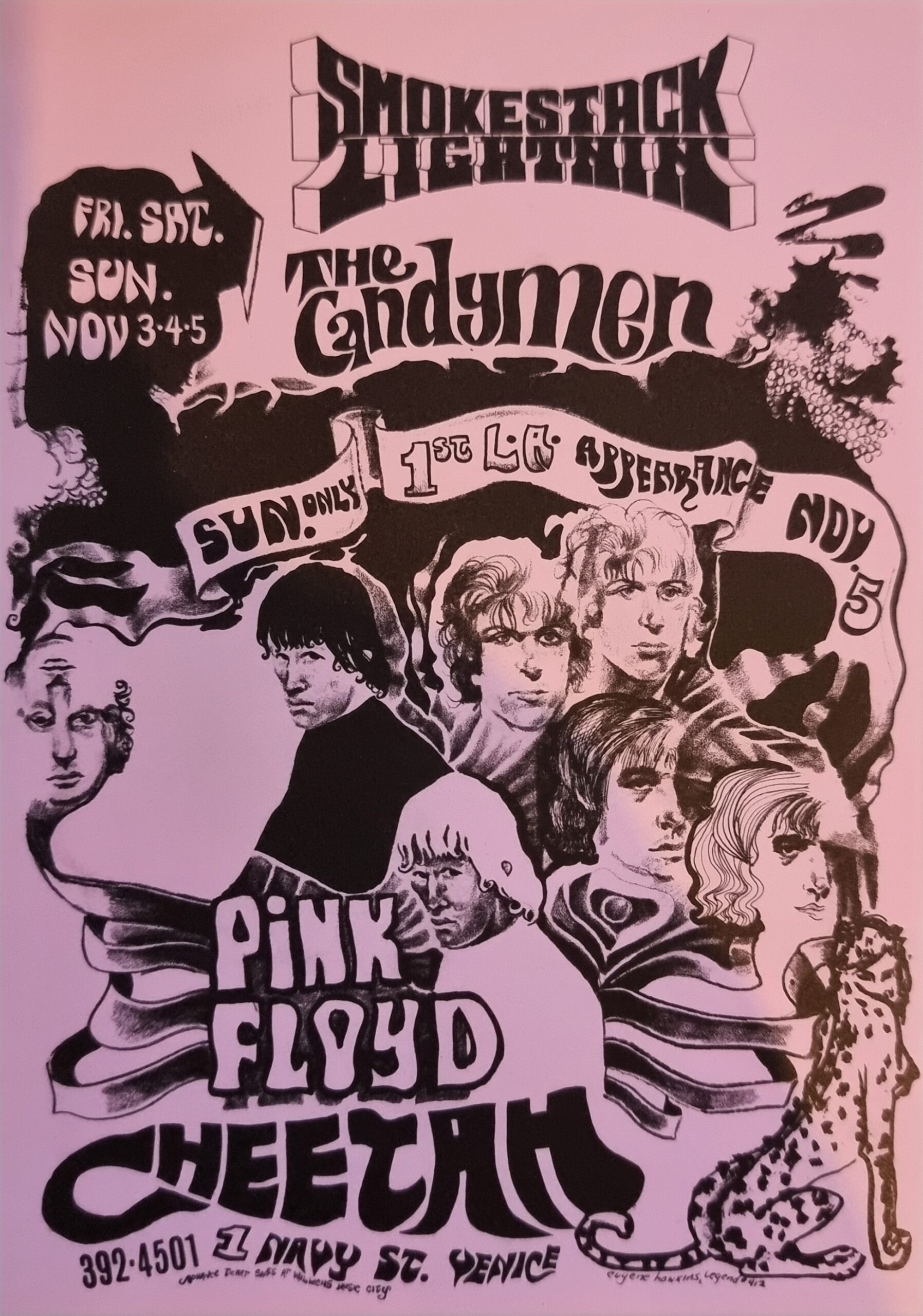 Pink Floyd performs at Cheetah Club in USA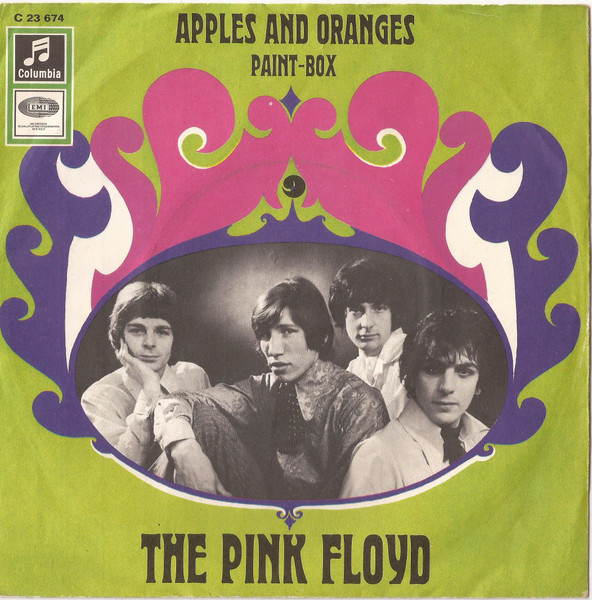 Apples and Oranges Released
Pink Floyd's third single, Apples and Oranges, is released. This was the final song written for Pink Floyd by Syd Barrett. The B Side was Paintbox written by Richard Wright.

It was recorded shortly before the band went off to America where the song was performed on TV.

The release didn't chart in the UK with Roger Waters suggesting the Norman Smith production of the recording was not up to scratch. Roger said, "'Apples and Oranges' was destroyed by the production. It's a fucking good song". Syd Barrett's response to the poor charting was that he "couldn't care less".

Syd would be replaced shortly by David Gilmour.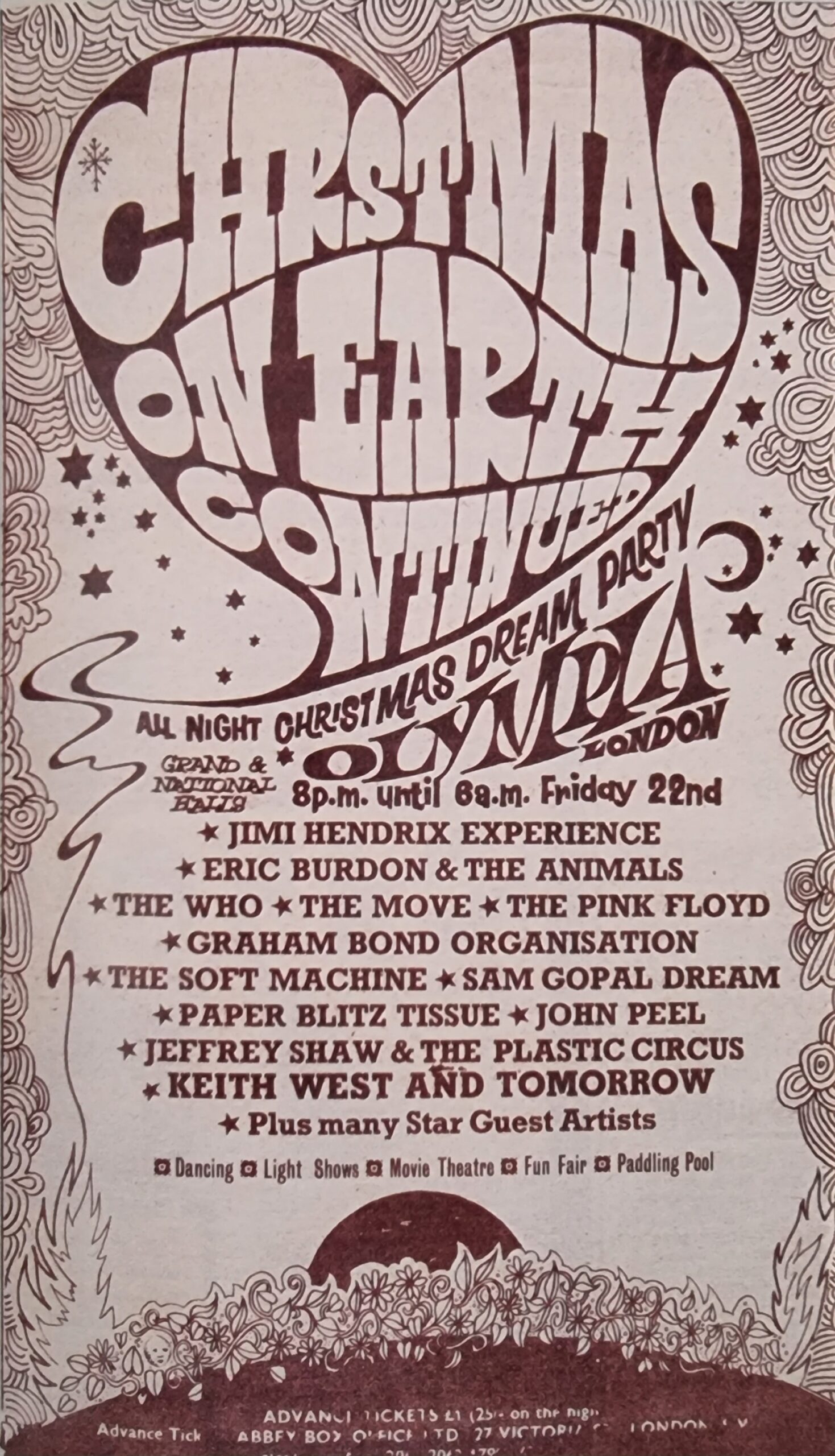 Christmas on Earth Continued
This all night long concert, at the Olympia Exhibition Hall in London, saw the likes of Jimi Hendrix, The Who, Pink Floyd and The Soft Machine playing on the same bill. It must have been an incredible night! There were two stages at either end of the hall with and expected 15,000 people watching the greatest pop concert in Britain.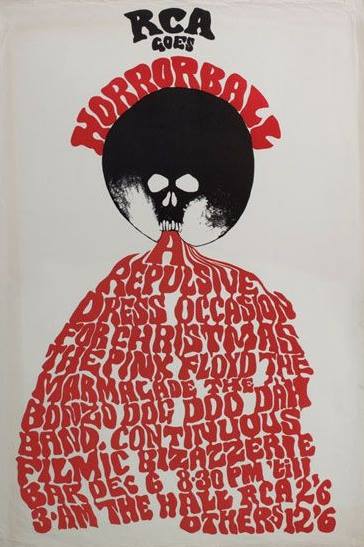 Pink Floyd at Royal College of Art. Syd Barrett Misbehaves. Again
Syd Barrett was at a very low point during this concert and left the band pondering what to do about Syd. It wouldn't be long before he was left at home and not picked up for a concert. The rest was history.
Timeline: 1968
In early 1968 Syd Barrett's drug taking, mental health and general behaviour became incompatible with being in a touring band. The band decided not to pick him up for their Southampton University concert. He would leave the band shortly afterwards.
The rest of the Pink Floyd timeline is work in progress. New segments of their history will be published in future so watch this space.
Links
One Fifteen Pink Floyd History
Reference Books – Inside Out A Personal History of Pink Floyd by Nick Mason, Echoes: The Complete History of Pink Floyd by Glen Povey