Australian Pink Floyd Tour 2013
---
Links – Get Aussie Floyd Tickets | NPF Photos of Aussie Floyd from 2012 Tour | Get latest Pink Floyd News by following NPF on Facebook, Twitter and get our Newsletter too!
---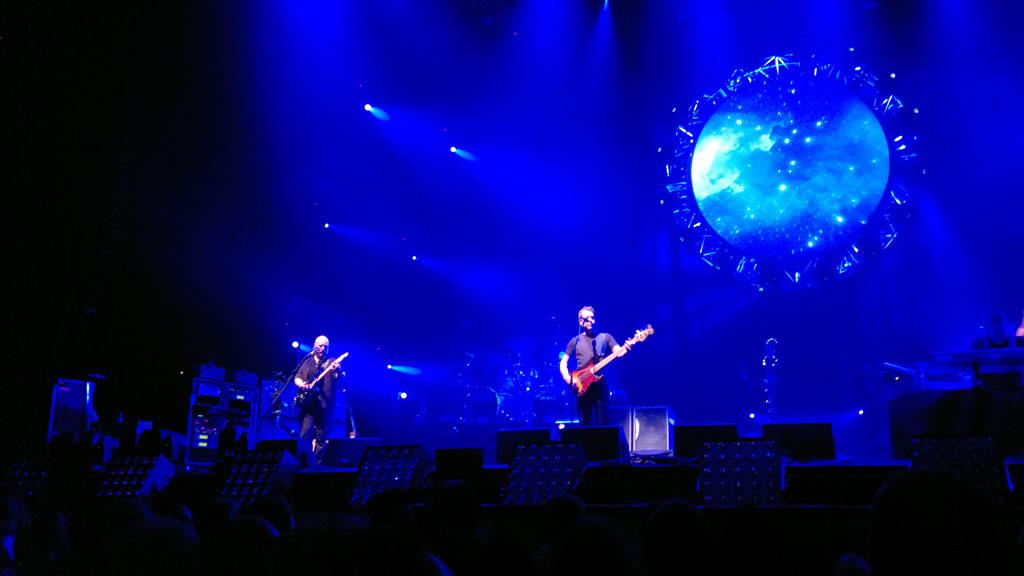 Australian Pink Floyd Tour 2013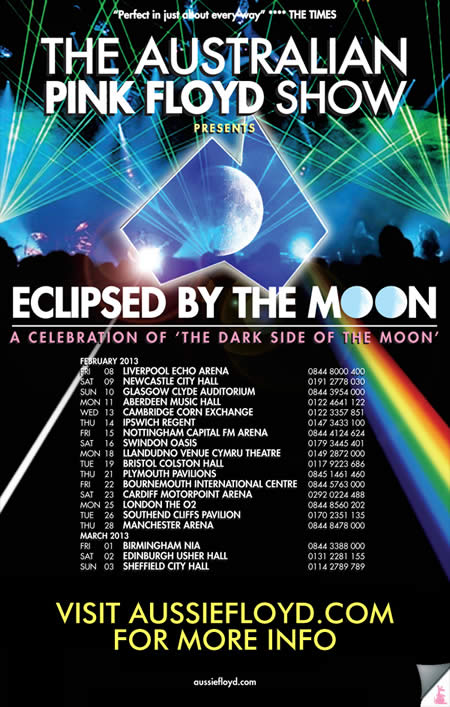 The tribute band The Australian Pink Floyd has today announced the dates of their 2013 tour of Pink Floyd's Dark Side of the Moon. The tour is called "Eclipsed By The Moon" and tickets go on sale on Friday 25th May 2012. The full schedule can be seen below and you can get tickets from Ticketmaster.
There will be 19 UK dates on the tour which includes the rather special night at London's O2 arena where Roger Waters recently performed with David Gilmour and Nick Mason. The tour itself will feature a brand new format and set-list for these shows.
In addition to the Dark Side of the Moon, The Australian Pink Floyd will also be performing other songs from the Pink Floyd repertoire with a performance that lasts over 2 amazing hours. If you have been to see The Australian Pink Floyd perform in the past, then I am sure you will agree that their sound is not only an excellent reproduction of Pink Floyd themselves, but the visual show is every bit as exhilarating too!
"This album is rightly considered by many to be one of the greatest albums of all time, and performing work from 'The Dark Side Of The Moon' is much like performing modern classical orchestral music. We study every detail of the album as closely as possible," says Aussie Floyd singer and guitarist Steve Mac. "Our performances are about celebrating the history and pedigree of this incredible music." adds Colin Wilson, bass player and singer.
Aussie Floyd, who have sold over three million concert tickets in their own right, are much loved for their near note perfect performances which remain true to the original. Their loving recreation of the magic of Pink Floyd's oeuvre is unmissable and NPF highly recommends you go an see their show! They were invited to perform at David Gilmour's 60th birthday party a few years ago now!
The band have a busy 2012 ahead of them with major UK festival appearances confirmed. So watch this space!
Get news of the developments in this story by following NPF on Facebook, Twitter and get our Newsletter too!
What Shall We Do Now?
I have added some excellent photos of Pink Floyd live in 1977 for you from MSG in New York.
Excellent video of David Gilmour and Nick Mason joining Roger Waters at the O2 has been officially released. A must see!
BBC 4 TV are to air the full 60 minute version of the forthcoming blu-ray/DVD release of Pink Floyd: The Story of Wish You Were Here. Read up on that!
Australian Pink Floyd Tour Dates 2013
Well, here they are for you. You can get tickets from Ticketmaster.
Feb 2013
Fri 08-Feb-2013 – Liverpool Echo Arena – 0844 8000 400
Sat 09-Feb-2013 – Newcastle City Hall – 0191 277 8030
Sun 10-Feb-2013 – Glasgow Clyde Auditorium – 0844 3954 000
Mon 11-Feb-2013 – Aberdeen Music Hall – 0122 4641 122
Wed 13-Feb-2013 – Cambridge Corn Exchange – 01223 357 851
Thu 14-Feb-2013 – Ipswich Regent – 01473 433 100
Fri 15-Feb-2013 – Nottingham Capital FM Arena – 0844 4124 624
Sat 16-Feb-2013 – Swindon Oasis – 01793 445 401
Mon 18-Feb-2013 – Llandudno Venue Cymru Theatre – 01492 872000
Tue 19-Feb-2013 – Bristol Colston Hall – 0117 922 3686
Thu 21-Feb-2013 – Plymouth Pavilions – 0845 146 1460
Fri 22-Feb-2013 – Bournemouth International Centre – 0844 576 3000
Sat 23-Feb-2013 – Cardiff Motorpoint Arena – 02920 224488
Mon 25-Feb-2013 – London The O2 – 0844 856 0202
Tue 26-Feb-2013 – Southend Cliff Pavilion – 01702 351 135
Thu 28-Feb-2013 – Manchester Arena – 0844 847 8000
March 2013
Fri 01-Mar-2013 – Birmingham NIA – 0844 338 8000
Sat 02-Mar-2013 – Edinburgh Usher Hall – 0131 2281 155
Sun 03-Mar-2013 – Sheffield City Hall – 0114 256 5656
Tickets £37.50 / £29.50 (£37.50 / £32.50 / £29.50 London)
Source [ Aussie Floyd Management Press Release ]