Nick Mason's Saucerful of Secrets Tour – New Tickets and Dates Announced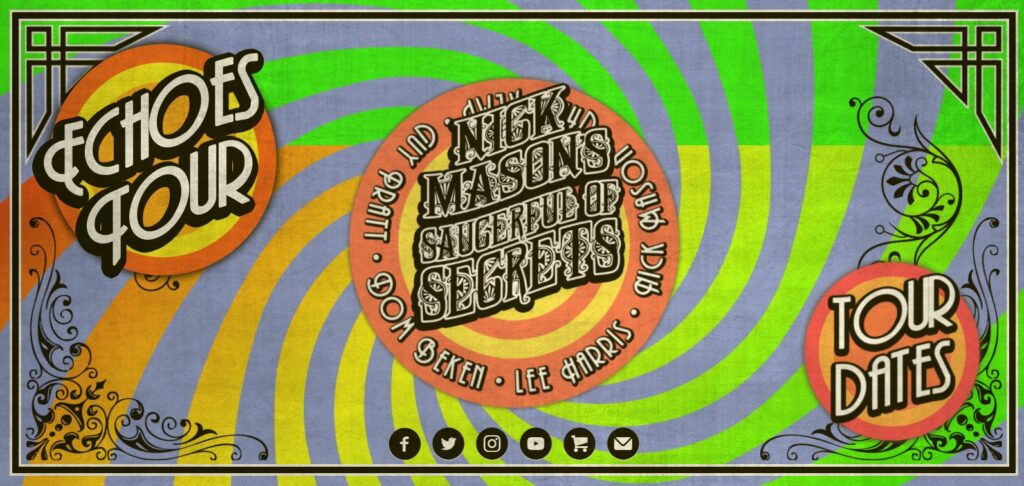 More 2022 tour dates are now on sale! A number of new concerts have been added, and the previously scheduled dates have now been rescheduled into 2022, except for a small number. I even managed to get a couple of tickets for Manchester in April.
Nick's Announcement
Set the controls for your diaries… we've just added more dates to our 2022 tour, all of which are going on sale right NOW!
Irish fans have Dublin and Belfast shows now, and there's an additional ten concerts in mainland Europe! Some of these are new dates and locations, and some are more of the rescheduled gigs (for example, most of the German shows).
We're still working on squeezing a few more of the rescheduled gigs onto the new schedule where we can (depending on availability of the venues on suitable dates) so keep checking back.
Sadly, we weren't able to find a suitable date to squeeze in the Freiburg show in Germany, or the Sete show in France, despite trying our hardest. Sorry for any disappointment! Ticket holders can of course get a refund from their point of purchase.
Nick Mason Tour Dates 2022
Ticket links are on Nick's website
April 13th 2022 – Convention Centre, Dublin, Ireland
April 14th 2022 – Ulster Hall, Belfast, Northern Ireland
May 16th 2022 – The Royal Danish Theatre, Copenhagen, Denmark
May 17th 2022 – Sentrum Scene, Oslo, Norway
June 6th 2022 – Volkswagen Arena Istanbul, Istanbul, Turkey
June 28th 2022 – Theatre du Leman, Geneva, Switzerland
June 30th 2022 – Liederhalle Beethoven-Saal, Stuttgart, Germany
July 1st 2022 – Laeiszhalle, Hamburg, Germany
July 2nd 2022 – Insel Grafenwerth, Bad Honnef, Germany
July 4th 2022 – Circus Krone, Munich, Germany
July 5th 2022 – Haus Auensee, Leipzig, Germany
July 6th 2022 – Grosser Saal, Messe Und Congress Centrum Hall Munsterland, Munster, Germany