Pink Floyd The Dark Side of the Moon EMI Tape Box Folio – Side One
Collectors with some spare cash knocking about will be very pleased to learn that Abbey Road Studios Store has a wonderful and limited edition item available from 5th March 2021 (pre-orders taken). Best get in there quick before they are all gone!
This does appear to be a box with no recording in. Discuss on the forum.
Here is a video promoting the item
Press Release
Pink Floyd The Dark Side of the Moon EMI Tape Box Folio – Side One is a limited edition of 250 replica prints that reveals the rarely seen The Dark Side of the Moon Quadrophonic discrete master – Side One EMI tape box, held deep within the EMI archive.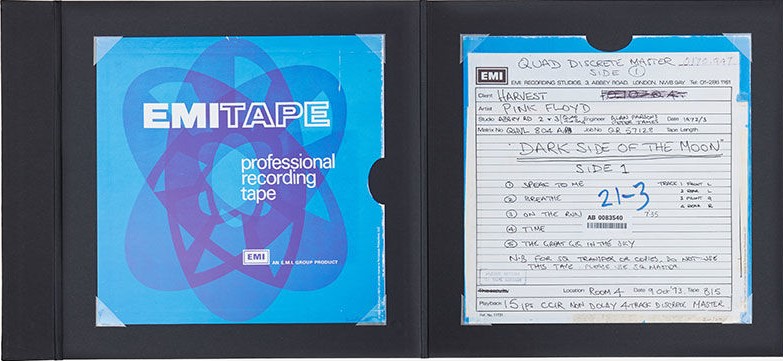 Recording of the album began in May 1972 in Studio Two at EMI Studios (as Abbey Road was known), using the iconic EMI TG12345 MK IV console. Abbey Road was to become Pink Floyd's home for 38 days over a seven-month period, as they embarked on the creation of what, for many, would be their defining work.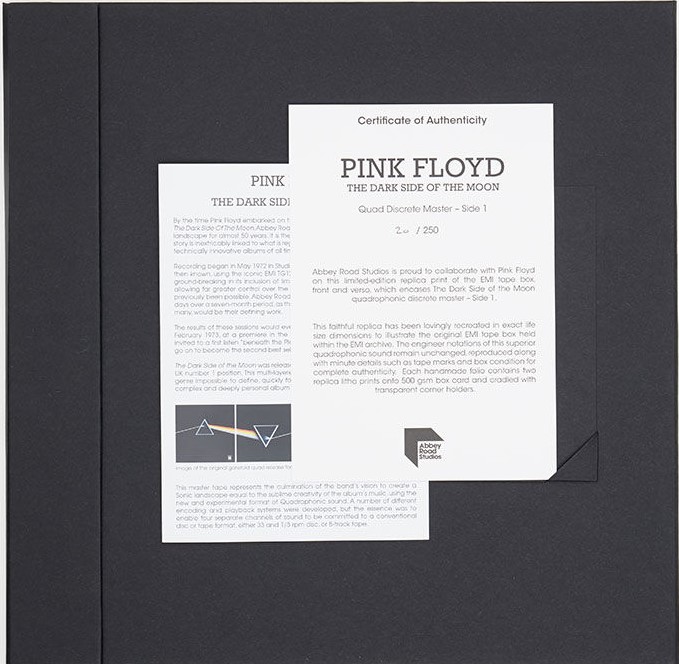 Our folio shows Side One of the album, which was recorded in Studios Two and Three at Abbey Road, with Alan Parsons and Peter James noted as the project's engineers. The Dark Side of the Moon was released on March 1, 1973, and whilst it never received a UK number 1 position, it went on to become the second best-selling album of all time. This multi-layered album, with its light and shade and a genre impossible to define, quickly found its way to becoming the authentic, complex and deeply personal album known to fans around the world.
The tape contained within this box was exclusively manufactured by EMI. Between the mid '50s and 1981, EMI produced both blank and pre-recorded magnetic tapes in many formats, including type H60 and type H65. In the late '60s, EMI redesigned both the EMITAPE boxes and reels. The new boxes were aqua blue with an 'atomic' image made up of three superimposed images of tape reels, which is the cover you see in this folio. Many of these tape boxes, including The Dark Side of the Moon, are now stored at the EMI Archives, in Hayes, London. The Archives hold artefacts including rare and unheard recordings from the first years of the recorded music industry, along with photographs, letters, diaries, sales catalogues and EMI company records.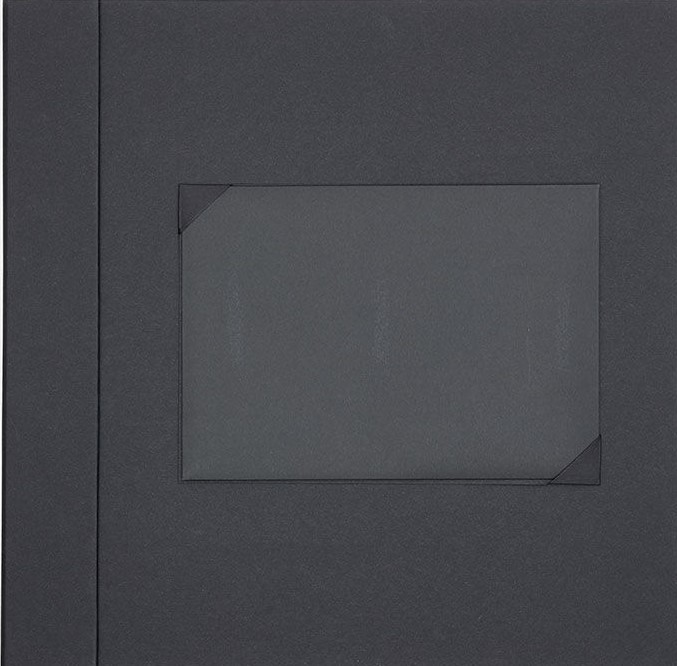 This is an exclusive collaboration between Pink Floyd and Abbey Road Studios. Each handmade folio is numbered and includes a 500gsm box card black folder (37cm x 37cm with a 5cm lip) which encases the two replica litho prints (30cm x 30cm), recreated in exact life size dimensions and cradled with transparent corner holders. Alongside this, it includes a leaflet looking back at the recording of The Dark Side of the Moon and a certificate of authenticity.