The Pink Floyd history is a colorful, innovative and sometimes dark affair spanning many decades of amazing albums, live shows, photography and more. It is a difficult task, of course, to boil down such an immense time period into a web page of a timeline. This page will develop over time and, hopefully, the timeline is not yet complete. What could the future hold for Pink Floyd and its members past and present?
1940s Stars Are Born
1943
28 July 1943 Richard William Wright is born in Hatch End, Middlesex, England
6th September 1943 George Roger Waters is born in Great Bookham, Surry, England
1944
27th January 1944 Nicholas 'Nick' Berkeley Mason is born in Edgbaston, Birmingham, England
18th February 1944 Eric Fletcher Waters dies at Anzio and would inspire his son, Roger Waters, in his songwriting many years later.
1946
6th January 1946 Roger Keith 'Syd' Barrett is born in Cambridge, England
6th March 1946 David 'Jon' Gilmour is born in Cambridge, England
1960s A Band is born
An article I wrote many years ago, based on sources cited in the article, documented the development of the various bands that Pink Floyd members were in during the early 1960s before The Pink Floyd was finally formed. Feel free to read that for a deeper reference to gigs performed and personnel in each band. However, the bands are more broadly contained within this section below.
1962
Spring 1962 Syd Barrett is in a band called Geoff Mott & The Mottoes and played their only known gig on 11th March 1962 at Friends Meeting House, Cambridge, England. David Gilmour is also in a band called The Ramblers.
September 1962 Roger Waters, Richard Wright and Nick Mason start their attendance at Regent Street Polytechnic in London.
1963
January-March David Gilmour is in a band called Chris Ian & The Newcomers which played a few gigs around Cambridge
April-October David Gilmour is now in The Newcomers
June – September 1963 Syd Barrett is playing bass for Those Without
Autumn 1963 Sigma Six was put together by Clive Metcalf whilst Nick Mason, Roger Waters and Richard Wright were attending Regent Street Polytechnic. Nick and Roger were on their usual drums and guitar respectively. But Rick Wright was on guitar too in between piano, organ and brass!
1964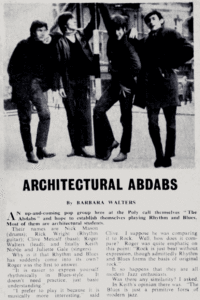 Spring-Summer 1964 Sigma Six were mistakenly called The Abdabs (The Screaming Abdabs) due to a falsely attributed name in a newspaper article. For decades after, Pink Floyd historians would incorrectly document this band that didn't exist. We continue that legacy here. The band performaned at The Marquee, Soho, London. They played as extras in an unidentified film. The band also played at various private parties but never played any other music venues. They rehearsed at Regent Street Polytechnic often in addition to the flat of Mike Leonard much to the annoyance of the neighbours!
July Syd Barrett is now in the Hollerin' Blues playing guitar, just one of many bands he would be in before achieving fame with Pink Floyd. Check out some of the pre-fame band pictures from Syd's story.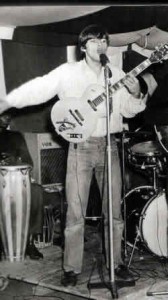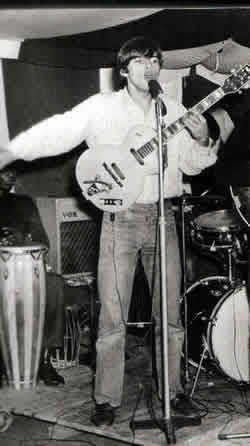 October 1964 to 1966 David Gilmour is now in Jokers Wild and would release a famous bootled EP which is available at all good Pink Floyd ROIO websites.
Autumn 1964 The Spectrum Five is basically Pink Floyd. The members are Roger "Syd" Barrett – Vocals, Rhythm Guitar, Bob Klose – Guitar, harmonica, vocals, Nick Mason – Drums, Roger Waters – Bass, vocals and Richard Wright – Keyboards, Vocals.
Winter 1964 The Spectrum Five has given way to Leonard's Lodgers, as Rick Wright has left, and they honored Leonard mainly due to the amount of terribly loud noise the band is making in Leonard's living room, not to mention his light projection shows.
1965
Early 1965 The Pink Floyd sound is playing small venues like RAF Uxbridge, The Countdown Club in London, Homerton College in their hometown of Cambridge, England. They would play just 7 events in 1965 just as they are getting going.
October 1965 The Tea Set band, an early version of the Pink Floyd, perform a gig at Libby and Rosie's January's birthday party. The Tea Set played a few gigs see them in the Pink Floyd concert database.
1966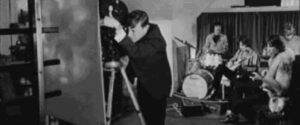 March 1966 Pink Floyd play at the Marquee Club's Spontaneous Underground event (Check out a Spare Bricks fanzine about this timeframe) and are really starting to get noticed at this point.