Roger Switches Controversial Venue!
Resources & Links
BBC News Article | Discuss on Forum | Roger's Website | Roger's 2006 Tour Dates |
---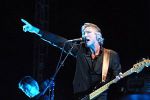 Former Pink Floyd star Roger Waters has switched the venue for a solo concert in Israel following pressure from dozens of Palestinian artists.
The bassist was to perform in Tel Aviv in June but will now play the mixed Arab-Jewish town of Neveh Shalom.
He was asked to change his plans in an open letter from musicians who claimed Israel was "oppressing" Palestinians.
Pink Floyd's Another Brick in the Wall is used as a protest song by opponents of Israel's barrier in the West Bank.
However, the lyrics have been adapted to read: "We don't need no occupation. We don't need no racist wall."
In an open letter to Waters after the concert was first announced, the Palestinian artists urged him to stay away "at a time when Israel continues unabated with its colonial and apartheid designs to further dispossess, oppress and ultimately ethnically cleanse Palestinians from their homeland".
'Encourage co-existence'
Neveh Shalom is a small community near Israel's boundary with the West Bank which is seen as a symbol of peace.
Organisers said that moving the concert there would encourage co-existence between Israelis and Palestinians.
Waters himself has been unapologetic about playing in Israel, which is kept off the touring schedules of most bands due to security fears.
Last month, he told the Guardian newspaper: "I would not rule out going to Israel because I disapprove of the foreign policy any more than I would refuse to play in the UK because I disapprove of Tony Blair's foreign policy."
Waters split acrimoniously from Pink Floyd in 1985 and launched his solo career, but he rejoined the band for the one-off Live 8 concert last summer.
Roger's Tour Dates as of 19 April 2006
2 June Lisbon, Portugal – Rock in Rio Festival
4 June Verona, Italy – Anfiteatro Arena di Verona
5 June Verona, Italy – Anfiteatro Arena di Verona
6 June Sicily – Palermo Stadium
8 June Berlin, Germany – Whulheide
10 June Holland, Arrow Rock Festival (R. Arnhem)
12 June Iceland, Reykjavik – Egilsholl Arena
14 June Oslo, Norway – Norwegian Wood Festival
16 June Rome, Italy – Curva Olympico Stadium
18 June Athens, Greece – Terra Vibe Park
20 June Istanbul, Turkey – Kurucesme Park
22 June Tel Aviv, Hayarkon Park
29 June Cork, Ireland – Marquee Festival
1 July London, UK – Hyde Park Calling Festival
2 July Denmark – Roskilde Festival
12 July Lucca, Italy – Piazza Napoleone
14 July Magny-Cours, France (Centenary of the French Formula 1 Grand Prix)
16 July Locarno, Switzerland – Moon & Stars (Piazza Grande)
The Band:
Andy Fairweather Low – Guitar
Snowy White – Guitar
Dave Kilminster – Guitar and Vocals
Graham Broad – Drums
Jon Carin – Keyboards
Harry Waters – Hammond
Ian Ritchie – Saxophone
Katie Kissoon, PP Arnold and Carol Kenyon – Background Vocals
Nick Mason will play at Magny Cours on the 14th July for the second half of the show
There is a strong possibility of Roger doing a US Tour in Fall 2006.
Source: [ BBC News ]