Unseen Syd Barrett Painting up for Auction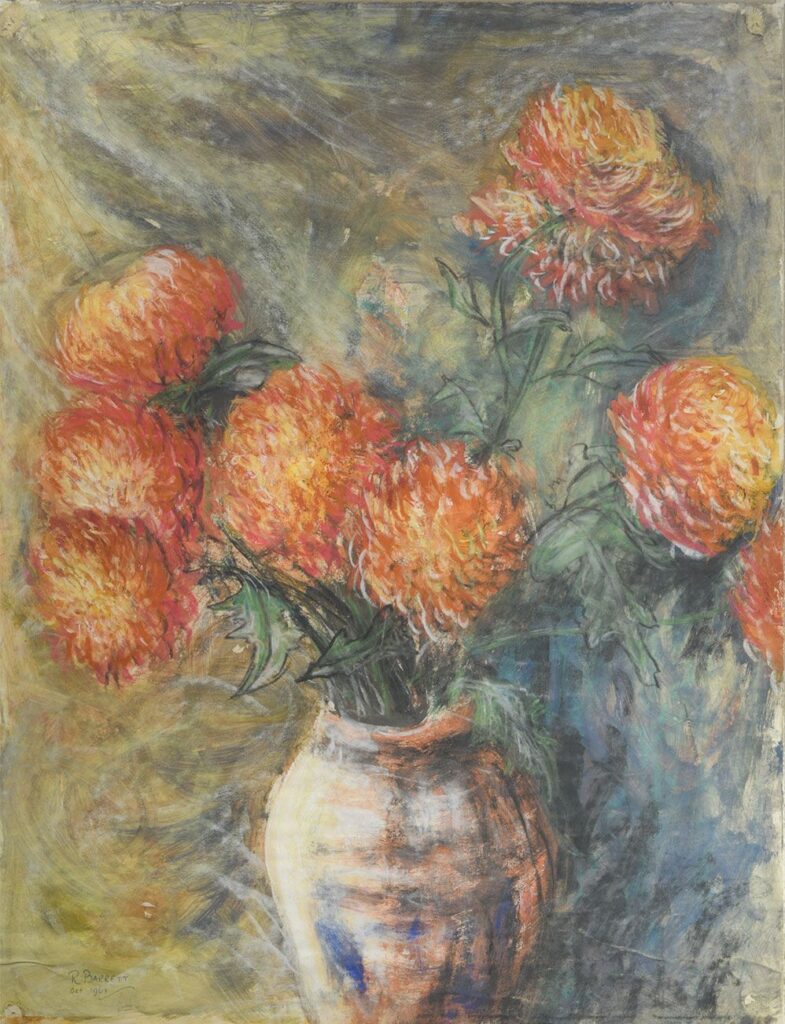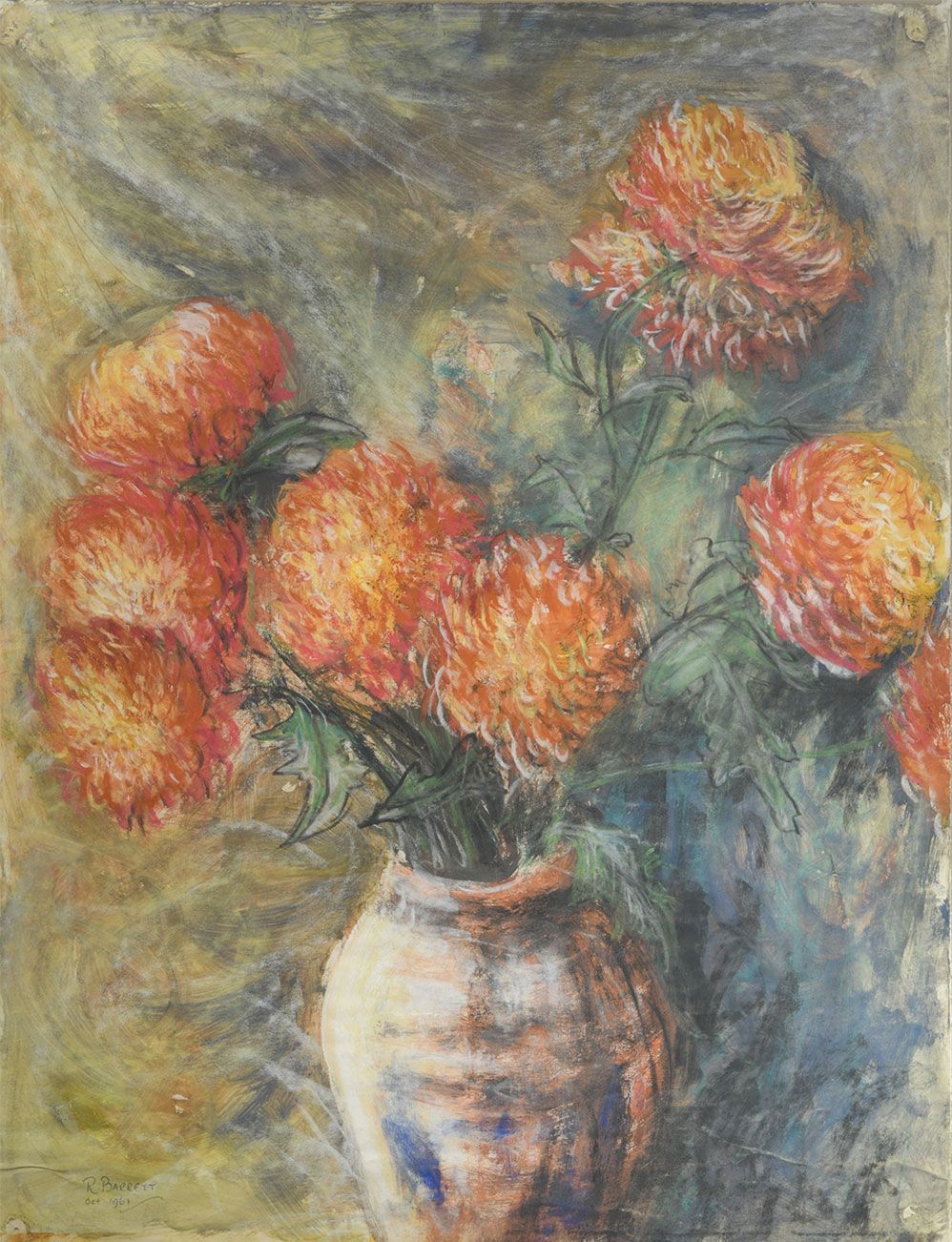 Pink Floyd founding member Syd Barrett once gifted a painting he did to a former teacher when leaving high school aged fifteen. The son of that teacher is now selling the picture and is expected to bring £3k-£5k at an auction by Cheffins.
The painting is called Orange Dahlias in a Vase and Syd painted it whist attending Cambridgeshire High School for Boys. Roger Waters and Storm Thorgerson also attended the same school.
Orange Dahlias in a Vase is estimated to fetch £3,000 – £5,000 at the Cheffins Art & Design Sale in Cambridge on Thursday 27th May 2021.
Gerald Harden's son, Philip Harden, who currently owns the painting and was a boyhood friend of Roger 'Syd' Barrett and Roger Waters, says: "I used to go and visit Roger on a regular basis and I even remember playing cowboys and Indians and watching the first Doctor Who shows with him and Roger Waters back in the 1960s. They both went off to art college and disappeared from my life and the next time I saw them they were Pink Floyd.

"Roger Barrett was a kind and thoughtful person, with a joyful and almost childlike wit and humour. He was a great fun person to be around in those early days and he was incredibly creative, and would often be seen painting for hours on end.

"I remember my father bringing this picture back home after Roger had given it to him, it had been put up on the wall in the classroom and my father kept it as part of his portfolio. It has something incredibly special about it and I would recognise it immediately as his style at the time, he was a very gifted artist.

"We have decided to sell it as it has been in storage for some years now and we feel it is time for someone else to enjoy it. We know that Roger Barrett became a worldwide phenomenon; he stood for so many things in different people's minds, and we think there must be someone amongst his army of fans who could really treasure it."

From Planet Audio
About The Lot
Orange Dahlias in a Vase signed and dated 'R. Barrett / Oct. 1961' (lower left) watercolour and pastel 58 x 44cm
Provenance: Gifted by the artist to Gerald Arthur Clement Harden, thence by descent within the family.
If you were to read his secondary school reports, there would be very little to indicate that Roger 'Syd' Barrett would later become one of the most significant and influential cultural figures of the 20th century, both domestically and internationally; an almost mythic figure, Barrett became an emblem of a time, place, and culture, distilled into a single individual.
In 1957, Barrett began his secondary education at Cambridgeshire High School for Boys, which aimed to emulate the public-school model. The exclusively male teaching staff shrouded themselves in academic robes and crowned themselves with mortarboards. The school certainly had a profound effect on Barrett's fellow pupil and later bandmate, Roger Waters, whose lyrics to the band's 1979 hit, 'The Happiest Days of Our Lives', open with: 'When we grew up and went to school / There were certain teachers who would / Hurt the children in any way they could' and continues in the rest of the song to reflect upon the contemptuous and often violent treatment of pupils by some of the school's tutors.
As a student, Barrett was emphatically average and, to most of his teachers, remarkable only in his inability to follow the rules. To Gerald Arthur Clement Harden, the school's art teacher between 1938 and 1971, however, Barrett was a conspicuous and prodigious talent and one of the very few pupils permitted to use Harden's oil paints.
Painted when Barrett was just 15 years old, the present lot was gifted to Harden by the artist shortly before he left the school and began studying art at Cambridgeshire College of Arts and Technology. Although generally perceived as an unmotivated student by most of his tutors, Harden's support encouraged Barrett to pursue further study in painting and ignited in him a passion for art that would continue to burn until his death in 2006.
Following his death in 2006, Cheffins sold the contents of Barrett's home in Cambridge, no.6 St Margaret's Square, where he had lived since 1981.
See These…
Syd Barrett Artwork and Paintings