David Gilmour and Polly Samson Live Video Event 2nd April
Pink Floyd's David Gilmour and writer Polly Samson will appear in a live video stream tomorrow to publicise the new book A Theatre of Dreamers. It will also feature new material from David Gilmour performed live.
Polly Samson, who is married to David Gilmour, wrote lyrics for Pink Floyd and David Gilmour solo work and features on albums Division Bell, A Momentary Lapse of Reason and On an Island. The Endless River, Pink Floyd's last studio album, had Polly's lyrics on Louder than Words.
Book Launch Postponed
Originally, the book launch was to be accompanied by three live events at Manchester, Birmingham and London, UK. These events have been postponed to later in the year. Each of these special events will feature Polly Samson in conversation with journalist Rosie Boycott, readings, film and live music, including a new song Yes, I Have Ghosts written by David Gilmour and Polly Samson.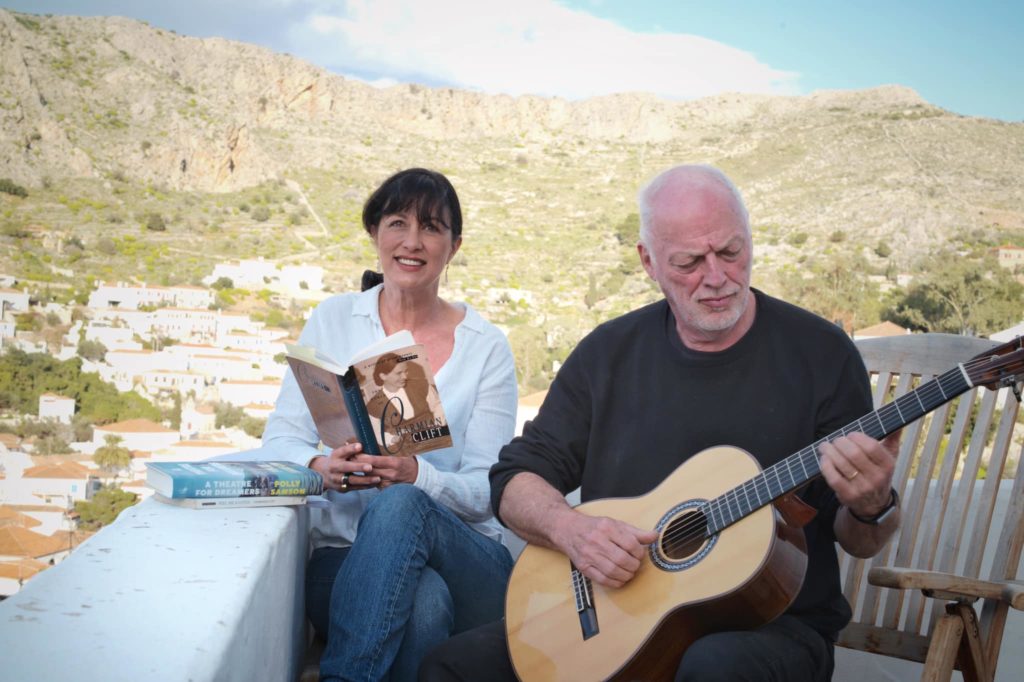 The audience will be transported to the Greek island of Hydra in 1960, and a world dancing on the edge of revolution, where a circle of poets, painters, writers and musicians live tangled lives. It's a story of utopian dreams and innocence lost, of the troubled King and Queen of Bohemia, Charmian Clift and George Johnson, of a young poet named Leonard Cohen, and his Marianne; and of Erica Hart, an 18-year-old in search of answers.
Online Broadcasts
Many artists have turned to Facebook recently due to the Coronavirus shutting down tours and appearances. The Gilmour's will be broadcasting live, probably from their home in Brighton on England's sunny south coast, at 8pm BST on Facebook.
It said on David's Facebook feed…
Sadly, our launch events for Polly Samson's new book A Theatre For Dreamers – out tomorrow – had to be postponed, so we're having a go at doing something live from home with the family on Facebook on release day. Join us at 8pm BST tomorrow (Thru 2nd April) here on Facebook.
How to Watch
It will be a live streaming event so should appear on David and Polly's Facebook pages so be sure to check the links out below at 8.30pm BST. Note that we are in "British Summer Time" in the UK so that is GMT+1 hour. If you are fumbling around for the live broadcast and can't see it, it could be an hour later than you expect.
Some of you might not have Facebook and do not with to join up in order to watch this video. I imagine it will appear on Youtube at some point so you can still potentially watch and listen to David Gilmour's new song.
If you would like to order a copy of Polly's new book, set in the Greek Island of Hydra where Leonard Cohen made many memories, then get yours from Amazon.co.uk