Syd Barrett Auction October 2023
Syd Barrett auction at Cheffins in the UK features several rare items. Collectors and fans alike may be interested in these. They will be sold by the Cheffin's Fine Art Division from a catalogue called The Art and Design Sale. Its on from 10am on Thursday 26th October 2023.
I have included details of the lots below, along with descriptions, for you to peruse. To make a bid, go over to Cheffins auction page. Alternatively, to view the catalogue, click Pages on the bottom right of this page, then sideways scrollbar to page 50/51 spread.
Syd Barrett's Original Auction
Cheffins were the auction house that sold Syd Barrett's possessions following his death in 2006. There were all kinds of weird and wonderful items in that auction. Of particular interest to me was the surviving artwork of Syd Barrett. Syd used to paint a painting, photograph it, then burn the original. Very destructive and perhaps symbolic of what the music industry did to him!
I have included an over view below of what is up for sale in the auction. Of particular interest is the Rock poster.
Syd Barrett Auction Item Details
Lot 158 Rock Poster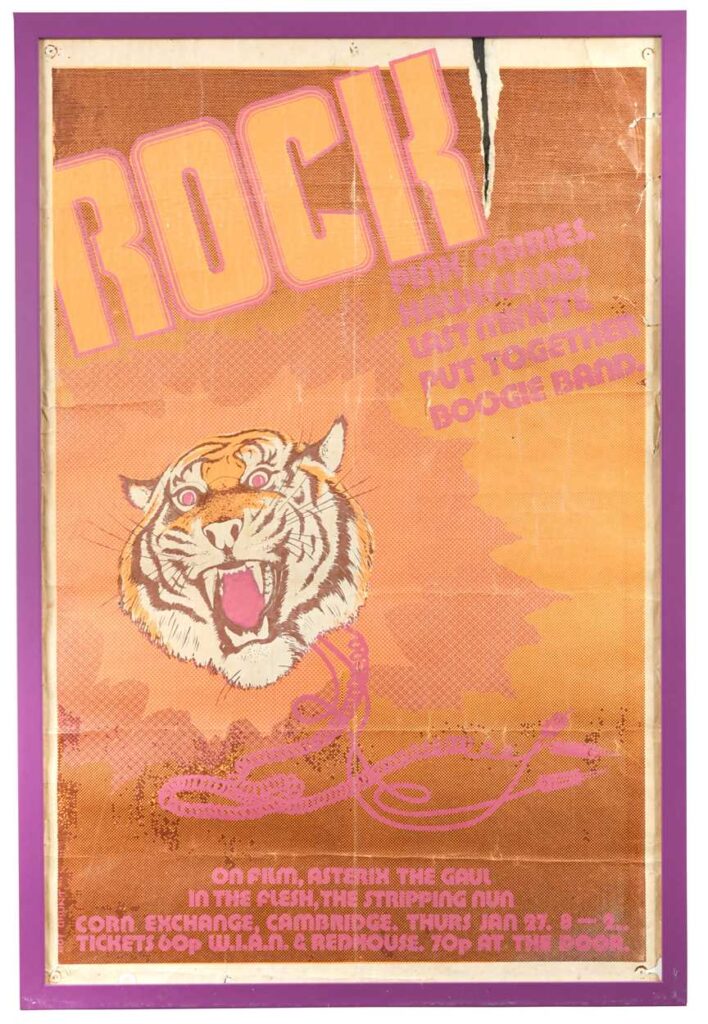 'Rock', a poster designed by Hot Grunt for the Last Minute Put Together Boogie Band,, featuring Syd Barrett, also featuring Pink Fairies and Hawkwind at the Cambridge Corn Exchange, Jan 27 1972; together with a live recording CD of the Last Minute Put Together Boogie Band, with Barrett on guitar, recorded Jan 27 1972 and a live recording CD of Hawkwind on the same evening
75 x 49cm (3)
View on Cheffins to place a bid
Lot 155 – City Wakes Poster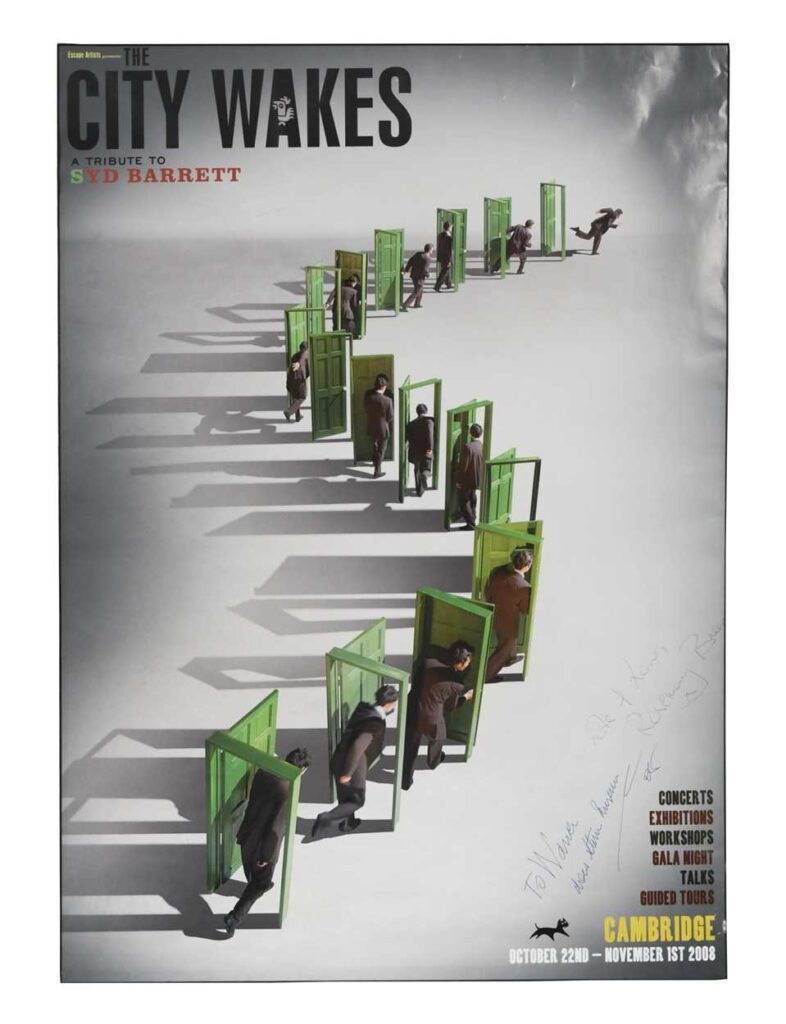 Syd Barrett interest: A City Wakes exhibition poster, signed with dedication from Storm Thorgerson and Rosemary Breen (née Barrett) 58 x 41cm. Other items are included with this lot relating to the exhibition. These include a facsimile poster of the BBC Cambridgeshire and Anglia Ruskin University invitation to the unveiling of a Blue Plaque in memory of Syd Barrett. Royal Mail Syd Barrett first day cover, numbered 658 of 3000; a copy of Melody Maker from August 1967 featuring Barrett on the cover and other Barrett related ephemera (qty)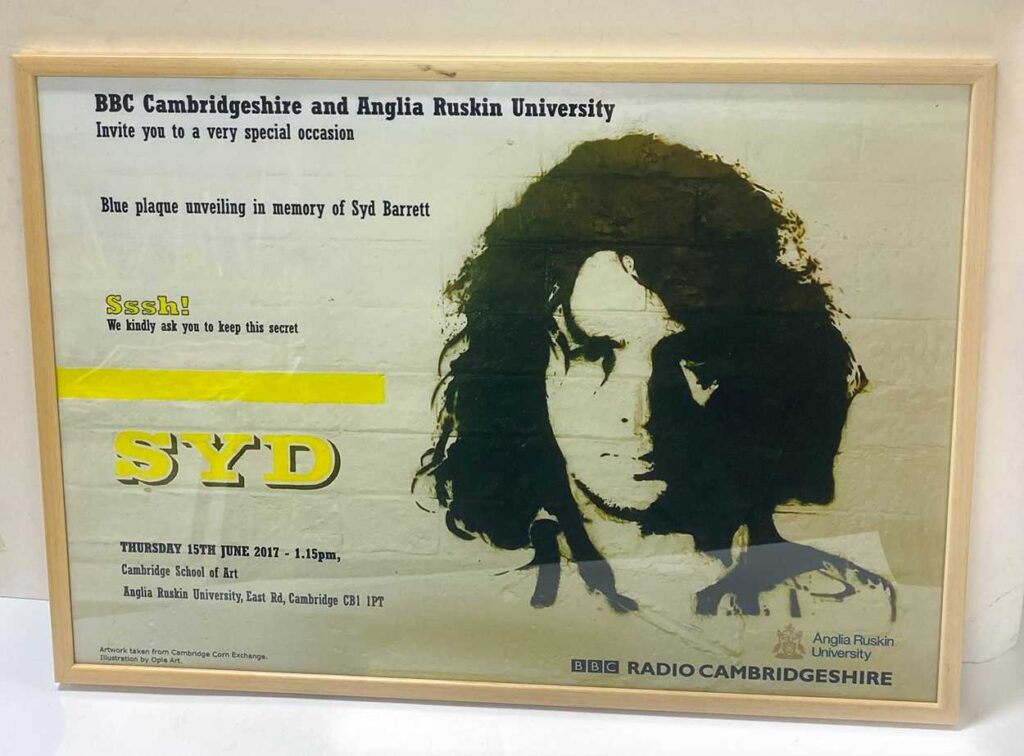 Lot 156 – Syd Barrett interest: A VIP invitation poster for 'A Celebration' at the Cambridge Corn Exchange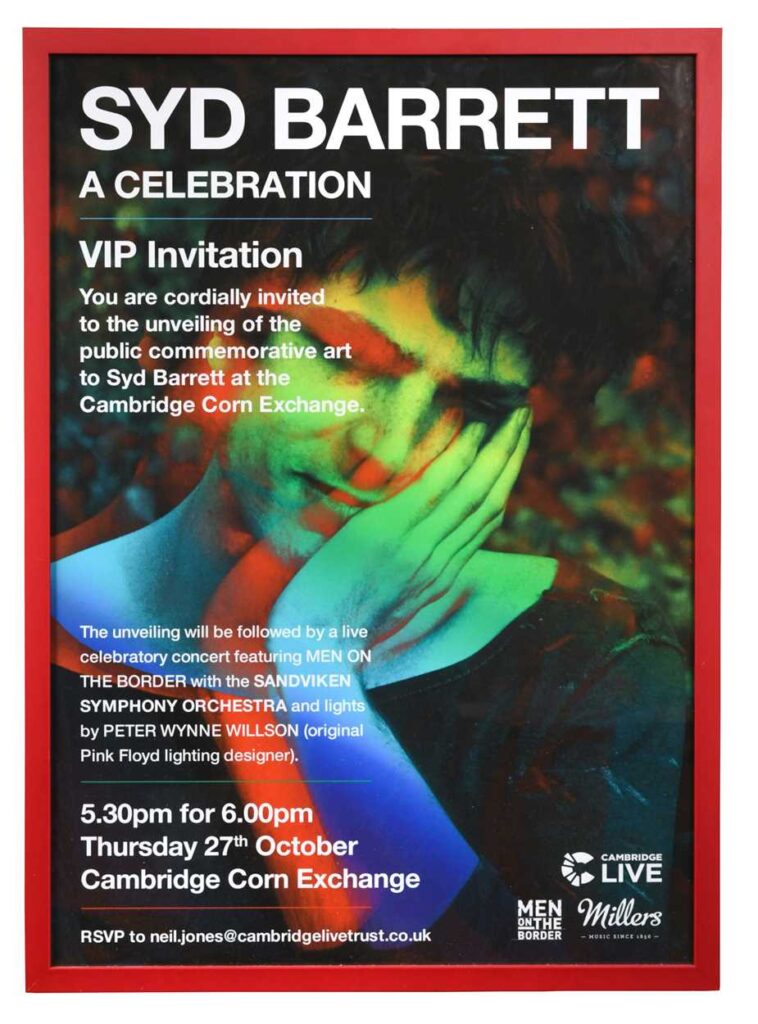 Syd Barrett interest: A VIP invitation poster for 'A Celebration' at the Cambridge Corn Exchange, October 2016, featuring an unveiling of public commemorative art followed by a celebratory concert and music from Men on the Border together with the Sandviken Symphony Orchestra and lights by Peter Wynne-Willson, interpreting the music of Syd Barrett and Pink Floyd, at the venue where Barrett performed his last ever concert in 1972. 58 x 41cm
Lot 157 – Pink Floyd interest: A Royal Mail limited edition giclée print of the Wish You Were Here stamp
Lot 158 – Their Mortal Remains Exhibition Poster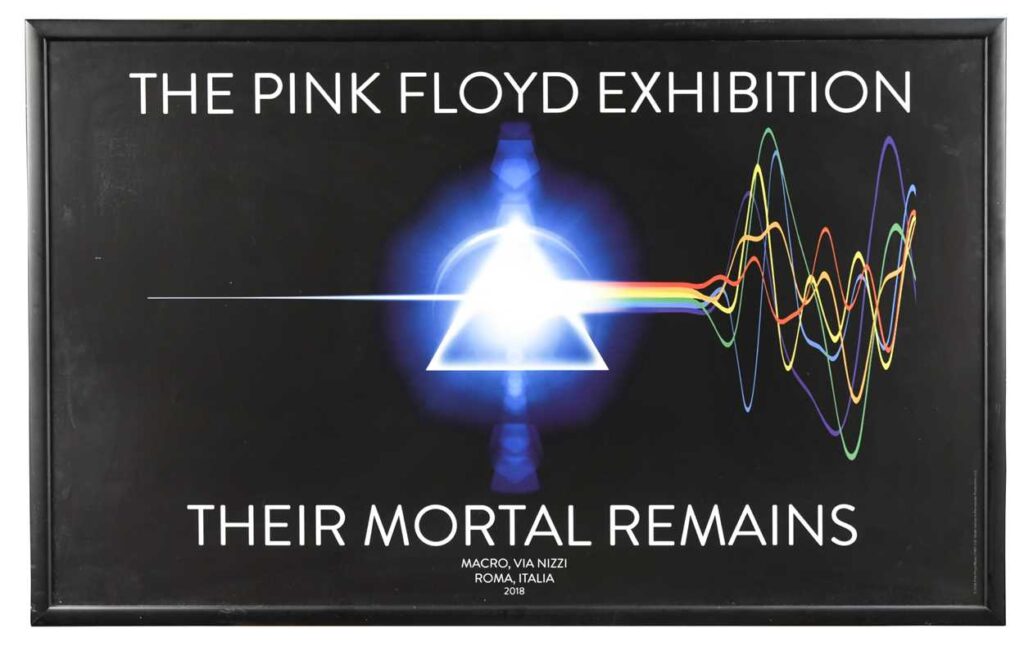 Links
Syd Barrett Painting up for Auction Feb 2022
Recent re-auction and prices from Syd Barrett's original Cheffins auction