Roger Waters Re-Records Dark Side of the Moon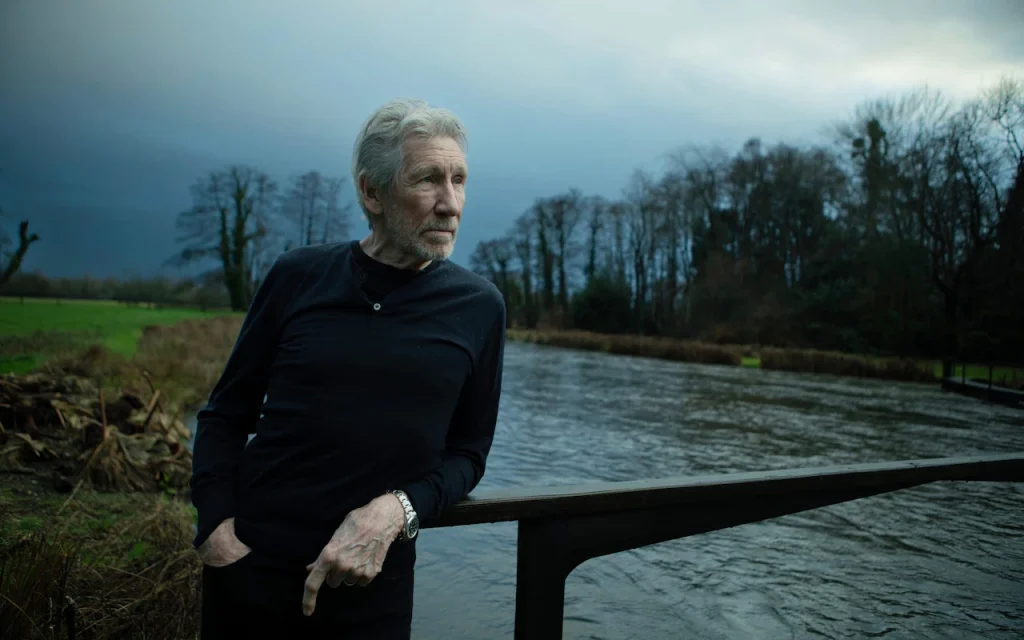 Roger Waters has revealed that he has re-recorded Pink Floyd's Dark Side of the Moon album, and hopes to release it in May 2023, as a lavish vinyl accompanied by a concert!
He has re-recorded it from scratch, without the involvement or even knowledge of any of his old band mates. Roger also recently released his new recording of Comfortably Numb, with the guitar solos removed, and replaced by vocals. It was released on his Lockdown Sessions release.
He's still polishing the final details but it should be released as a "lavish vinyl" and promoted with a concert. Given that Roger left Pink Floyd in the 1980s and doesn't own the Pink Floyd name, it will very likely be released under his own name.
Given The Dark Side of the Moon is one of the best selling albums of all time and regarded very highly by fans, it does beg the question why does it need to be re-recorded. I guess this new version is in addition to the original masterpiece and not a replacement.
He played bass on only one track – he did a terrific bass solo on Us and Them. Other musicians on the album include multi-instrumentalist collaborator Gus Seyffert, and Seyffert's girlfriend, Azniv Korkejian, plus a Baptist minister on Hammond organ.
A recent Telegraph interview said, "Now Waters is planning to release a rival version of Pink Floyd's most famous record, without Pink Floyd's permission. I'm no copyright expert, but might there be some obstacles to that?". Roger Waters smiles: "I have no idea."
Why Has Roger Re-Recorded Dark Side of the Moon?
Roger Waters told Berliner Zeitung, "The new concept is meant to reflect on the meaning of the work, to bring out the heart and soul of the album," he says, "musically and spiritually. I'm the only one singing my songs on these new recordings, and there are no rock and roll guitar solos."
So why has he remade it? "Because not enough people recognised what it's about, what it was I was saying then." This new version, he hopes, will hammer the point home.
Waters is quite clear that Dark Side is his to play about with in any way he sees fit. "I wrote The Dark Side of the Moon. Let's get rid of all this 'we' c–p! Of course we were a band, there were four of us, we all contributed – but it's my project and I wrote it. So… blah!" (Waters, who wrote the album's lyrics, is credited with composing three of its 10 tracks, and co-writing music for two others.)
One of the main changes are to the instrumental tracks which of course didn't have Roger Waters lyrics. The new versions have Roger Waters talking over them, perhaps inspired by the 2013 Radio Play, Darkside by Tom Stoppard.
The Telegraph interviewer is one of the handful of people in the world to have listened to the new recording. They said, "It turns out to be a curate's egg; parts are very good indeed. Time, that young man's lament for mortality, sounds terrific with his old man's timbre. Breathe is wonderfully re-imagined as a slow, acoustic groove. A country-tinged Money could be a late Johnny Cash cut, with Waters growling charismatically at the very bottom of his register".
What is Next for Roger Waters?
Roger is actively working on his new original album The Bar which, ironically, is about encouraging people with differing views to communicate with one another.
Roger is also working on his memoirs. He did a lot of work on them in Covid lock downs and was doing an audio book recording too.
What Is Roger Waters' Problem with Pink Floyd?
Roger left the band in the 1980s and expected that the rest of the band would disband too. They didn't of course and went on to release more albums of original music and did huge world tours. Roger's issues with the band seem to centre around credits. I imagine "credit" is very closely linked to "ego" so will be an important topic for many famous artists. The Animals re-release was delayed significantly due to credits, for example.
Another area of contention is that Roger doesn't rate the skills of the other Pink Floyd members when it comes to songwriting. He says in the Telegraph interview that they "can't write". "Well, Nick never pretended. But Gilmour and Rick [Wright, the keyboardist]? They can't write songs, they've nothing to say. They are not artists!" He shouts the last two words. "They have no ideas, not a single one between them. They never have had, and that drives them crazy."
More recently, the Pink Floyd name was associated with pro Ukrainian song Hey Hey Rise Up. Roger, who yesterday gave a speech to the United Nations on Russia's request, has views on the Pink Floyd name being used in this way. He said…
I have seen the video and I am not surprised, but I find it really, really sad. It's so alien to me, this action is so lacking in humanity. It encourages the continuation of the war. Pink Floyd is a name I used to be associated with. That was a huge time in my life, a very big deal. To associate that name now with something like this… proxy war makes me sad. I mean, they haven't made the point of demanding, "Stop the war, stop the slaughter, bring our leaders together to talk!" It's just this content-less waving of the blue and yellow flag. I wrote in one of my letters to the Ukrainian teenager Alina: I will not raise a flag in this conflict, not a Ukrainian flag, not a Russian flag, not a US flag.
What Are Polly Samson's Views of Roger Waters?
Polly Samson, a Pink Floyd and David Gilmour album lyricist in addition to being a fiction writer, recently shared some very strong words indeed about her opinion of Roger Waters. Roger is taking advice as to his position in response and strongly denies the claims.
On Monday morning at 8.33am on 6th February, Polly Samson unleashed her view on Roger Waters following an interview he did with German newspaper Berliner Zeitung. The interview covered a lot of the provocative and divisive topics that Roger associates himself with politically.
Polly Said. "Sadly @rogerwaters you are antisemitic to your rotten core. Also a Putin apologist and a lying, thieving, hypocritical, tax-avoiding, lip-synching, misogynistic, sick-with-envy, megalomaniac. Enough of your nonsense." Her husband, David Gilmour, said "Every word demonstrably true" in support of his wife.
Asked why he doesn't hold back on his political statements, Roger said, "Because I am who I am. If I wasn't this person who has strong political convictions, I wouldn't have written "The Dark Side of the Moon", "The Wall", "Wish You Were Here", "Amused to Death" and all the other stuff".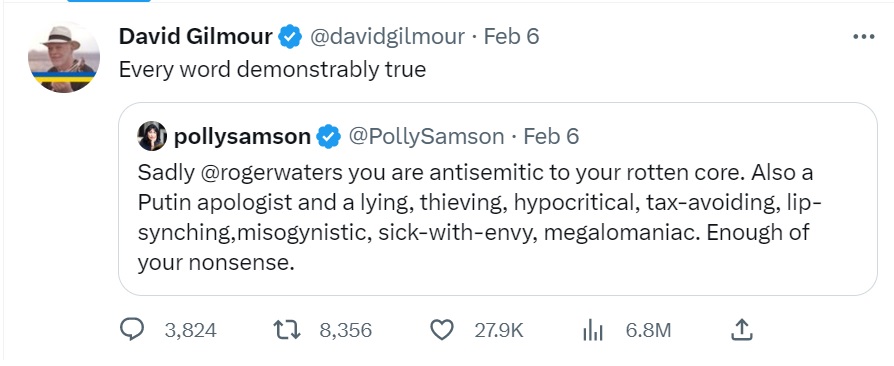 Roger Waters reply…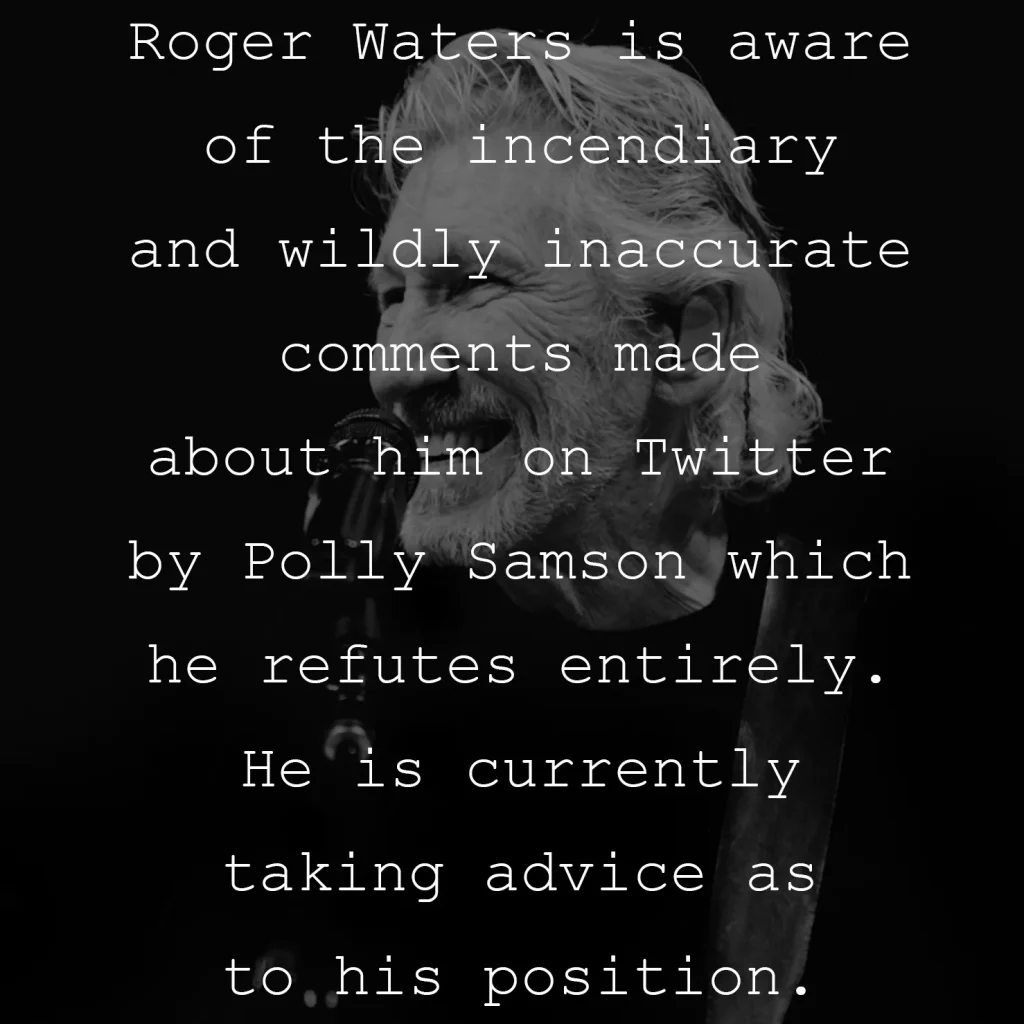 Further Reading
Discuss on our forum : Polly Samson's views on Roger Waters, and Roger Waters Dark Side of the Moon and Roger Waters 2023 Unitied Nations Speech